The Hong Kong University of Science and Technology (HKUST) signed a Memorandum of Understanding (MOU) with the China Construction Bank (CCB) today to co-organize a master program in Financial Technology (MSc in Fintech) in the new academic year – the first such program in the Greater Bay Area.  The collaboration – which also includes a mini-MBA program targeting micro, small and medium enterprises (SME), and CCB sharing financial cases and data with HKUST for relevant joint research projects – sets a new model for youth exchanges and financial connectivity between Hong Kong and the mainland.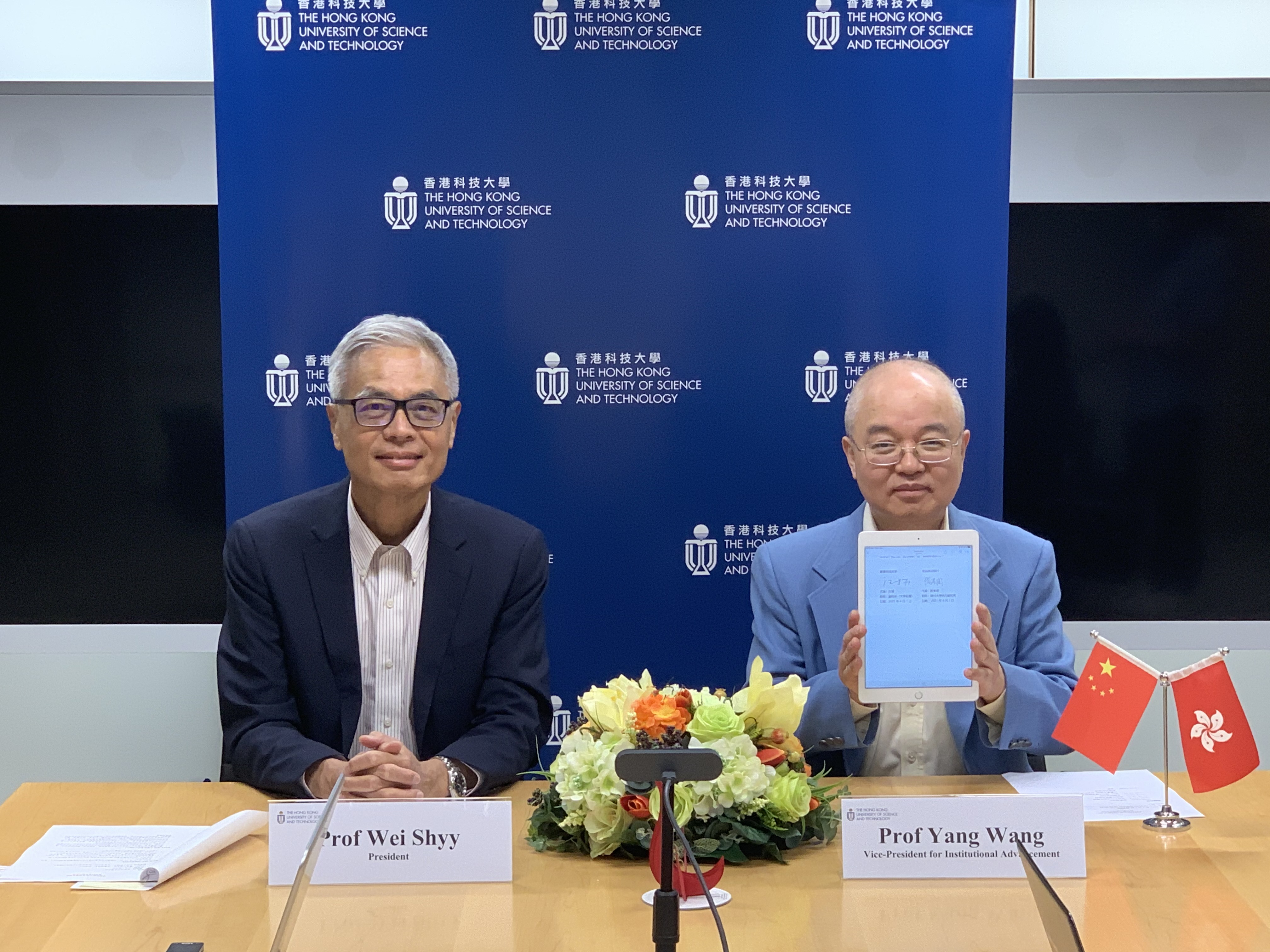 According to the agreement, CCB will recommend qualified candidates - not confining to CCB staff, to join HKUST's MSc in Fintech program every year. Meanwhile, CCB will also open some of its practical financial courses and facilities at its South China Campus to all HKUST students of the MSc in Fintech program, who can apply elective courses there and participate in exchange visits and internship training. Candidates who complete the master program will receive a certificate of completion, while those who meet the graduation requirements will be awarded a degree certificate from the HKUST.  
Know more about HKUST MSc in Financial Technology
http://www.mscfintech.ust.hk/  
The signing ceremony was conducted via video conferencing in Hong Kong and Beijing in light of the COVID-19 pandemic. Under the witnesses of Mr. ZHANG Xiaoming, Deputy Director of the Hong Kong and Macau Affairs Office of the State Council; Prof. TAN Tieniu, Deputy Director of the Central People's Government Liaison Office in Hong Kong; Mr. TIAN Guoli, Chairman of CCB; Mrs. ZHANG Min, Vice-President of CCB; Prof. Wei SHYY, President of HKUST; and representatives of the Ministry of Education, Prof. WANG Yang, HKUST Vice-President for Institutional Advancement and Mr. CHEN Xiaozhou, representative of CCB, signed the agreement.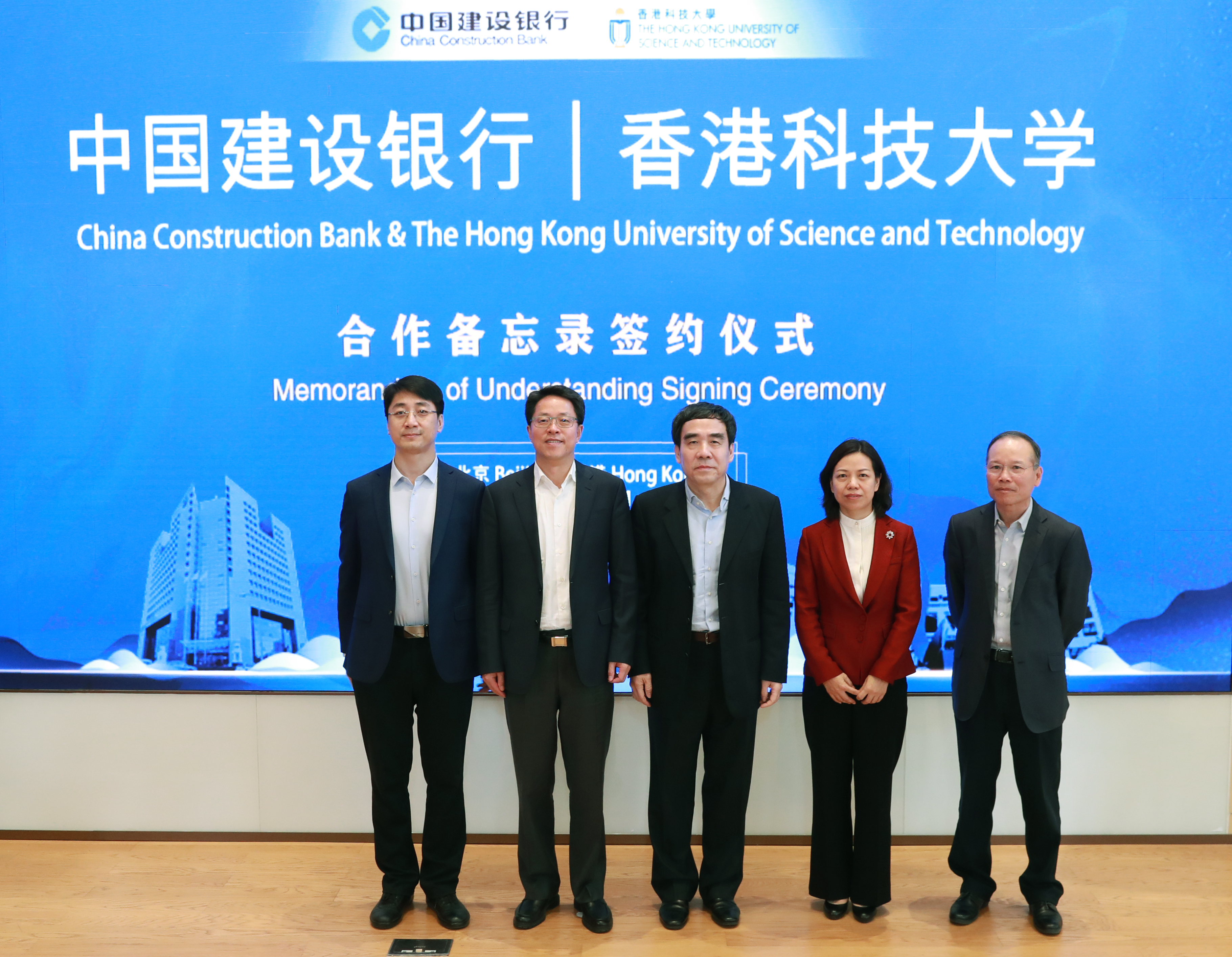 HKUST President Prof. Wei Shyy said the University welcomes the partnership at the ceremony.  "This collaboration marks a forward-looking and open cooperation between academia and enterprises.  As a leader in the banking sector, CCB has been actively promoting the development of Fintech. We will leverage this opportunity and make good use of HKUST's substantial strength in Fintech related expertise to further promote implementation of the technology, as well as nurturing more Fintech professionals with diverse background and experiences to advance their innovative ideas and relevant expertise."
CCB Chairman Mr. Tian Guoli said, "This cooperation seeks to set an example of bank-university cooperation between Hong Kong and the mainland, and to drive innovation in the cross-border integration of youth, enterprises and academia. Apart from nurturing high-caliber financial talents and showing them the latest trends in Fintech, the scheme will also facilitate Hong Kong students to have better understanding of the mainland, and vice versa. Meanwhile, the collaboration will also enhance financial knowledge of SME owners as well as our ability to provide better full-lifecycle financial services for them."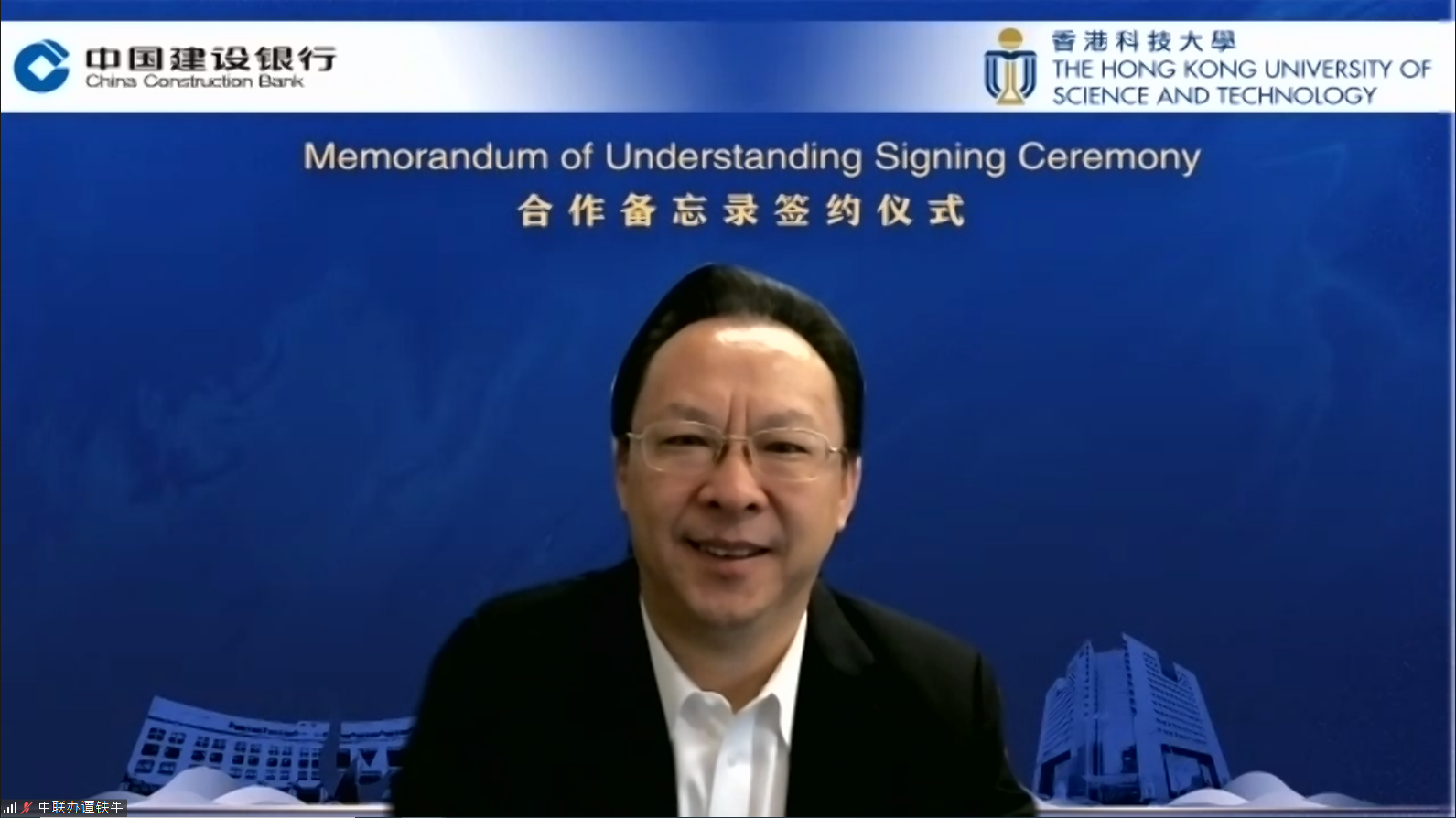 Apart from the program, the parties have also planned to launch wide-ranging collaboration including a mini-MBA program for SME owners as well as other short-term training courses. The mini-MBA program, aims to open in September 2022, will focus on the exploration of an effective model that could help SMEs to solve their operational and financing obstacles. Meanwhile, CCB will provide HKUST students with internship opportunities, entrepreneurial mentorship and financial support. The two parties will also launch activities such as entrepreneurship competitions.
HKUST has stepped up cooperation with CCB since signing a framework agreement on co-operation in October 2018. One of the landmark projects was the "Certified Fintech Practitioners Training program" – an accredited training program co-developed among HKUST, CCB, the China Banking Association and Shenzhen University, which has trained and certified more than 6,000 Fintech professionals to this date.
About The Hong Kong University of Science and Technology 
The Hong Kong University of Science and Technology (HKUST) (https://hkust.edu.hk/) is a world-class research intensive university that focuses on science, technology and business as well as humanities and social science.  HKUST offers an international campus, and a holistic and interdisciplinary pedagogy to nurture well-rounded graduates with global vision, a strong entrepreneurial spirit and innovative thinking.  HKUST attained the highest proportion of internationally excellent research work in the Research Assessment Exercise 2014 of Hong Kong's University Grants Committee, and is ranked as the world's best young university in Times Higher Education's Young University Rankings 2020. Its graduates were ranked 26th worldwide and among the best from universities from Asia in Global University Employability Survey 2020.
For media enquiries, please contact:
Anita Lam                    
Tel: 2358 6313                    
Email: anitalam@ust.hk       
Sam Li
Tel: 2358 6317
Email: liyongning@ust.hk