On the day Anushka PUROHIT, living in Hong Kong since little, turned 10 she was excited about going to a chain coffee shop with her parents for the first time. While the little girl was enjoying her "grown-up" moment, she was stunned at the huge amount of bread she saw getting binned.
"As we were waiting for my frappe to be made, the barista was taking the sandwiches from the fridge into a black garbage bag since nobody's buying them," she says with a frown.
But it was not until 2019 that Anushka, now a third-year electronic and computer engineering major at HKUST, met the opportunity to put wasted bread to good use. "I was getting some bread with my friends at a bakery. Again, I saw bread heaping into garbage bags," she sighs. "It's clearly a huge waste problem. We must do something about it."  
The group soon stumbled upon the fact that beer and bread shared common ingredients, including malted barley, hops, and yeast, which could replace much of what was needed for beer. On average a brew is made up with 78% of barley, which can be replaced completely with bread wastes to reduce production cost.
"We felt we had a cool idea to combine two of our favorite interests, food and drink, while saving the world," she says.
The all-HKUST team founded Breer, a food upcycling start-up aiming to reduce food waste and develop a sustainable craft beer brand. Other members include Naman TEKRIWAL, a second-year student, Deevansh GUPTA, a third-year marketing and management major, and Suyash MOHAN, a third-year economics major.
The team sources leftover bread from bakeries and restaurants with the networking support from the University's Entrepreneurship Center (EC), and the help of "Breer-runners", volunteers who help them collect bread wastes. The supply chain is connected to their Breer App, which provides real-time updates on bread waste collection and helper resources.
They work with local breweries to upcycle the discarded loaves into their first two products: lager and pale ale. The first batch production of 500-litre beers was finished in October 2020. The whole batch was sold to local bars and retail outlets for HK$20 per bottle and captured some media attention. The team was excited about the initial success and immediately thought about scaling up.
"We wanted to make it big," says Anushka with glowing eyes. "We've researched into the venture capitalist (VC) scene, worked out investing offers and even began making connections. All the fun things you see in Shark Tank," she says, referring to the popular reality television series.
But their mentor cautioned them to focus on the product before pulling in a new stakeholder, which might complicate matters.
"We saw what we had been doing was misguided. We then completely pivoted and stayed away from that spreadsheet for a while. We felt we should focus on perfecting the brew, and that's how we got back on the right track," she says.
To get the flavour profiles right, the team engaged with professional brewers to test different recipes for their products. Customer surveys were also conducted to collect feedback.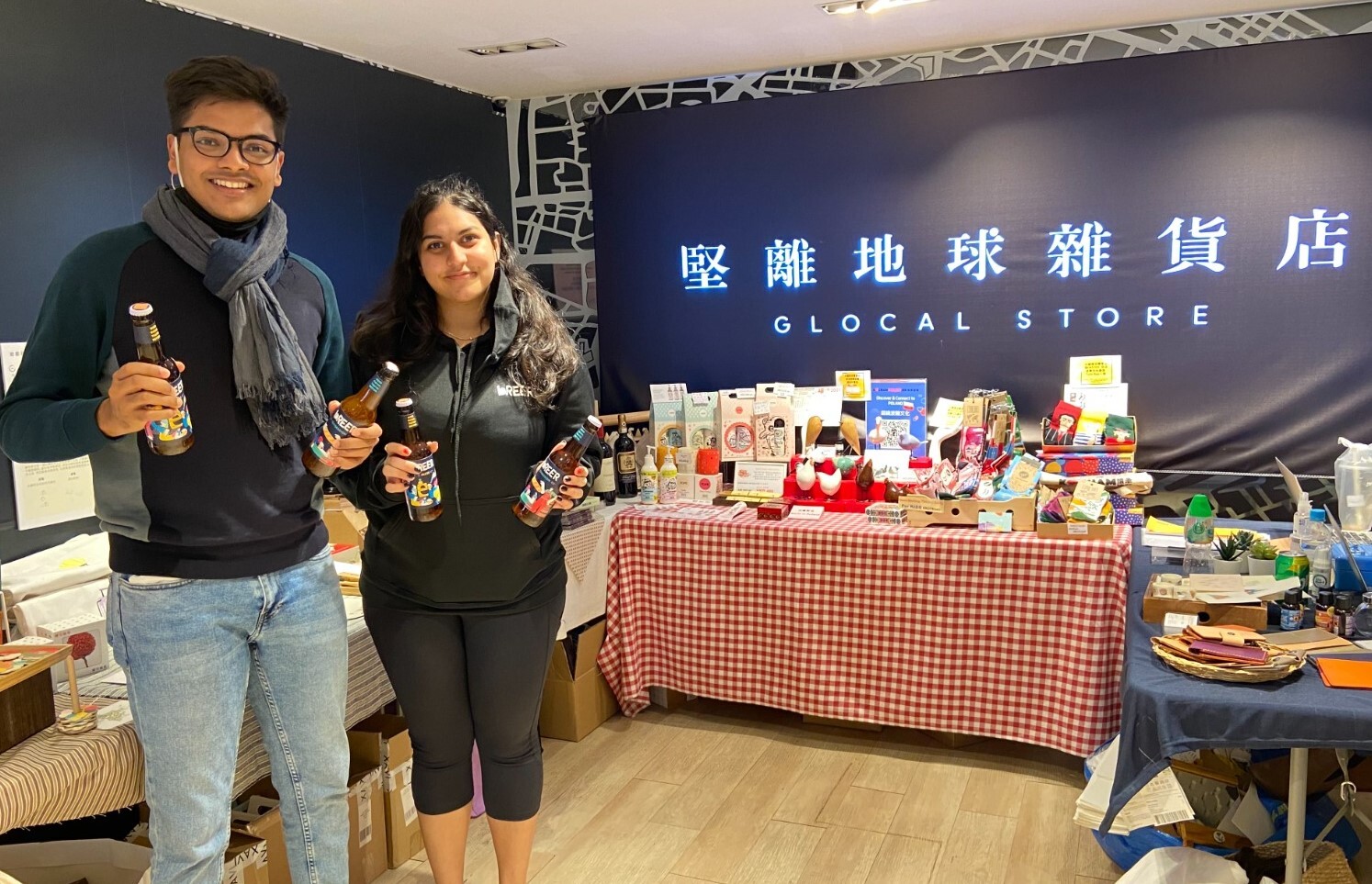 "People really like our beers, which taste just like those traditionally brewed," says Anushka. "Only there are some small things like bubble level that we need to work on." Breer is now focusing on sales and promotion. While the food and beverage industry is dealing with the pandemic's blow, Breer is adopting a flexible sale strategy by selling through pop-up stalls.  
Anushka says the team has made iterations and decisions with courage and persistence. The most challenging part for them is not drafting business proposals or manufacturing beer but having business talks with locals.
"I can speak Cantonese, but I was just too shy," says Anushka. "But to sell our beers I need to step out of my comfort zone and talk retailers into cooperation. It's interesting that once I'm confident, I speak like a local."
"Breer's story offers valuable lessons for budding entrepreneurs," says Donny SIU, Acting Director of the Entrepreneurship Center. "Student start-ups are sometimes in haste to secure funding from investors and make a splash. We had students coming to us with unfair deals that might make them lose their business if they sign it."
"Stay on track with business then VC firms will come to you," advises Donny.
Breer has recently been admitted to the Hong Kong Science and Technology Park's Science and Technology Entrepreneurship Programme (STEP), a one-year support programme with a seed funding of HK$100,000, coaching, and training. The team is now setting new promotion strategies like limited-edition beers to attract more attention and expand sales network.