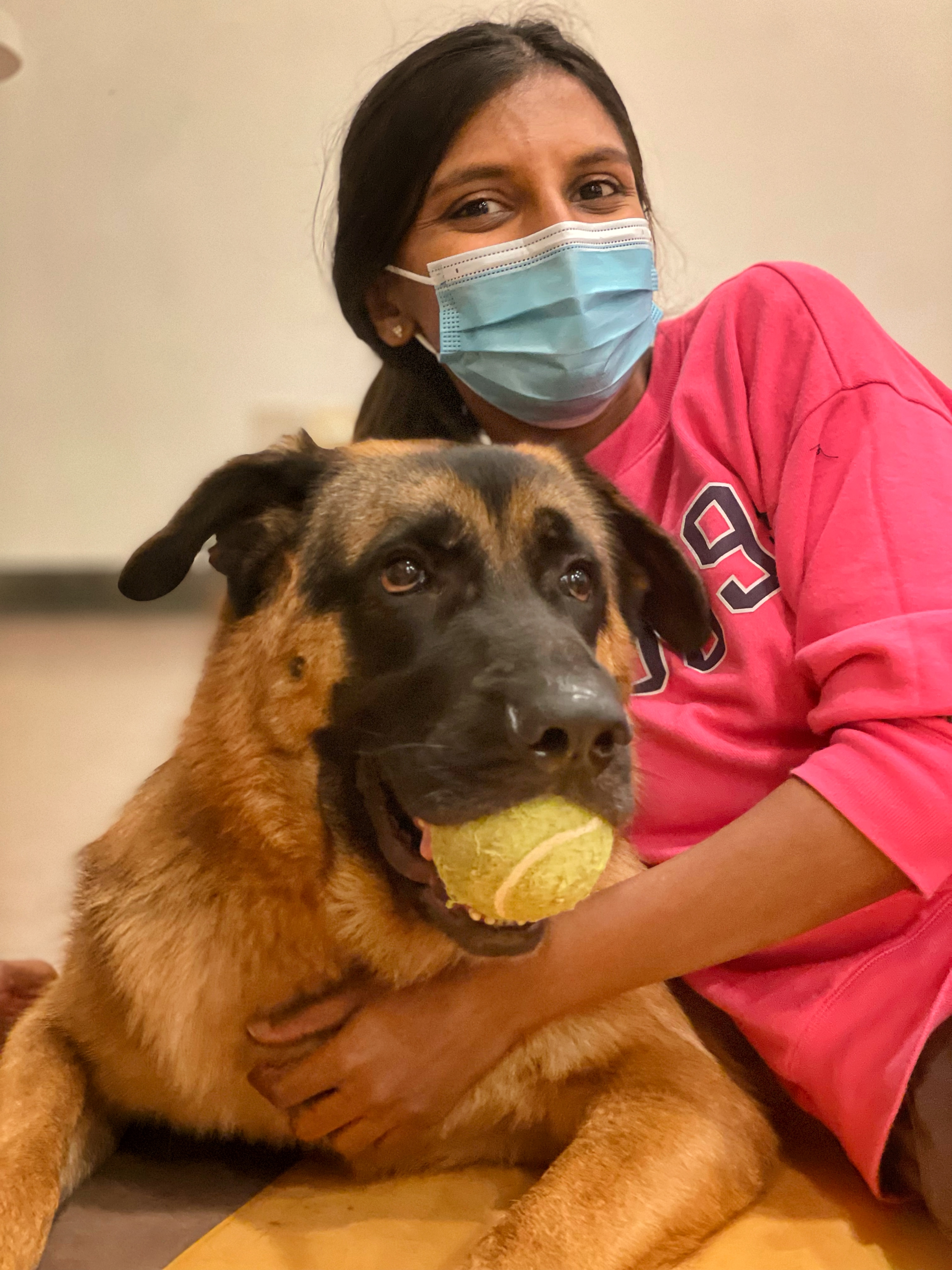 Roanga De SILVA (Ron), a Civil Engineering PhD student from Sri Lanka admits she found Hong Kong somewhat disorienting when she first arrived to study at HKUST in 2019. The culture shock and weather brought her some tough moments. 
"I was surprised when I entered my apartment here. I just thought it was so small! Back home, my bedroom was as big as the apartment here. Another thing is the weather. I arrived in January and it was so cold for me to endure on the first night," she says.
Leaving Sri Lanka also meant leaving behind her beloved German shepherd Tessie, whom she had had since the dog was a puppy. Things got harder still after the pandemic hit in January 2020, and Ron has since been unable to return home. When Tessie died of cancer earlier this year, Ron was devastated. "I stayed in my room for two days; I was too heartbroken."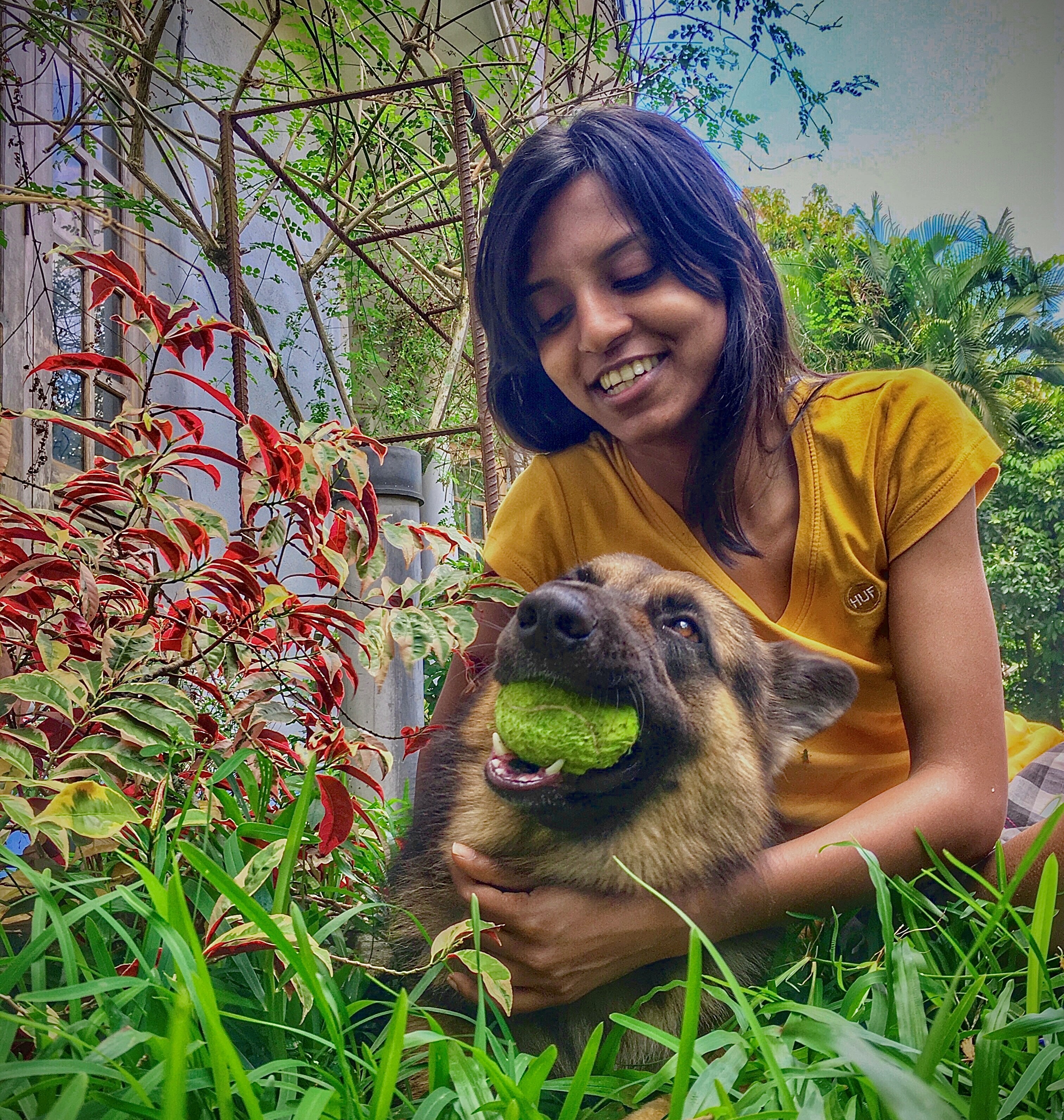 Relief came in the form of HKUST's Comfort Paws Program, which brings students into contact with therapy dogs. Being around dogs brought just the solace she needed at a difficult time.
Dogs love you and they try to come to you. They know a bit about human emotions.
"The next week, they had a session and I left my room. Each time I come to a session, I think about Tessie and how good to me he was, and I realize that all the dogs are like that. They love you. They try to come to you, especially Coco and Coffee, the small dogs, they come to you when you sit in a circle and try to get you to pet them. They know a bit about human emotions."
Ron loves all the five therapy dogs but admits she has one particular favorite. 
"Bruno! He reminds me of Tessie, not least because he is also a German shepherd; he knows all the tricks that I did with Tessie."
University can be a stressful and sometimes lonely place for students, particularly postgraduates, who have a heavy research workload. The pandemic has made the isolation more acute still, particularly for international students like Ron, who have been unable to visit their families because of expensive and onerous quarantine requirements. Therapy dogs fulfill an important role in giving students an affectionate, stress-free environment. 
The dogs need to undergo a period of training before they are certified to serve as therapy dogs for students. During the training, the friendly canines have to show they are ready for a more diligent profession, having to deprive themselves of being petted by strangers until they are ready!
The humans need to be trained too. The program has recently formed student organizing committees (OCs) to help lead the mingling sessions and organize activities. Ron, who has joined the committee as a facilitator, says it was surprisingly challenging.
"Dogs have a lot of behavioural patterns that I hadn't noticed before. For instance, if they are stressed, they try to lick their tongue or they shake their body. Initially, I thought it was cute and they just wanted to be petted more but it wasn't just that."
I get closer to humans as well as dogs, and I felt that I belong more here.
Aastha BHATTA, from Nepal, is in her third year of PhD study in civil engineering. She also joined the OC and found the experience exceptionally fulfilling. 
"We had training sessions where we learned about how dogs react, when to touch them, when to feed them. I felt that I belong more here and I felt I would be able to help other people with dogs as well. I had become a better person. You get closer to humans as well as dogs. I think it made me feel more grown-up."
The Comfort Paws Program, organized by the Dean of Students Office in collaboration with the Campus Management Office and the Health, Safety and Environment Office, was officially launched at HKUST in December 2020 when the University saw a growing demand for emotional support, particularly during the challenging times of the pandemic. 12 to 15 students, from all degree levels, are allowed in each mingling session where students can pet, cuddle and interact with the dogs, helping them de-stress and refresh. A total of 922 students have taken part since the program's inception. 
Spending time with dogs is like pressing a reset button for your mind.
The session schedule is updated regularly on the program's Instagram. The program previously had five therapy dogs taking part, all owned by faculty or staff members but three of them––Coco, Coffee and Shadow––will be leaving, while Bruno, the two-year-old German shepherd, and Luna, the five-year-old Shiba Inu are still in service. The University will review the program and decide whether more therapy dogs need to be recruited. 
Aastha thinks the therapy dogs have been great for the students' mental well-being, "Spending 30 minutes with dogs helps us recover from our own work. It is like pressing a reset button for your mind."
The program is not just for dog lovers. The mingling sessions are intended to create a stress-free space and unwinding moments for students, not necessarily through interacting with the dogs but sometimes by just watching.  
"I think therapy dogs in university is such a good thing," says Ron. "I have friends back home who have dogs and when I tell them about this, they want to come here too!"
As well as dog therapy sessions, Comfort Paws also lays on educational talks about dogs and information about animal welfare in Hong Kong, a reminder that the program is as much about dogs as the students who benefit from it.