Aging can bring challenges to our health and well-being, from declining vision to reduced mobility. Common chronic conditions like dry eye disease, macular degeneration, and knee osteoarthritis can diminish our quality of life as we get old. 
    Thankfully, a team of researchers led by Prof. CHAU Ying from HKUST's Department of Chemical and Biological Engineering has made a groundbreaking discovery that brings new hope for healthy aging. Together with a start-up co-founded by her former PhD student Dr. YU Yu, they have developed a method to customize materials to treat these three conditions and potentially many others. Their pioneering work has earned them a prestigious Gold Medal with Congratulations of the Jury at the 48th International Exhibition of Inventions Geneva.
A solid eye drop that feels like liquid
    One of their inventions is a super soft hydrogel which can treat dry eye disease with higher efficacy, overcoming the limitations of conventional eye drops. 
    While eye drops are often used to treat dry eye disease, they often fail to provide relief because our eyes have a self-protection mechanism that rapidly clears dust from the ocular surface and drains away any liquid coming from outside. Common eye drops can therefore stay on the eye surface for only a few minutes, which is too short to perform any treatment effectively. Patients soon suffer from the relapse of symptoms like burning, itching, and blurred vision. In severe cases, eye dry disease can lead to persistent pain and even impaired vision.
We overcame the challenge by thinking outside the box.
    To solve this problem, the team has developed a unique eye drop from a super soft hydrogel. This novel product can stay on the ocular surface for more than five hours, providing a more effective treatment with longer-lasting effect. 

    Dropping one drop of the product onto the back of her hand and spreading it to demonstrate its texture, Prof. Chau explains, "This is in fact a solid material. Normally, it would not be comfortable to put into the eye, but as you can see, it looks and feels like liquid." 
    Dr. Yu elaborates on the breakthrough, "With conventional thinking, researchers would typically increase the polymer concentration to thicken the liquid. But this time, we overcame the challenge by thinking outside the box. We took a completely opposite approach by making a very soft solid."   
The miraculous "building blocks"
    The new drug was made possible by polymer technology, an emerging strategy for controlling chronic diseases. Polymers are macro-molecules comprising repeating units of building blocks known as monomers. By manipulating the combination of monomers or by changing the network formed by the polymers, scientists can create materials with appropriate characteristics to fit various purposes. 
   "It is like playing with building blocks," explains Prof. Chau, who heads the Drug Delivery and Biomaterials Laboratory at HKUST. "By combining blocks of different colors, shapes, sizes, and lengths, you can make a toy castle, a toy airplane, or other models you want."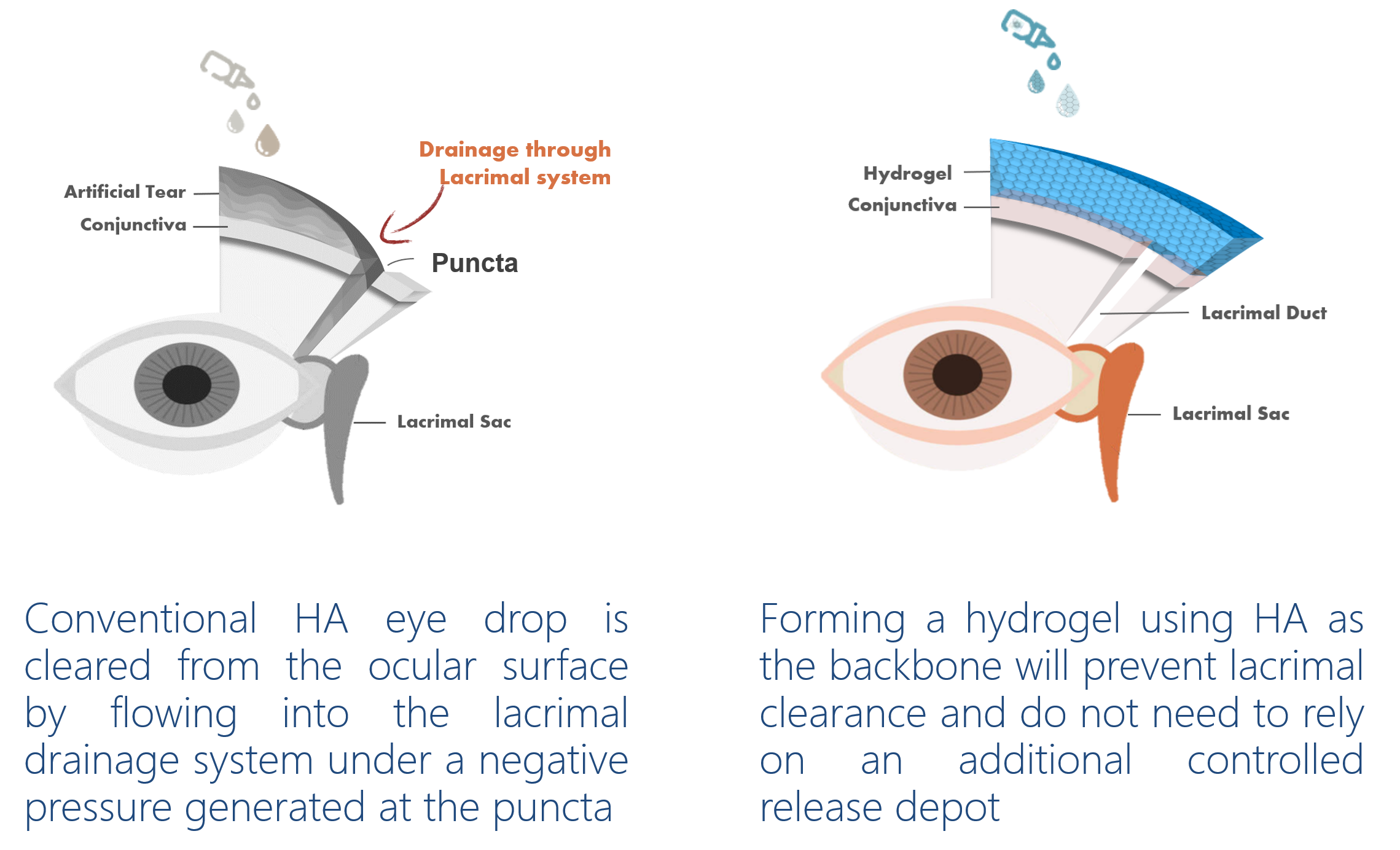 Their start-up Pleryon Therapeutics is concurrently developing an injectable gel for the long-term treatment of some of the most devastating eye diseases affecting senior citizens, including macular degeneration.  It has also expanded beyond eye diseases, developing another injectable gel product in the pipeline to treat knee osteoarthritis. Both products are set to improve the treatment efficacy and reduce the frequency of injections patients have to go through. 
    Dr. Yu, who graduated from HKUST in 2014 with a PhD degree in bioengineering and is now the company's CEO, says, "The principles behind the three products are similar, but you modify the molecules differently to customize drugs and drug delivery tools for specific diseases."
A serendipitous encounter behind the discovery
    Prof. Chau and Dr. Yu's ambitious project in polymer therapeutics began about a decade ago when the latter was still a PhD student. Under Prof. Chau's supervision, Dr. Yu and his teammates started their scientific journey to develop an injectable hydrogel for treating eye diseases. In 2015, their idea won the second runner-up in the HKUST One Million Dollar Entrepreneurship Competition, which encouraged the subsequent establishment of the company in 2017.
    The team was excited when initial experiments on the eye drop showed promising results. Tests in small animals such as mice and rabbits also found the product effective. However, they soon faced a challenge in finding a suitable animal model with a dry eye condition similar to that in humans for conducting clinical trials. 
    The turning point came when the team met a veterinary specialist ophthalmologist – one of very few in Greater China, through the introduction of a colleague from the HKUST Office of Knowledge Transfer. 
    "We learned from the vet that dry eye disease was very common in dogs, and many dog owners have tried to get relief for their pets to no avail. More importantly, the dry eye condition in dogs is very similar to that in humans," Prof. Chau says.
    Through the veterinarian's referral, the team found dogs suffering from dry eye disease and conducted clinical trials on them for one month. The effectiveness of the eye drop exceeded the researchers' expectations.
Setting SIGHT on global health
    Passionate about deploying solutions for global health problems, Prof. Chau also works beyond the laboratory and uses her expertise in health tech to help address pressing issues in needy communities. As the Director of the HKUST program SIGHT (Student Innovation for Global Health Technology), she supports various projects, including study trips to less developed countries for students to learn by serving and turning their innovative ideas into practical healthcare solutions.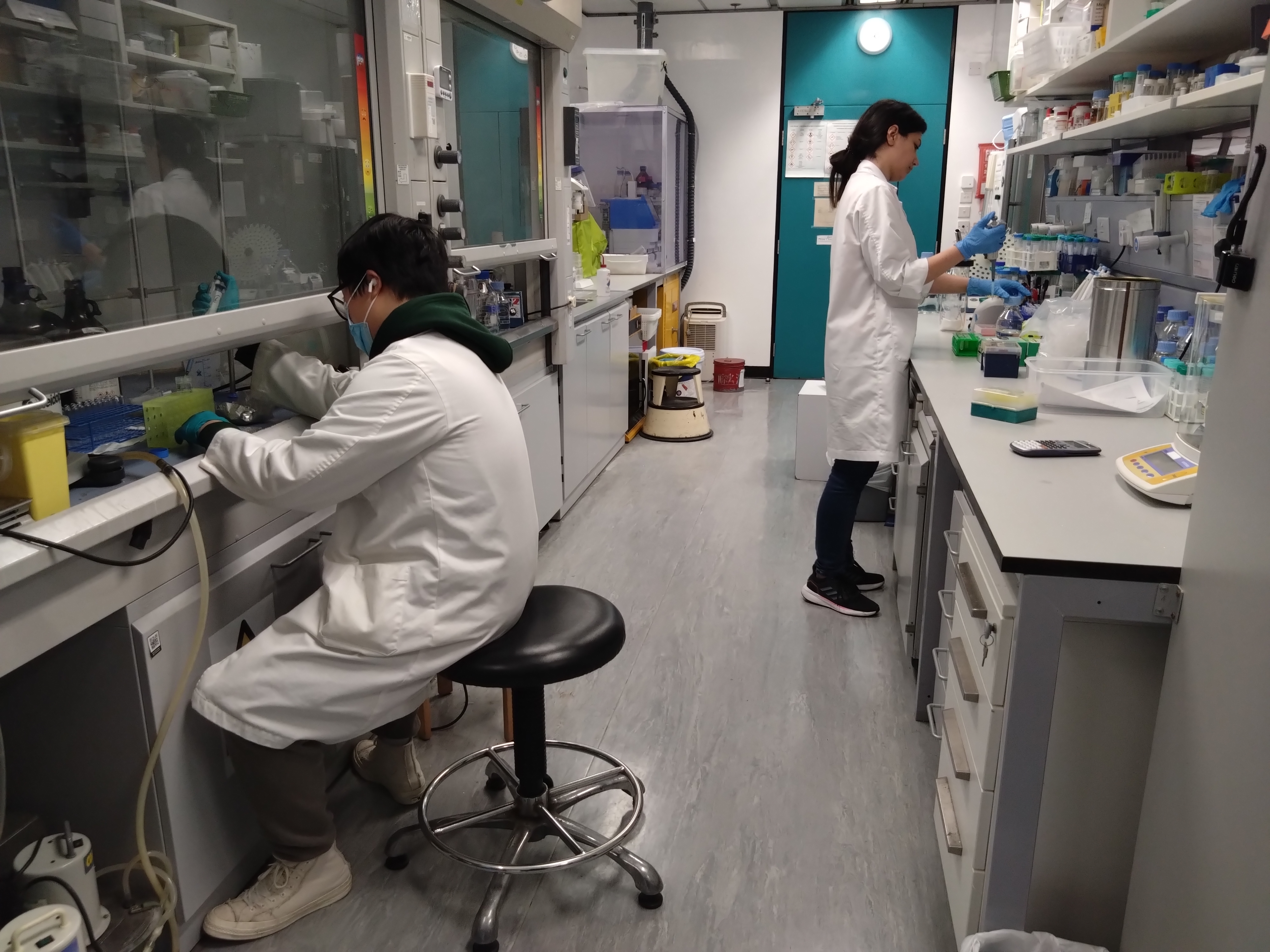 Now having achieved her latest scientific breakthrough, she is hopeful that the new product and more upcoming innovations will turn into effective and affordable options for people suffering from eye problems. 
    "Even when therapeutics for blinding eye diseases are available, they may not be accessible to patients under low-resource settings, because of the lack of healthcare personnel and infrastructure in developing regions." Prof. Chau shares her vision of sight for all.
     "Polymer technology is an appropriate technology to bridge this gap. After all, as scientists, we hope to deliver social impact with tangible solutions."