Prof. Rhea Patricia LIEM, Assistant Professor at the Department of Mechanical and Aerospace Engineering of the Hong Kong University of Science and Technology (HKUST), received the University Grants Committee (UGC) Teaching Award 2021 under the category of Early Career Faculty Members today, in recognition of her dedication and outstanding teaching performance.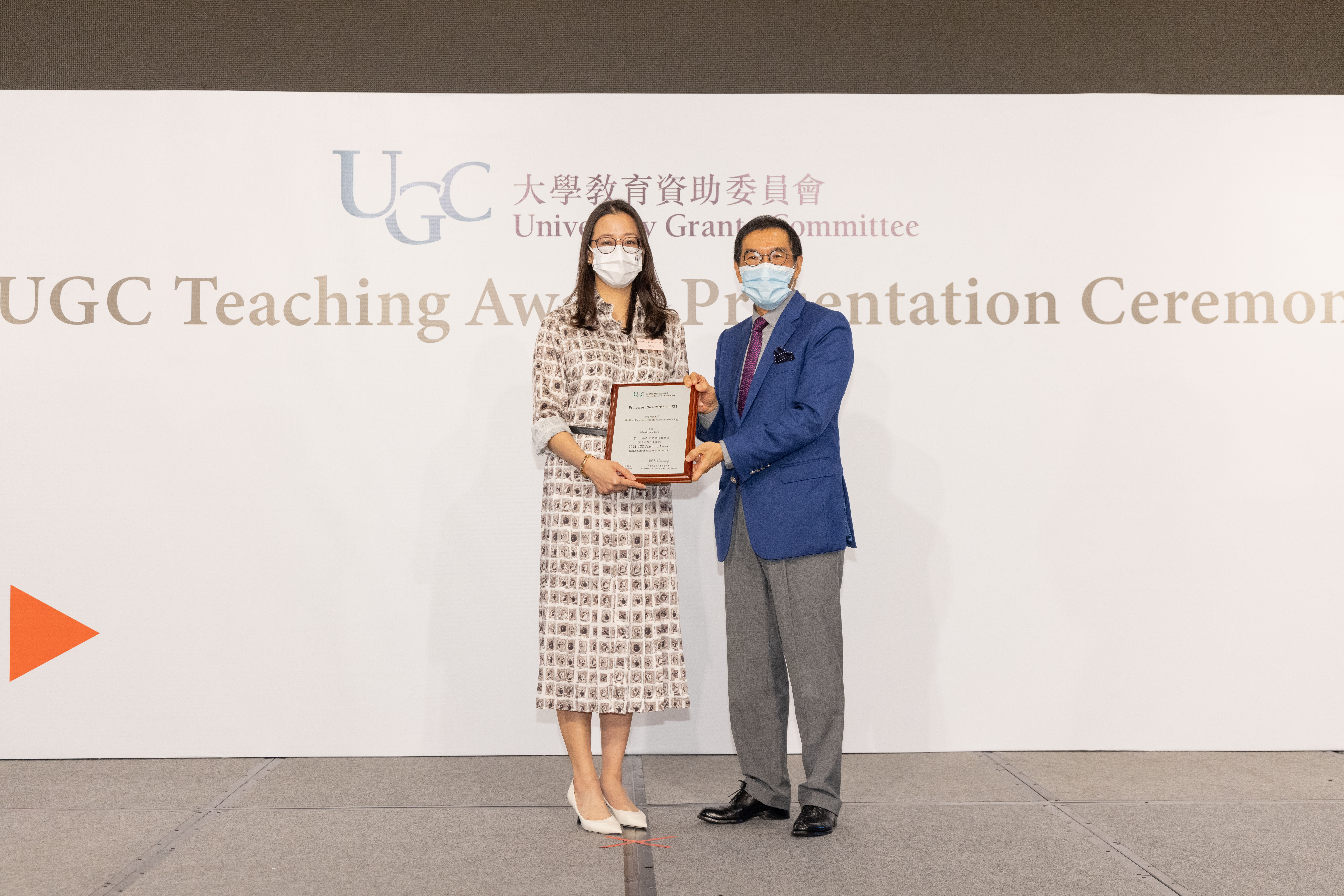 HKUST President Prof. Wei SHYY congratulated Prof. Liem on winning the award, "Rhea is a very talented, creative and dedicated scholar.  Her passionate style of teaching and extensive interaction with students have made her not only popular but also highly respected.  HKUST is very proud to have young and passionate faculty like Rhea, who teaches, mentors and supports our students.  We warmly congratulate her for her accomplishments."
Prof. Liem said at the award ceremony that she was extremely humbled for UGC's recognition.  "I teach Aerospace Engineering at HKUST, a subject that many consider as complex and difficult.  However, I can help my students enjoy the learning. I pay a lot of attention to effective presentation to help convey the course contents to students.  My teaching styles emphasize rationality and reasoning, which I believe are the key essences of university education.  Meanwhile, students always have a say in my class and I make them part of the process, to establish a sense of belonging and help them become more active and enthusiastic learners."
"Looking ahead, this award will allow me to develop a new experiential learning course called the Student Innovations for Engineering and Science Teaching Aids (SIESTA), where students will design and develop science demonstration kits or hands-on STEM learning toys for primary and secondary school students, including the underprivileged children in Hong Kong and developing countries," she added. 
While the aviation industry met its biggest challenge in decades due to the pandemic, Prof. Liem said there are still plenty of opportunities and encourages her students to look beyond traditional aviation jobs like pilots, maintenance or aircraft engineers into "auxiliary" sectors such as artificial intelligence and internet of things for aviation applications, cargo inspection and management technology, leasing, financing, aviation laws or supply chain.  "Many airports and airlines are using this "downtime" to bring improvements on operational efficiency and passenger experience, which would not have been possible when air traffic is extremely busy. I myself am working with industry and government to develop new methods and algorithms to improve the overall air traffic efficiency by optimizing the route coordination of arriving aircraft, so the prospect is not that gloomy," she said.
Prof. Liem was born and raised in Jakarta, Indonesia, until she finished high school at Santa Ursula Catholic Girl School.  The Ursuline school motto (Serviam or "I will serve") and teaching philosophy have been truly influential in developing her teaching pedagogies and values.  She studied mechanical and production engineering in Singapore's Nanyang Technological University, and obtained both her master degrees in Computation for Design and Optimization, and Aeronautics/Astronautics in Massachusetts Institute of Technology.  After that, she earned a PhD degree in Aerospace Engineering from the University of Toronto.  She joined HKUST in 2015, where she teaches two courses "Introduction to Aerospace Engineering" and "Aircraft Design" which both were founded by her.  
Prof. Liem was one of the first hires in the Aerospace Engineering program.  Apart from developing the new courses from scratch, she has also supervised students under the Undergraduate Research Opportunities Program (UROP), and one of her students won the undergraduate research award in 2020.   She believes the learning process should start from the students themselves, so she allows students to choose their own topics for term paper, as part of their self-learning experience.  Her contributions on teaching have earned her HKUST's Engineering Teaching Excellence Appreciation Award for 2017-18.   
Prof. Liem is also dedicated to promoting STEM education and aerospace engineering knowledge to younger learners.   She was appointed as an advisor for the Hong Kong Aerospace Leaders Association, where she offers advice on curriculum development and overall program planning for workshops and classes – including those for teachers and "adult leaders" that were co-organized between the association and different secondary schools.  She is also an advisor for the publication of "Learning STEM with Aviation" textbook for secondary schools in the city.
 
About The Hong Kong University of Science and Technology 
The Hong Kong University of Science and Technology (HKUST) (https://hkust.edu.hk/) is a world-class research intensive university that focuses on science, technology and business as well as humanities and social science.  HKUST offers an international campus, and a holistic and interdisciplinary pedagogy to nurture well-rounded graduates with global vision, a strong entrepreneurial spirit and innovative thinking.  Over 80% of our research work were rated "Internationally excellent" or "world leading" in the Research Assessment Exercise 2020 of Hong Kong's University Grants Committee. We were ranked 3rd in Times Higher Education's Young University Rankings 2021, and our graduates were ranked 26th worldwide and among the best from universities from Asia in Global University Employability Survey 2020.
 
For media enquiries, please contact:
Anita Lam    
Tel: 2358 6313
Email: anitalam@ust.hk    
Jamie Wong
Tel: 3469 2512 / 5190 7882
Email: jamiewong@ust.hk