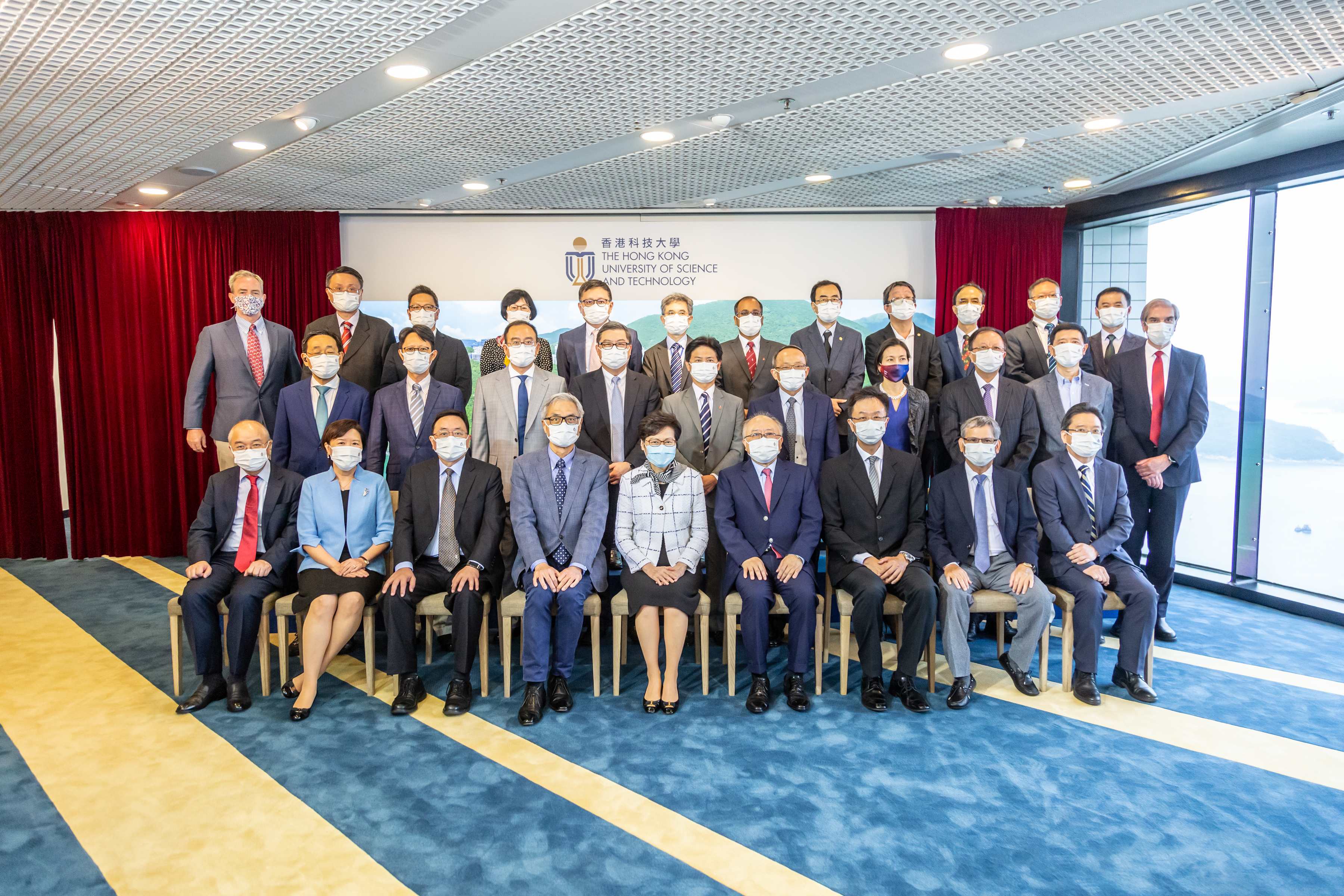 The Chief Executive Mrs. Carrie LAM visited HKUST on August 6, 2021 to learn more about the University's latest research and innovation endeavors. 
Accompanied by Council Chairman Mr. Andrew LIAO, Council Vice-Chairman Prof. John CHAI, Treasurer of the University Prof. Patrick YEUNG, President Prof. Wei SHYY, and other HKUST senior management and faculty members, Mrs. Carrie Lam received briefings on HKUST's latest developments such as the establishment of HKUST(Guangzhou) and was introduced to the University's research efforts to fight COVID-19 and support sustainable development, before visiting the University's cutting-edge research facilities, including the Aerodynamics and Acoustics Facility (AAF) and the Cheng Kar-Shun Robotics Institute.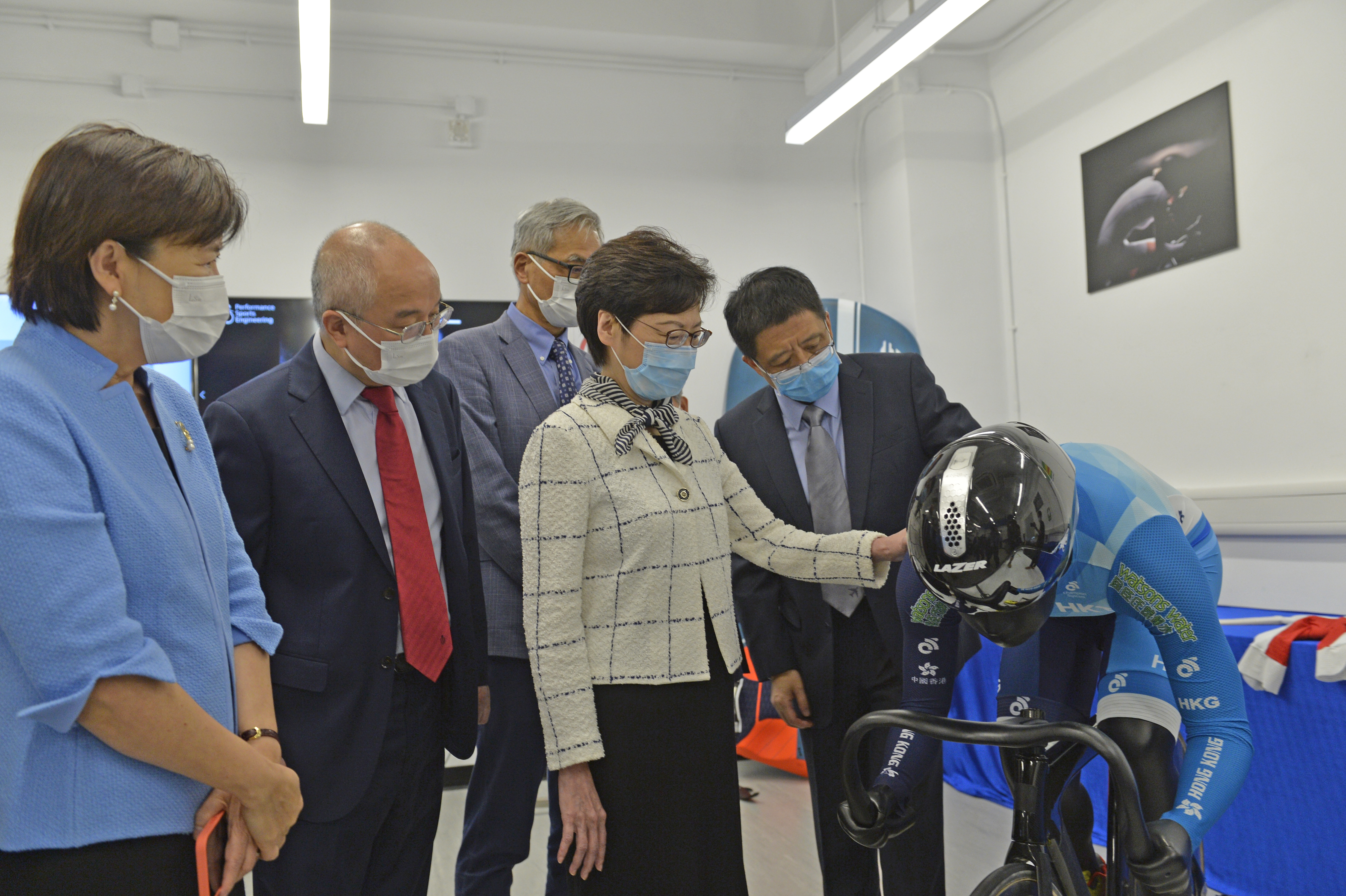 Equipped with a state-of-the-art low-noise wind tunnel and world-class large acoustic testing laboratories, AAF aims at supporting local institutions and industries with their research and development needs. With over two decades of research expertise, AAF can help drive the expansion of emerging research interests such as urban air mobility, green energy, and other aerodynamic initiatives in the Greater Bay Area, promoting efficient transportation systems and sustainability for social good. The technology is already proven to be instrumental as Hong Kong boosts its game in sports on the international stage. Funded by a generous donation from Sun Hung Kai Properties Executive Director Mr. Adam KWOK for an "A. Kwok Sports Aerodynamics Science Initiative", HKUST's research team has collaborated with the Hong Kong Sports Institute to conduct wind resistance tests and develop suits and gears for Hong Kong Cycling team, contributing to their improved training efficiency and performances for the Tokyo 2020 Olympics Games. We would like to extend our warmest congratulations to Hong Kong cyclist Sarah LEE Wai-Sze for winning a bronze medal in the Women's sprint event! 
During her visit at the Cheng Kar-Shun Robotics Institute, Mrs. Lam learnt about the institute's research capacity in autonomous systems and robots and other exciting major projects in the pipeline. Recently renamed to the Cheng Kar-Shun Robotics Institute upon a massive donation from the Chow Tai Fook Charity Foundation Limited, the Institute aims at catalyzing robotics-related research for the country's and city's technological and economic developments. Examples include the robotic arm technology, which has hugely benefited areas such as automotive manufacturing, topography surveys, and search and rescue operations. Researchers at HKUST are now refining the technology by developing a Hong Kong's first "Finger Vision" sensor, which will allow the robotic arm to detect an object's hardness and adjust accordingly the degree of strength it should deploy in lifting the object. With enhanced dexterity, the robotic arm will make future manufacturing process smarter.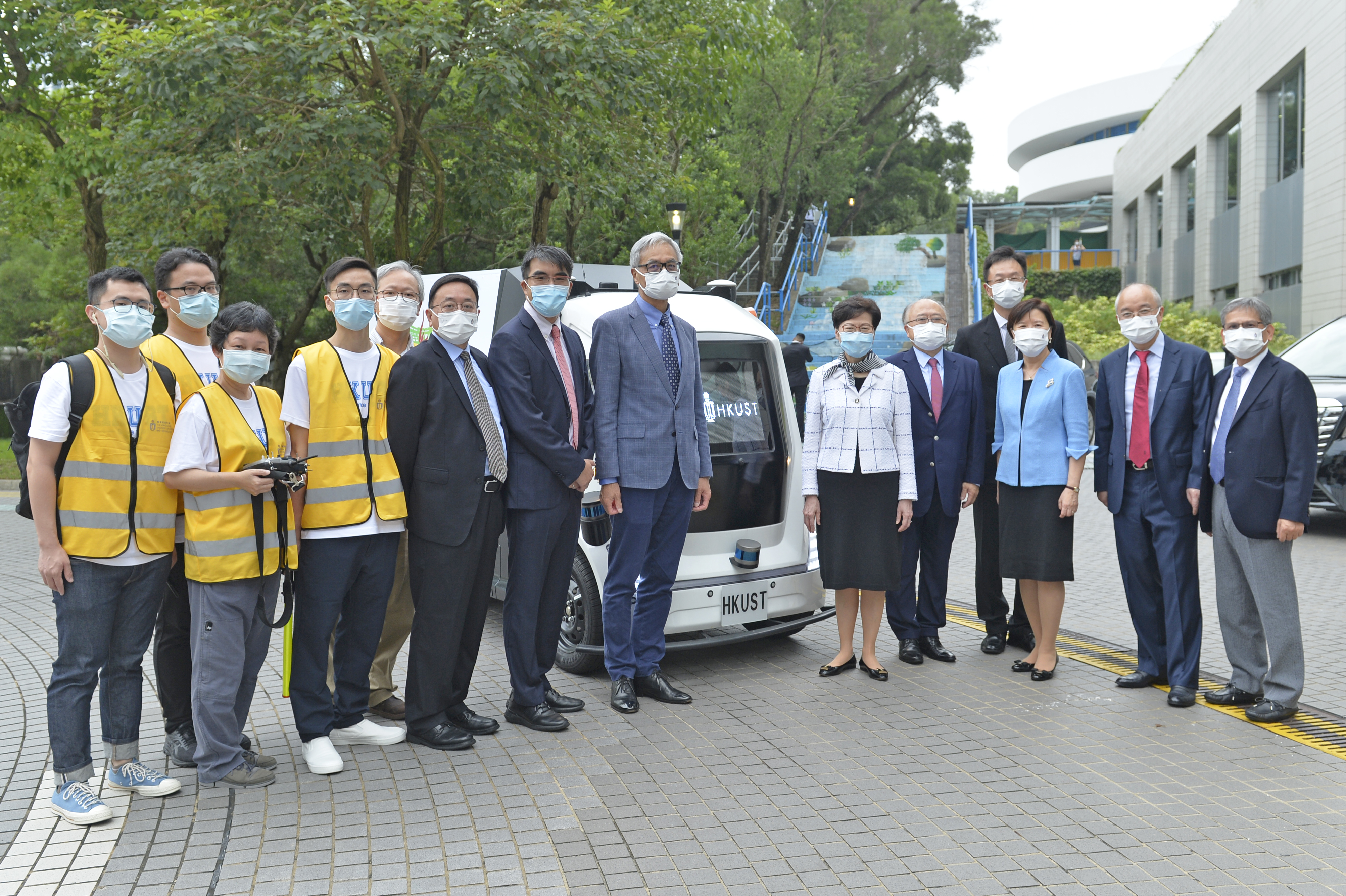 In a similar fashion to improve existing autonomous technology, the institute is taking the performance of autonomous delivery vehicles to the next level. Capable of planning its route after collecting data on the road and detecting on-road obstacles, the vehicle will be used to deliver food and mails throughout the Clear Water Bay campus. To this end, a test run—also the city's first autonomous vehicle trials without an operator on board—is currently being conducted throughout the campus to collect relevant driving data, which will also serve as an invaluable source for the Hong Kong government to set any future autonomous vehicle regulations.
With a staunch will to translate novel ideas into actions, and leveraging the continued support from the government and industry partners, HKUST is in good hands to continually create wider, stronger societal impact in the fast-changing world we live in.