On June 29, 2022, the Ministry of Education (MoE) announced that it had approved the establishment of the Hong Kong University of Science and Technology (Guangzhou) (HKUST(GZ)).  Jointly established by HKUST and Guangzhou University (GZU), HKUST(GZ) enjoys an independent legal entity status and is a progressive undertaking that serves as a role model of high-quality higher education partnership.
MoE said that by leveraging the exceptional academic resources available in the Mainland and Hong Kong, HKUST(GZ) will explore new frontiers in cross-disciplinary education and innovate pedagogies.  By doing so, HKUST(GZ) will play a constructive role in cultivating forward-looking talents with global vision, promoting the higher education reform at a national level, and accelerating educational collaboration between Hong Kong and Mainland as well as the development of the Greater Bay Area (GBA).
Admission to Three UG Programs Starts in 2023 and 15 PG Programs in 2022
HKUST(GZ) is the first legally-independent educational institution co-established by Hong Kong and the Mainland since the announcement and implementation of the "Outline Development Plan for the Guangdong-Hong Kong-Macao Greater Bay Area" and the "Overall Plan for Deepening Globally Oriented Comprehensive Co-operation amongst Guangdong, Hong Kong and Macao in Nansha of Guangzhou". 
Under the auspices of the People's Government of Guangdong Province, the new Guangzhou campus will offer undergraduate and postgraduate education.  Admission of undergraduate students will follow the nation's unified admission policy, while students will receive their certificates of graduation from HKUST(GZ) as well as their bachelor's degree certificates and degree diplomas from both HKUST(GZ) and HKUST respectively according to the graduation requirements of HKUST(GZ) and HKUST.  Postgraduate education for HKUST master's and doctoral degrees will be offered in accordance with relevant national policies and the University's graduation requirements, and students will receive their master's and doctoral degree diplomas from HKUST.
The admission of undergraduate students will begin in 2023, while the first batch of undergraduate programs will cover artificial intelligence, data science and big data technology, as well as smart manufacturing.  Starting 2022, the University will offer 15 postgraduate degrees in areas including advanced materials, intelligent transportation, and microelectronics.
Located in Qingsheng Hub Cluster, Nansha, Guangzhou, HKUST(GZ) will open its door on September 1, 2022.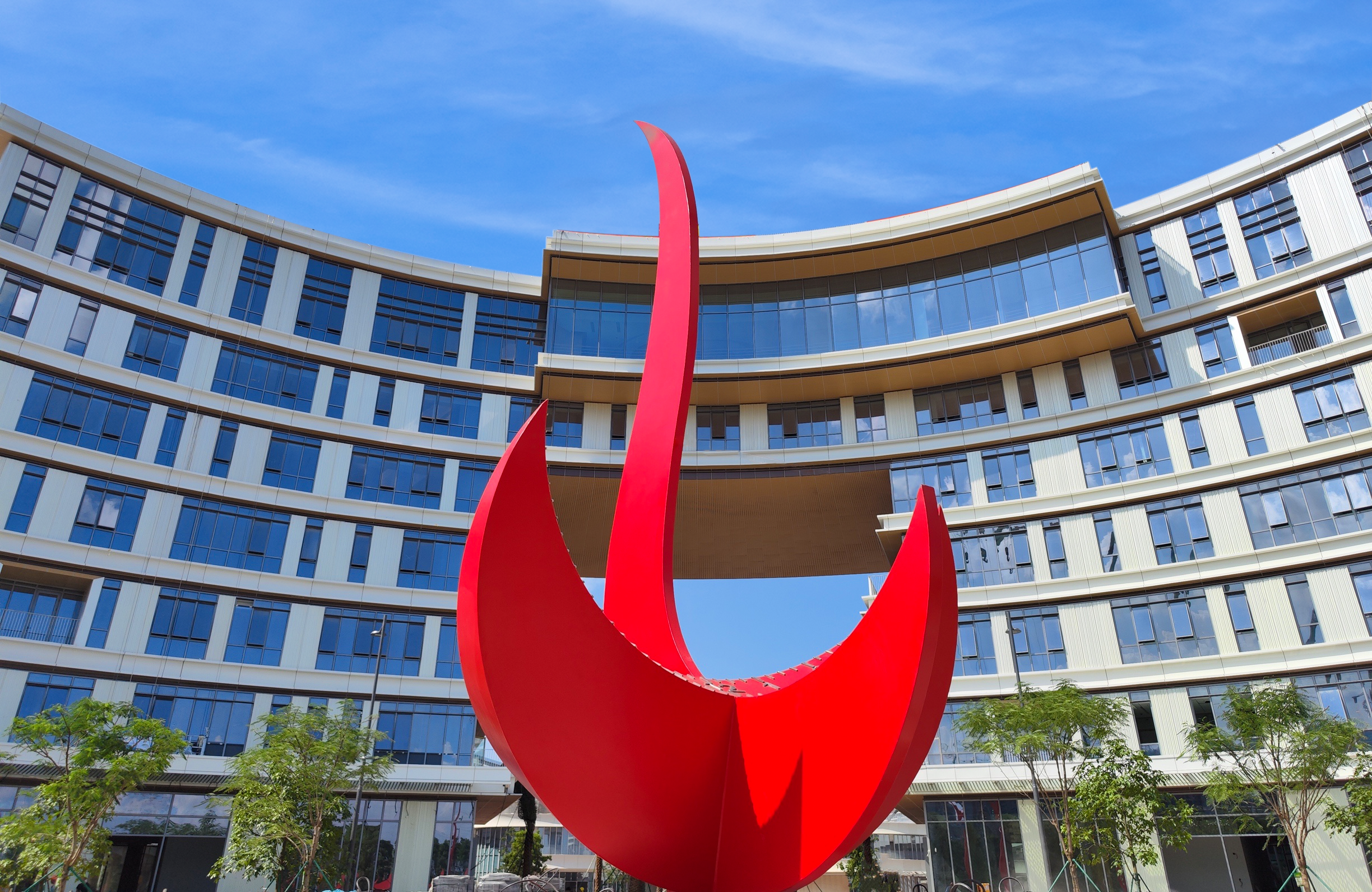 The "Unified HKUST, Complementary Campuses" Framework
HKUST(GZ) and HKUST are of separate legal entities and financial systems.  Under the "Unified HKUST, Complementary Campuses" framework, the two campuses enjoy an equal status and will maintain consistency in the academic standard, faculty, and program quality, while creating great synergy by sharing resources and complementing each other's strengths.
HKUST(GZ) will adopt a framework consistent with HKUST's for faculty recruitment and academic standard and mechanism, while encouraging collaboration between the two campuses toward fulfilling the mission of strengthening moral education and cultivating talent.  More efforts will be devoted to the development of an internationally recognized mechanism for research output accreditation and resource allocation.  A performance evaluation system in line with international standards will also be developed.  
Meanwhile, the two campuses are well-placed to generate more research impact through better utilizing and sharing resources such as laboratories and research facilities and securing robust research funding support.  Upon fulfilment of the requirements set out by the Senates of the two campuses, HKUST(GZ) students can choose to enroll in courses and degrees offered by HKUST, and vice versa.  Academic resource sharing between the two campuses, when circumstances allow, will also be promoted, which means students of both campuses will enjoy the same right in using the academic resources provided by the University.
HKUST(GZ) Strives to Innovate
In response to the increasingly complex challenges of the rapidly changing world, the University will substitute the conventional "school-based" academic structure with a unique "Hubs" and "Thrust Areas" structure.  This academic structure, which is unprecedented in global higher education, will facilitate cross-disciplinary education and research endeavors in emerging and frontier disciplines.
HKUST(GZ) comprises four Hubs, namely Function, Information, Systems, and Society, with each pointing to the grand challenges facing humanity today.  These Hubs welcome top scholars from a wide range of backgrounds and encourage cross-disciplinary collaborative efforts to solve problems that could not have been dealt with using knowledge from one single discipline.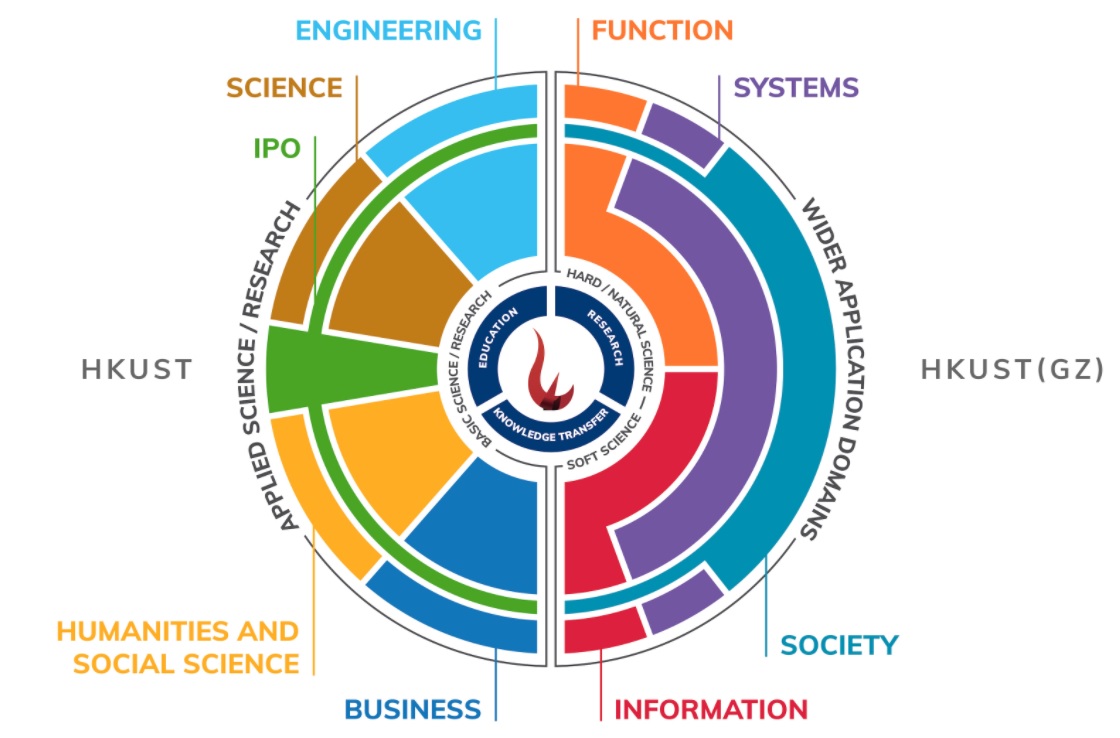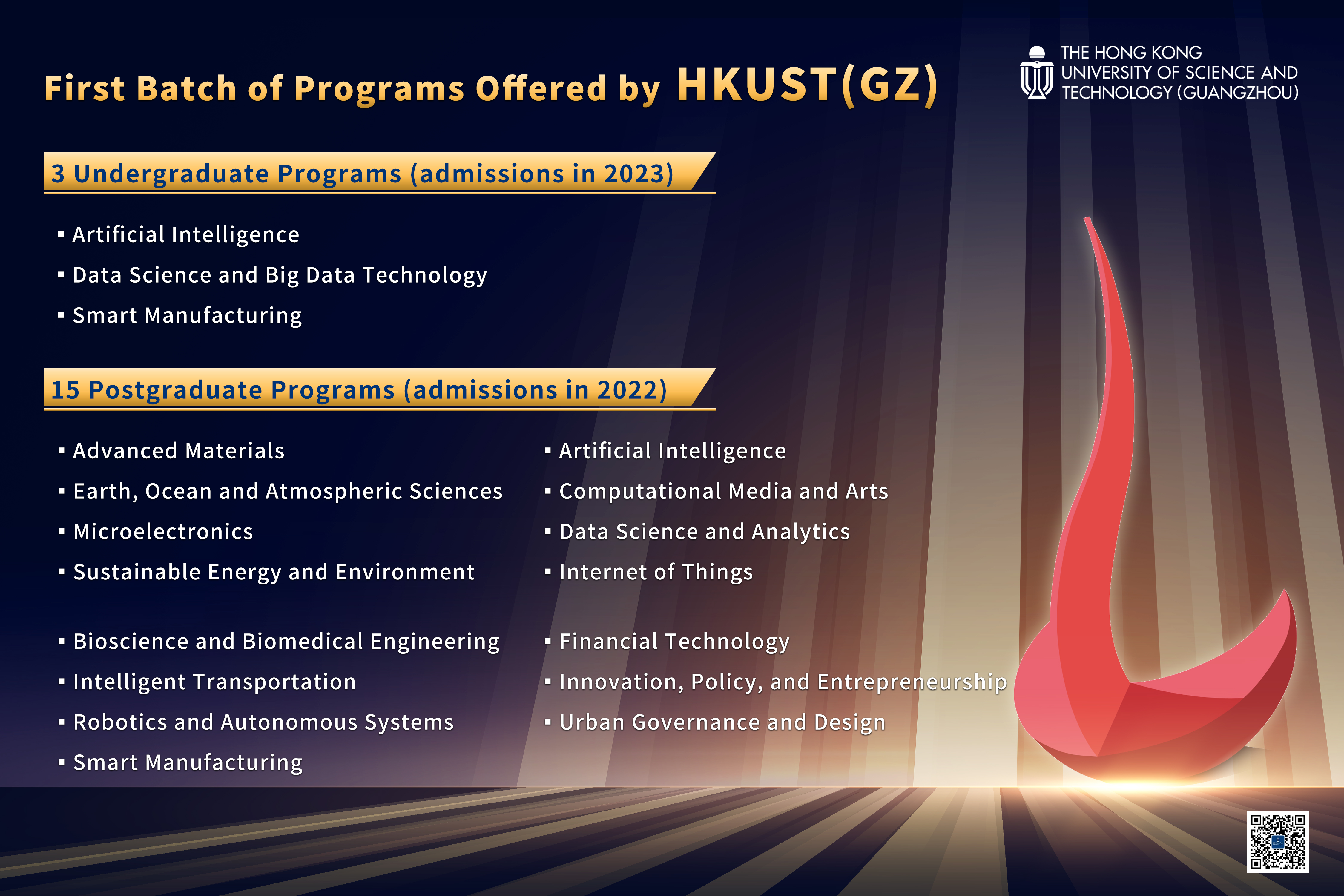 Opening Soon: After Almost 3 years of Preparation and 20 months of Construction, Brand-new Campus Will Welcome New Students
Founded in 1991, HKUST is a world-class research university that focuses on science, technology, and business as well as humanities and social science, while GZU is a major institution on the list of the Guangdong High-Level University Development Plan and a comprehensive university founded by the city of Guangzhou. 
On December 21, 2018, the Guangzhou Municipal Government, GZU, and HKUST signed a co-establishment agreement, while GZU and HKUST signed a cooperation agreement to co-establish HKUST(GZ).
The first pile of HKUST(GZ) campus in Qingsheng hub cluster, Nansha, Guangzhou, was laid down in early November 2020.  After nearly 20 months of hard work, construction work of the whole campus is now nearing completion.  The first batch of faculty and staff will begin moving into the new campus in preparation for works leading up to the opening of HKUST(GZ) in September.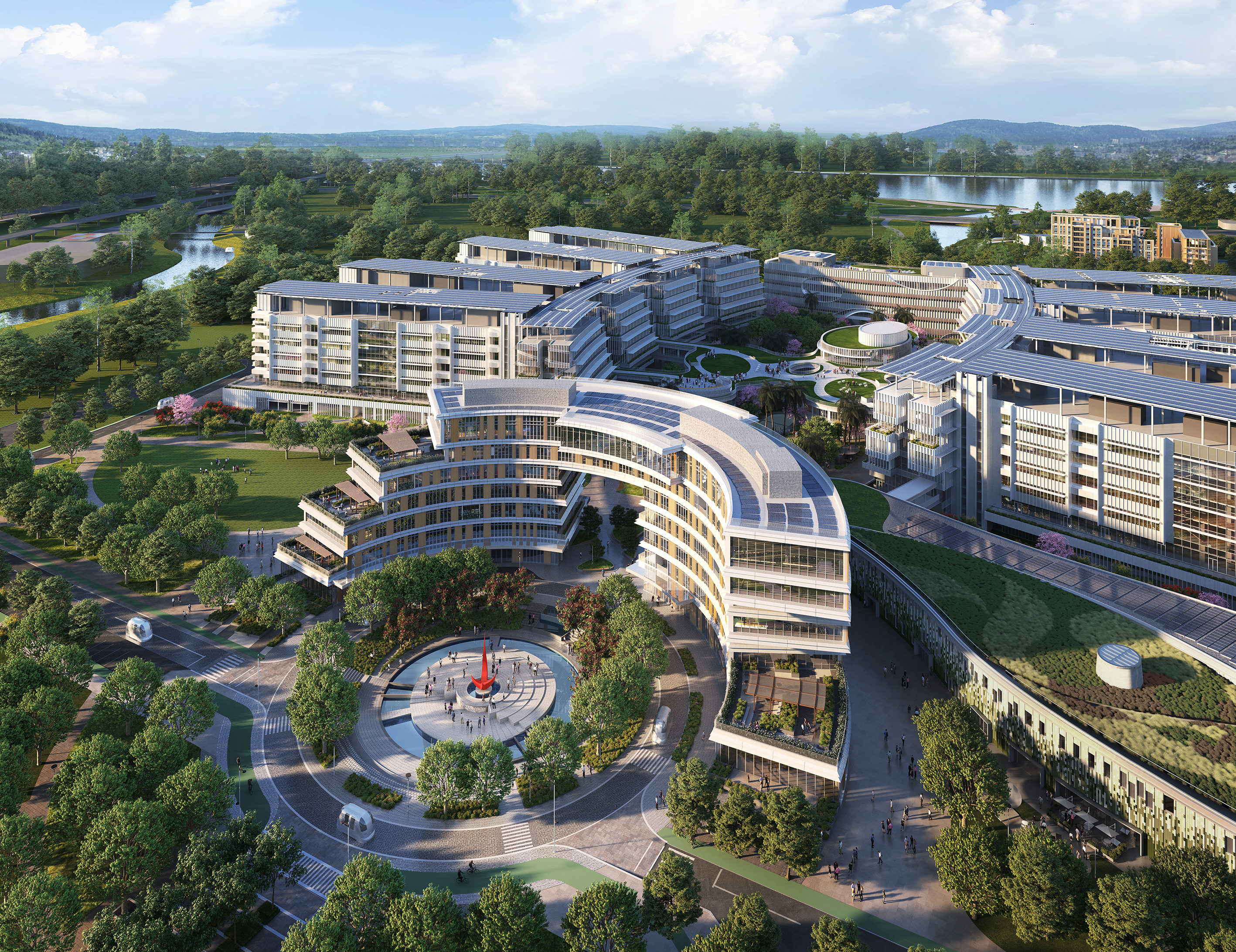 Setting Foot in GBA and Nurturing High-Level and Innovative Talent, Said HKUST(GZ) Senior Management
HKUST(GZ) President Prof. Lionel NI said, "On behalf of HKUST(GZ) faculty and staff, I would like to extend my heartfelt gratitude and respect to everyone that has given us staunch support since the preparations for HKUST(GZ) began – from the central to district governments across all levels, and from partnering institutions including HKUST and GZU to all local and global collaborators. We are confident in establishing HKUST(GZ) as a role model of the education co-development between the Mainland and Hong Kong and as a world-class university to provide the intelligence and talent needed for the continued development of the GBA and our country."
HKUST Council Chairman Mr. Andrew LIAO Cheung-Sing said, "On behalf of HKUST, I would like to extend my deepest gratitude to the Central Government, Guangdong Provincial Government, Hong Kong SAR Government, the Governments of Guangzhou and Nansha district, our partner institution GZU, as well as our local and global collaborators.  It is impressive to see HKUST's remarkable growth into one of the world's top universities in only three decades since its founding.  Now, as we open a new chapter in the history of HKUST with the establishment of HKUST(GZ), I believe that HKUST(GZ) will carry forward HKUST's pursuit of excellence and innovation, and march toward becoming a world-leading higher education institution under the 'Unified HKUST-Complementary Campuses' framework."
HKUST President and Chairman of the HKUST(GZ) Governing Board Prof. Wei SHYY said, "I am pleased to see HKUST's vision of cross-disciplinary education find a solid foundation to grow and thrive in the opportunities presented by HKUST(GZ) under the 'Unified HKUST-Complementary Campuses' framework.  In the future, HKUST and HKUST(GZ) will form a blueprint for next-generation pedagogies that take advantage of the complementary academic structures and shared resources to nurture forward-looking, creative talents and pioneer a new way forward in higher education."
HKUST President-designate and academician of the Chinese Academy of Sciences Prof. Nancy IP Yuk-Yu said she is full of confidence and expectations with "HKUST 2.0", adding that she will work together with Prof. Ni, as well as the faculty, staff, and students of the two campuses to create a new chapter of HKUST. 
GZU Party Secretary and member of the HKUST(GZ) Governing Board Prof. QU Shaobing said, "HKUST(GZ) illustrates the pioneering spirit underpinning educational collaboration between Hong Kong and the Mainland.  In observing the national requirement of educational collaboration between Hong Kong, Macau, and the Mainland, GZU will fulfil its responsibilities as HKUST(GZ)'s co-founder to nurture more innovative talents equipped with global vision."
GZU President and Vice-Chairman of the HKUST(GZ) Governing Board Prof. WEI Minghai said, "Providing full support to the preparation and establishment of HKUST(GZ) is GZU's prime undertaking to promote collaboration in education as outlined in the 14th Five-Year Plan.  Reaping the benefits of this partnership with HKUST and HKUST(GZ), GZU will cultivate talent and achieve more technological advances that are in line with international standards, contributing to the development of GBA as set out in the broader national development strategy."