The Hong Kong University of Science and Technology (HKUST) has launched the HKUST "Blockcerts" platform – a trust-free, user-friendly verification system for documents such as graduation diplomas and academic transcripts, in its latest move to promote a paperless and sustainable campus as well as tackling the problem of fake diplomas.
As the first University in Hong Kong to launch this blockchain-based degree authentication system, HKUST hopes to set a trend for the gradual replacement of the conventional paper verification process - where graduates must make requests and pay the institution every time they need a print copy of their diploma, which is not environmentally friendly and also time-consuming for graduates and employers. HKUST also hopes the Blockcerts system can help hinder illegal activities on academic forgery.  
By the end of this month, HKUST graduates will begin receiving cryptographically signed and tamper-proof e-versions of their graduation diploma certificates.  Starting in November, the University will also begin providing e-transcripts to graduates. Students can make individual request for the e-transcript starting September.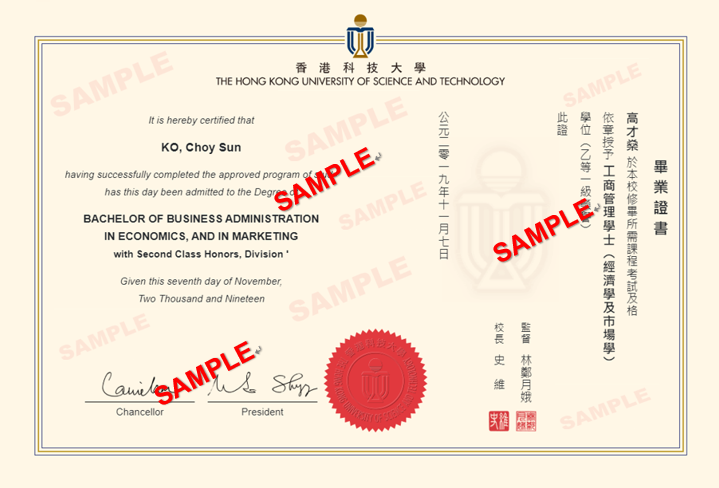 HKUST has been promoting this new initiative to employers including global background check company First Advantage, integrated telecom and technology solutions provider HKBN and tax and audit consultant PwC Hong Kong.  Industry interest in this technology has been positive and supportive.
Blockchain guarantees the integrity of data by linking up blocks of records using cryptography.  Each block contains a unique identifier called a hash, and must be aligned with the hash from the previous block. That means if the data in any one block is tampered with, its own hash will change making it no longer aligned with the hash from its previous block. This would cause the whole blockchain to become invalid, and therefore the user will be alerted to the attempted tampering. This feature is what ensures the integrity of the platform.
"Blockchain is an emerging technology that is highly-secured, allowing transactions between parties without the presence of any trusted intermediates. Given such nature, many industries, such as finance and gaming, have begun using it to build applications to make their businesses more efficient and bringing us all towards a smarter society," said Prof. CHEN Qifeng, Assistant Professor of the Department of Computer Science and Engineering at HKUST behind this "Blockcerts" project.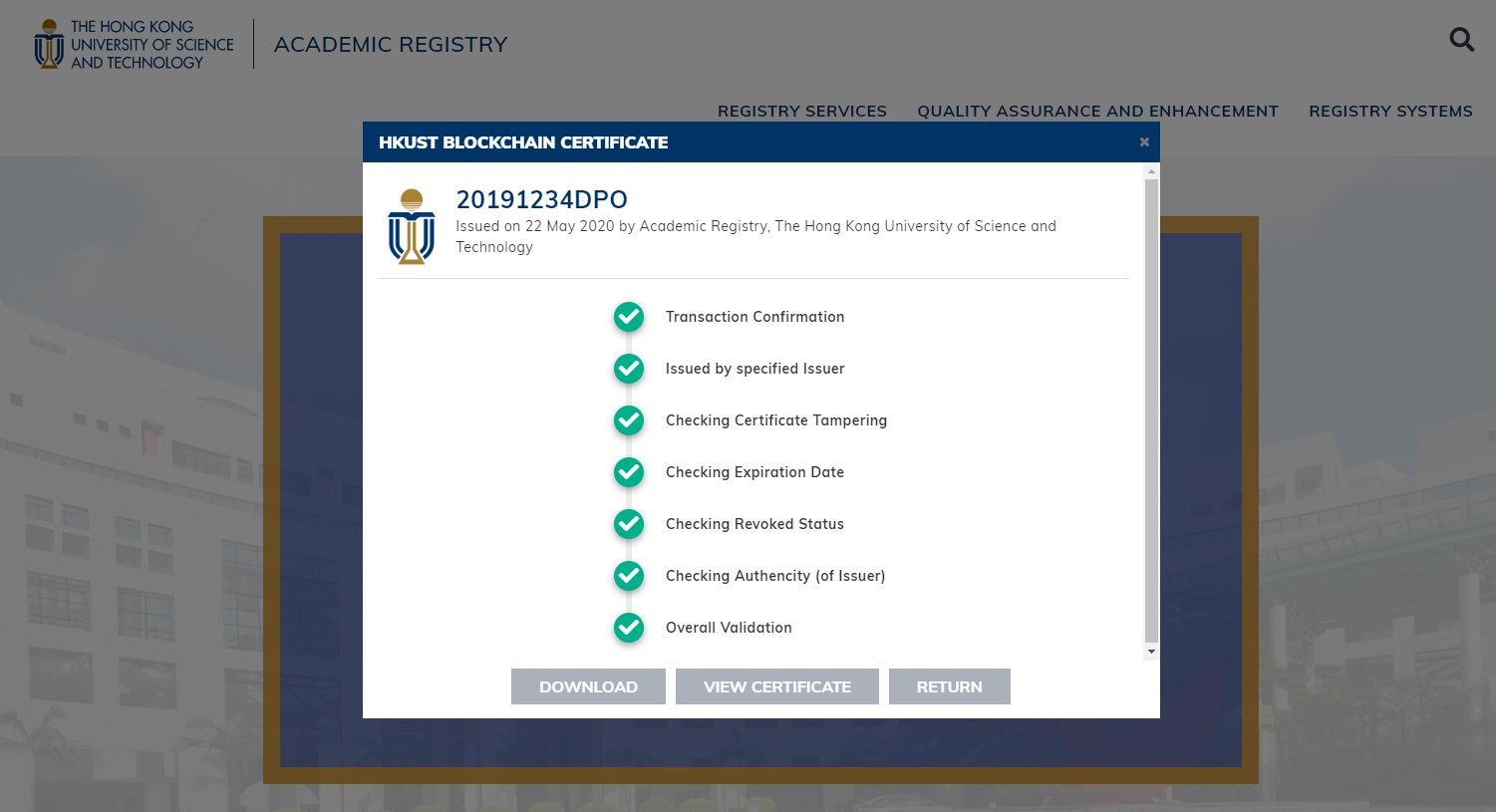 The "Blockcerts" certificate data is saved on a private and secured University server.  Employers or any third parties who wish to verify the authenticity of the diploma and transcript of our graduates can do so by following some simple steps on the University's official website: https://registry.ust.hk/verify/info anytime and anywhere in the world.
HKUST's Academic Registrar Mr. James PRINCE said, "HKUST prides ourselves on innovating new technologies and best practices.  With our debut introduction of Blockcerts, we are now in a position to revolutionize academic credentialing in Hong Kong, Greater China and beyond."
The "Blockcerts" project is part of the "Sustainable Smart Campus as a Living Lab" campaign – an initiative HKUST launched in early 2019 that aims to transform the campus into a testing ground for learning, experimenting, and advancing smart and innovative ideas to address real-life challenges.
Find out more about "Sustainable Smart Campus as a Living Lab" campaign: 
HKUST Launches "Sustainable Smart Campus as a Living Lab" Inspiring a Culture for Sustainability Innovation
For media enquiries, please contact:
Anita Lam                    
Tel: 2358 6313                    
Email: anitalam@ust.hk
Johnny Tam
Tel: 2358 8556
Email: johnnytam@ust.hk