It's not common that respected academics reveal their personal struggles, especially to their colleagues, students and even strangers. Prof. Paul FORSTER from the Department of Management and Division of Environment and Sustainability, who has recently been awarded IPO (Interdisciplinary Programs Office) Teaching Excellence Award for the postgraduate category, has decided to disclose his decades-long battle with depression, in the hope of breaking the mental health stigma and encouraging people to seek help for mental health problems.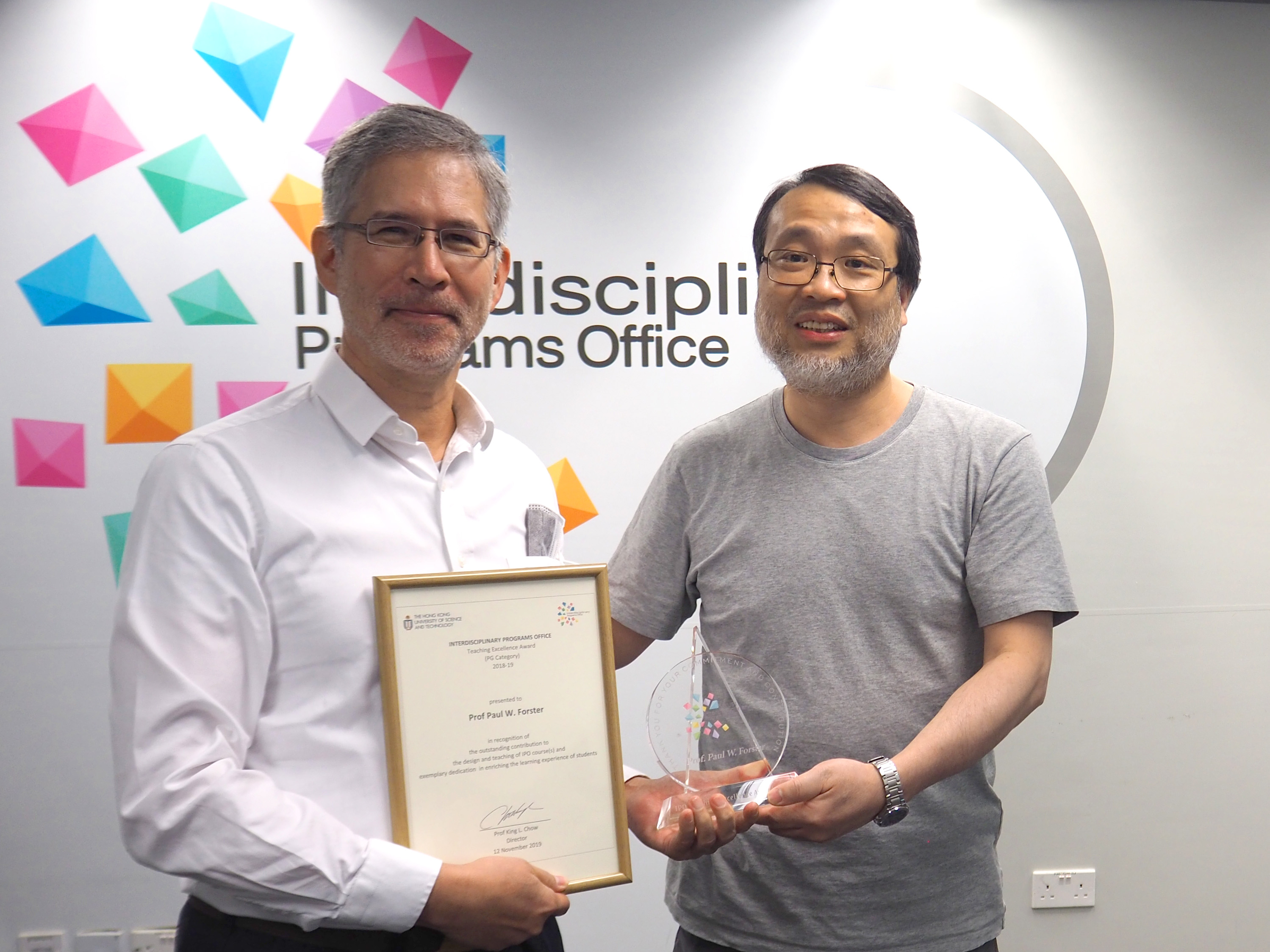 "Depression affects everything in your life – your energy, your desire to get out and do things, how you eat, talk, relate to others. It's sort of like running in mud – it takes more effort to do things. Most people, without knowing me well, probably could not tell I am working with depression," says Prof. Forster, wearing a gentle smile.
Considered himself a "functional depressive" – someone who can function almost normally on the outside but struggle internally, Prof. Forster traces the origins of how his depression began, with kids spitting on him and chasing him home from school because he is half-Chinese living in white-dominated countries. "I believe in my case that it originated with racial bullying when I was nine and my family moved from New Zealand to North America. It was a racially intolerant time in the US and Canada and I was bullied quite a lot," he recalls.
After that the depression became a vicious cycle where Prof. Forster has become his "own bully" and was particularly harsh on himself, and the hole deepened significantly. A series of unfortunate events in life – his father's sudden death, loss of his first child, missing tenure and becoming a divorcee, led him to resort to alcohol and sleeping pills, while also being prescribed anti-depressants.  While weaning off the substances he was catapulted into the "nightmare" of withdrawal. "I went up and down blaming myself until I was in my 30s and sought help," he says.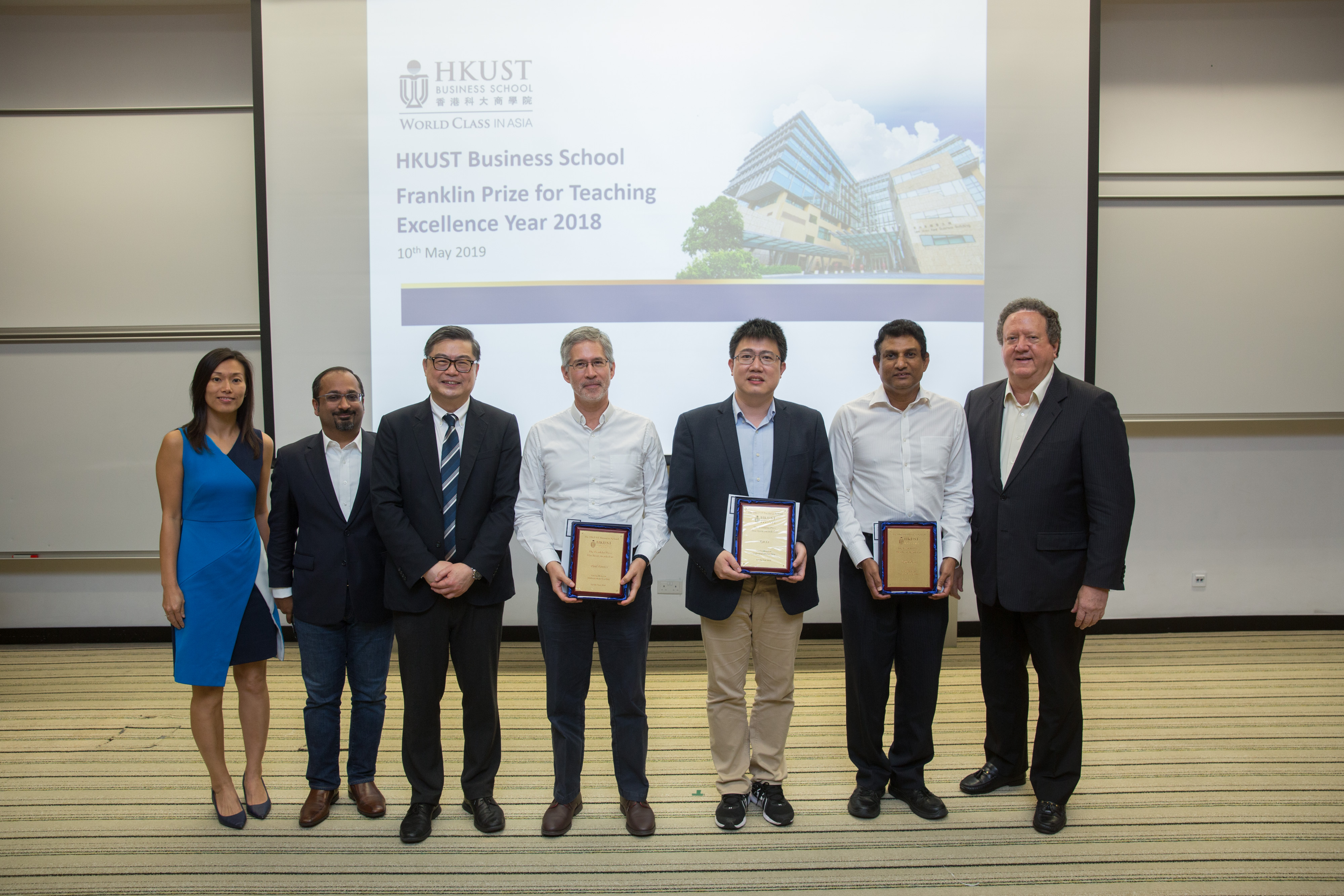 Despite the hardships and addiction, since working with HKUST in 2000, Prof. Forster has never missed a class. In recognition of his teaching professionalism, he was awarded the Business School's 2018 Franklin Prize for Teaching Excellence. "Depression is an illness, but people often assume you are okay. I'm a parent, caregiver, teacher who happens to have depression. I'm not fundamentally a depressive who happens to be a teacher. This is really an important difference," Prof. Forster explains.
As the instructor of IPO's "Corporate Environmental Strategy" course, he demonstrated his ability to cater to students' diverse academic backgrounds with interactive methods like case studies, simulations, games and small group discussions, pulling together strands from economic history, sociology, economics and environment into a coherent story about business attitudes towards the environment. "I bring humor into my teaching in small ways – videos, spinning words, little spontaneous jokes as we discuss," says Prof. Forster.
Having a high degree of empathy and sensitivity, Prof. Forster becomes students' "tree hole". "I listened more, responded more thoughtfully," he says. "Authentic listening is to listen to understand how a person constructs their own view of the world." During his conversations with students, he notices that some of them might have depression from their anxiety when they talk about a course project, an upcoming exam, or about the future and jobs. But he stresses that students who are depressed doesn't mean they are falling apart and missing work. There are very high performing students who have depression. In serious cases, he would get directly involved to sort out students' problems and assess if they need to consult a counselor. The University's Counseling and Wellness Center offers private and exclusive counseling service to students needing urgent counseling or emotional support.
Read another related article:  Putting Students' Mind at Ease
While HKUST has many mechanisms in place to help those with depression, Prof. Forster believes it is still a very challenging time for those who suffer from mental illnesses. "The combination of Hong Kong's social events and COVID-19 has raised the incident of depression to new highs. If there is economic stress this year then we are probably entering new territory," he says. 
Yet there are simple ways to show our care and support to those struggling with mental illnesses. "Don't ignore them, reach out, listen, but don't try to spin their words into positive clichés. Reach out to family, friends, neighbours, and colleagues, remember to take note and check in," he says. "It's okay to be depressed. If you are like me I hope you find it reassuring that you are not alone. Eventually clouds will pass."
Read another related article: A Passion for Helping That Never Fades