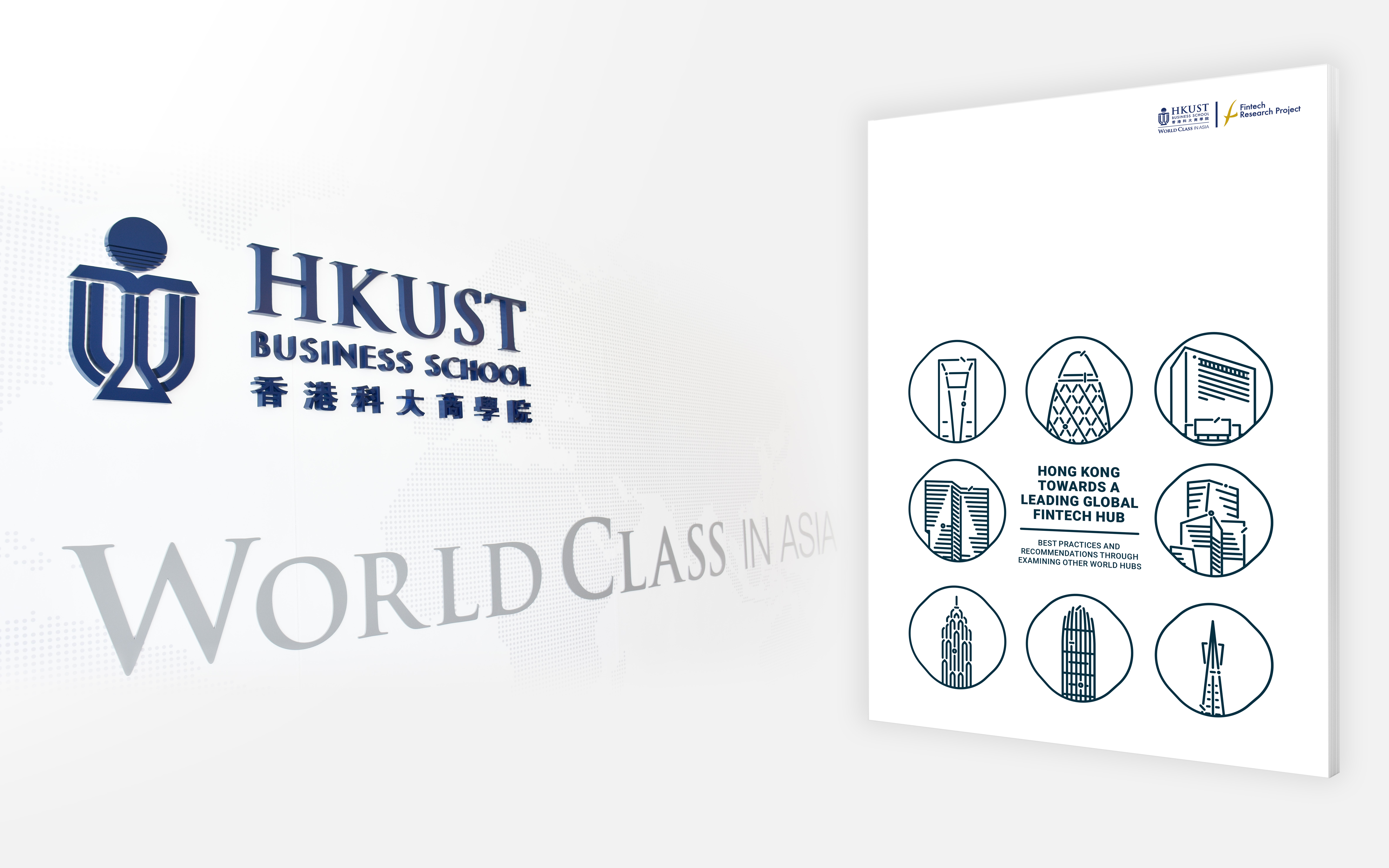 With fintech being a key part of Hong Kong's drive to stay competitive as a financial center, the School of Business and Management of The Hong Kong University of Science and Technology (HKUST Business School) completed an in-depth research study pointing way forward for Hong Kong's development into a leading global fintech hub. Taking references from the experience of major fintech hubs in the world, the study outlines ten opportunities that Hong Kong should leverage to enhance its fintech capabilities. Recommendations pertaining to high-level strategies include setting up a fintech ecosystem committee and positioning Hong Kong as a regional fintech sandbox.
With participation from diverse stakeholders in the industry, this first-of-its-kind comprehensive study examines fintech strategies and practices of seven fintech hubs, namely London, New York, San Francisco, Shanghai, Singapore, Tokyo, and Zurich. The study seeks to shed light on securing Hong Kong's place among the leading global fintech hubs. The research team's key observations and recommendations spanning strategy setting, innovation and talent building are summarized in a report entitled "Hong Kong Towards a Leading Global Fintech Hub: Best Practices and Recommendations Through Examining Other World Hubs".
The study has found Hong Kong faring better in areas of fintech regulation, government support and business environment than in talent supply. Among the recommendations to spur industry innovation and fill talent gap are a centralized incubation funding system for start-ups, a compulsory internship scheme for fintech students, as well as greater flexibility in overseas talent hiring. 
"While Hong Kong possesses qualities to develop a thriving fintech sector, it takes concerted efforts from the government, industry and academia to propel the city into a leading global fintech hub," Professor TAM Kar Yan, Project Leader of the study and Dean of HKUST Business School, said. "Drawing lessons from its peers around the world, the study aims to help elevate Hong Kong's standing as a global fintech center by offering useful insights and perspectives to stakeholders in policy making and strategy development."
The ten opportunities for fintech development in Hong Kong outlined in the study:
High-level Strategy
1. Establish a Hong Kong Fintech Ecosystem Committee, to streamline the development of the Hong Kong's fintech ecosystem, to coordinate with different stakeholders and to support the thematic policy areas outlined below. 
2. Establish a fintech infrastructure strategy focused on product development and financial inclusion, reinforced by secure, privacy-respecting fintech infrastructure and widespread adoption.
3. Transform Hong Kong into a regional fintech sandbox which attracts local and regional stakeholders to develop and grow fintech products and solutions in Hong Kong.
4. Prioritize development of the Commercial Data Interchange (CDI) as part of HKMA's Fintech 2025 strategy to improve the data landscape to enhance financial development, while protecting customers' rights to consent and privacy.
 
Incentives to Innovate
5. Improve the effectiveness and impact of public funding on different stages of innovation.
6. Establish a centralized incubation funding system by consolidating the resources from public and private sectors. 
7. Review, evaluate and promote the tax deduction policy for eligible R&D activities to increase innovation in fintech R&D.
 
Talent Building
8. Create a compulsory internship scheme specific to fintech students to prepare students to meet future market demand.
9. Establish a stronger certification link between Continuing Education Fund (CEF), Qualification Framework (QF) and internship schemes to promote on-the-job training opportunities to the existing workforce to help meet current market demand. 
10. Review and evaluate the overseas talent scheme and allow more flexibility, including remote work approval, for fintech companies to hire overseas fintech talent.
Funded by the Research Grants Council's (RGC) Theme-based Research Scheme, this study forms an integrated part of a four-year project that examines the interplay between technology and financial services in Hong Kong. Read the full report here.