Dr. Sean MCMINN, Director of HKUST's Center for Education Innovation (CEI), is a veteran language educator of two decades. His love for applying technology in education was intensified by ChatGPT, the powerful artificial intelligence (AI) chatbot that has swept the world in just a few months.
ChatGPT invents a new language
 "I wanted to see what you could do with generative AI in design-based thinking," he says. To experience the tool firsthand, he instructed ChatGPT to invent a fictional language called Forellian, combining Mandarin, English, German and Old Norse, a Viking language. 
 "I don't expect anyone to speak this language. But it can be a real-world task for our students.  For example, if you work in the movie industry after graduation and are writing a sci-fi film, your director may ask for a realistic language for an alien race," he elaborates. 
"Creating a language requires a deep understanding of linguistic structures and cultural influences. This exercise can take students through such a design thinking process assisted by generative AI."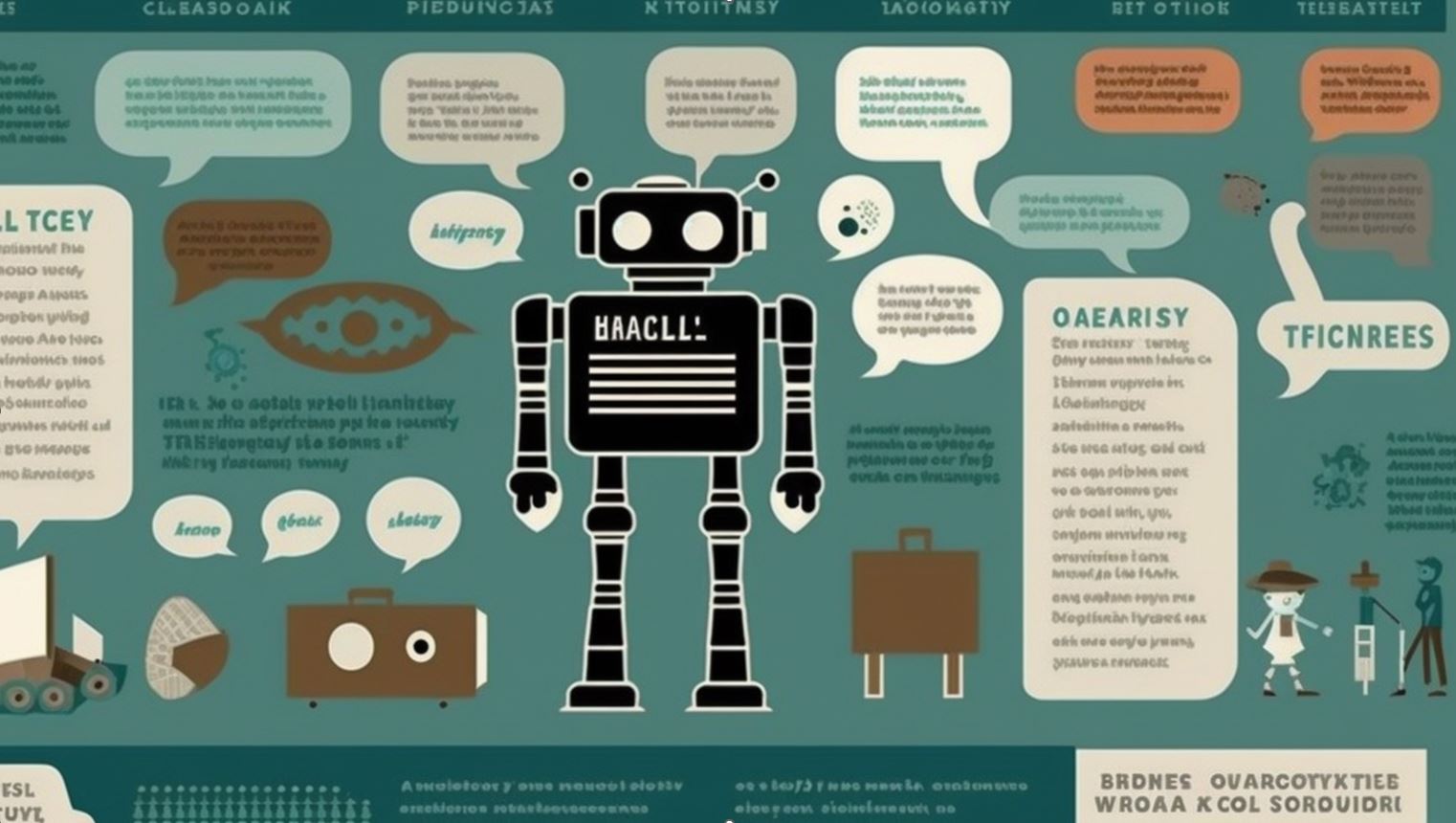 An open mind to groom innovative brains
The birth of ChatGPT last November has opened a whole new world of experience to generative AI – a type of AI that creates new content such as text, images, audios, or videos based on a variety of inputs, including existing data or information. 
Where many are mesmerized by the groundbreaking chatbot's ability to interact "like a human being", its use in education raises questions about possible cheating and plagiarism. Amid the debate, HKUST has become the first university in Hong Kong to embrace generative AI and recognize its potential to transform education. 
 We have to prepare our students for this new world that is coming sooner than some people think. 
After consultation with faculty and students, the University issued a set of guidelines in March. It offers faculty the flexibility to allow students' use of generative AI in assignments freely or conditionally, both with acknowledgement, or to ban its use, according to the needs of individual courses. 
To further encourage HKUST members to initiate innovative ways of using generative AI tools, the University recently also launched the Education and Generative AI Fund. Faculty are invited to submit proposals that integrate generative AI tools into teaching and learning. 
All these efforts are to cultivate the next generation of talents, Sean says. "We have to prepare our students for this new world that is coming sooner than some people think." 
Be your own master to master the machine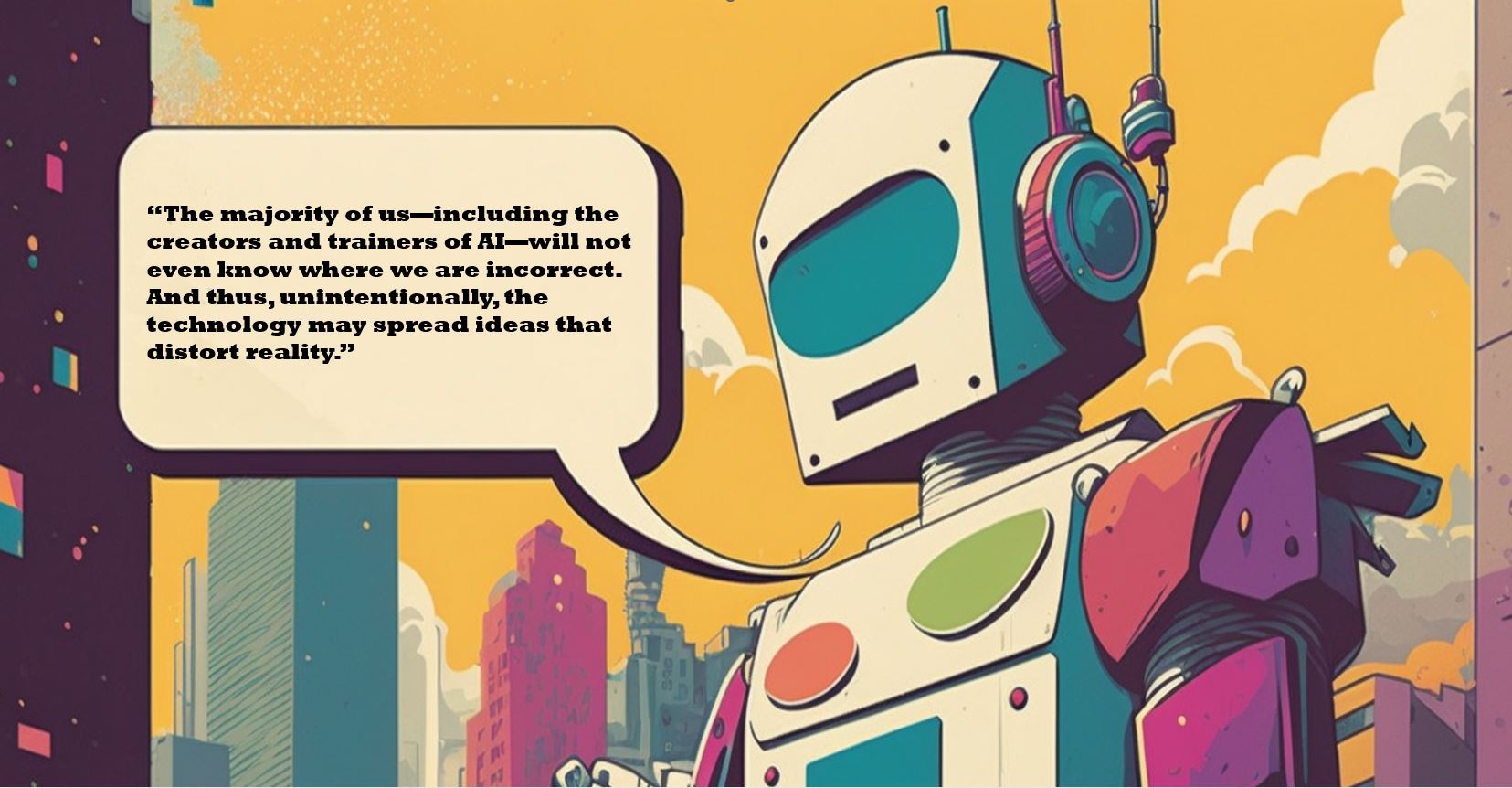 ChatGPT might be novel to many, but HKUST faculty are quick to leverage the tool in education activities such as business case analyses and program code checking. Among the early birds is Prof. Ben CHAN Yui-Bun, Associate Professor of Engineering Education.
 "Before ChatGPT emerged, I had already been using Midjourney and encouraged my students to use this generative AI tool to create images. It is because in engineering we often need to visualize ideas," Ben recalls. 
In his course Engineering Solutions to Grand Challenges of the 21st Century, for example, "I asked them to use ChatGPT to write literature reviews about challenges like water scarcity and energy crisis. This would usually take five weeks to complete, but with the help of ChatGPT it's a lot faster now. Students can spend more time on the thinking design process."
They need to learn how to work with AI and not to be controlled by it.
Helping students understand the chatbot's limitations is equally important. Ben cites examples to show students that ChatGPT-generated content can be wrong and teaches them to conduct their own vetting. "They need to learn how to work with AI and not to be controlled by it," he stresses. 
Graduate entrepreneurs' first taste with generative AI 
Not only are our faculty embracing generative AI, but our graduates are also applying it to reshape the way businesses are conducted. An entrepreneurial initiative by two young alumni, Jack SHING Ngai-Man and WU Fan, offers a living example of how graduates in the age of generative AI make innovations.
Five years ago, they co-founded a start-up with Prof. Emeritus WU Jingshen of the Department of Mechanical and Aerospace Engineering. The company, D-Engraver, offers end-to-end contract-based blockchain services that help clients from contract drafting to the automatic execution of transactions. Their flagship products include a digital signature service and an ID tracing solution.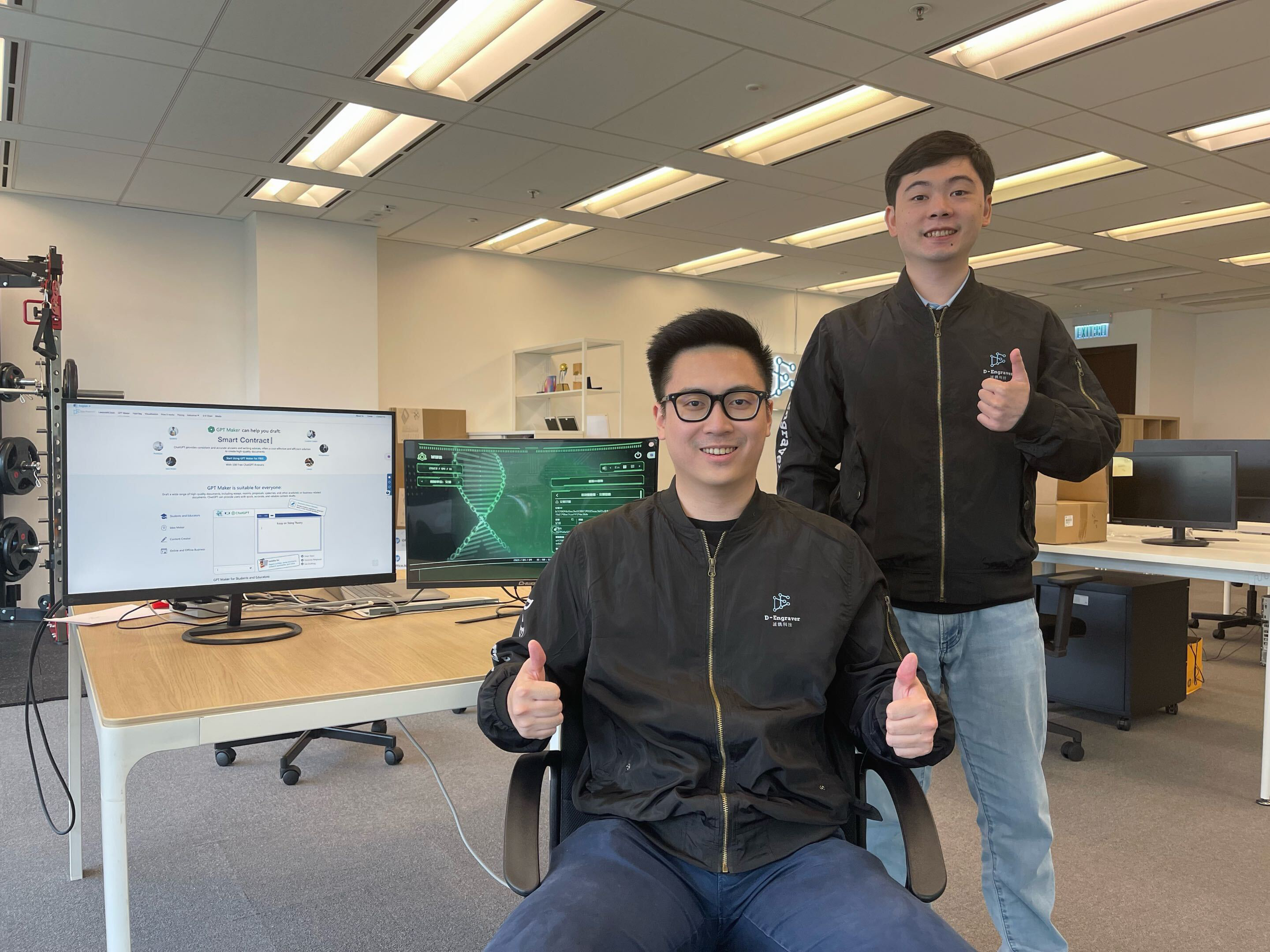 "With experience in contract-based transactions, we understand that legal consultancy and contract drafting can be time-consuming and costly for businesses. So we came up with the idea of using ChatGPT to create an AI legal assistant," Jack says. 
By integrating ChatGPT into its blockchain platform, the company has launched a new tool that speeds up the consultancy process by quickly summarizing information, and saves time in contract drafting. To ensure the professional reliability of the service, it has partnered with a law firm to build a fit-for-purpose database that trained ChatGPT with legal knowledge. 
"The contracts still get vetted by lawyers. AI can't replace legal professionals, but it drastically saves their time, in turn reducing the legal cost on clients," Jack explains. "We believe blockchain plus AI is the future."
We are not just using a new tool but also bettering ourselves as more able learners to solve real-world problems and contribute to society.
As the HKUST community is embracing the technological revolution, Sean is optimistic about the future of our new generation. "We hope all members of the University are rethinking and reskilling themselves in teaching, learning as well as life-long explorations beyond the campus. By capitalizing AI, we are not just using a new tool but also bettering ourselves as more able learners to solve real-world problems and contribute to society."