Five distinguished individuals, Mr. Raymond CHAN Wai-Man, Mrs. Yvette FUNG YEH Yi-Hao, Ms. Margaret LEE Pui-Man, Dr. Daryl NG Win-Kong and Prof. YU Tongxi were conferred Honorary Fellowships by the Hong Kong University of Science and Technology (HKUST) today.  Officiating at the ceremony were Mr. Andrew LIAO Cheung-Sing, Chairman of the HKUST Council, and Prof. Wei SHYY, President of the HKUST.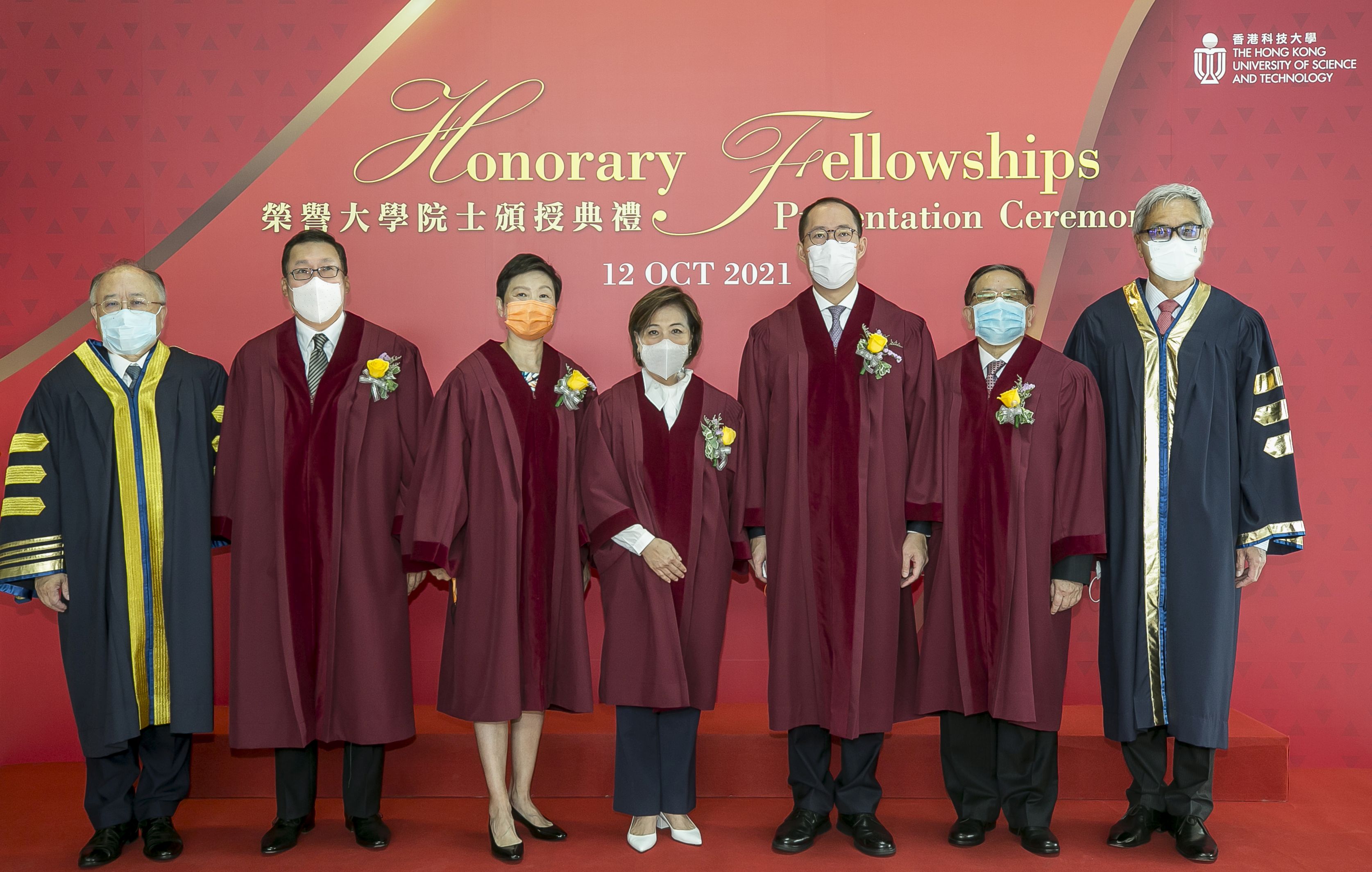 Council Chairman Mr. LIAO Cheung-Sing lauded the five recipients for their remarkable achievements, contribution to the society as well as support to the University.  "Our five new Honorary Fellows are not only renowned leaders in their respective professional spectrums – ranging from management, business to education and culture, but are also local dignitaries committed to contributing to the wider community.  They are inspirations to the young generation," he said.
President Prof. Wei SHYY also extended his congratulations and thanked them for supporting the University, "All our five Honorary Fellows have been long-term supporters of HKUST.  They have contributed their time, expert opinions and in some cases donation which have greatly benefited the University on various fronts.  I hope their leadership and spirits will continue to inspire our students in working towards a better world."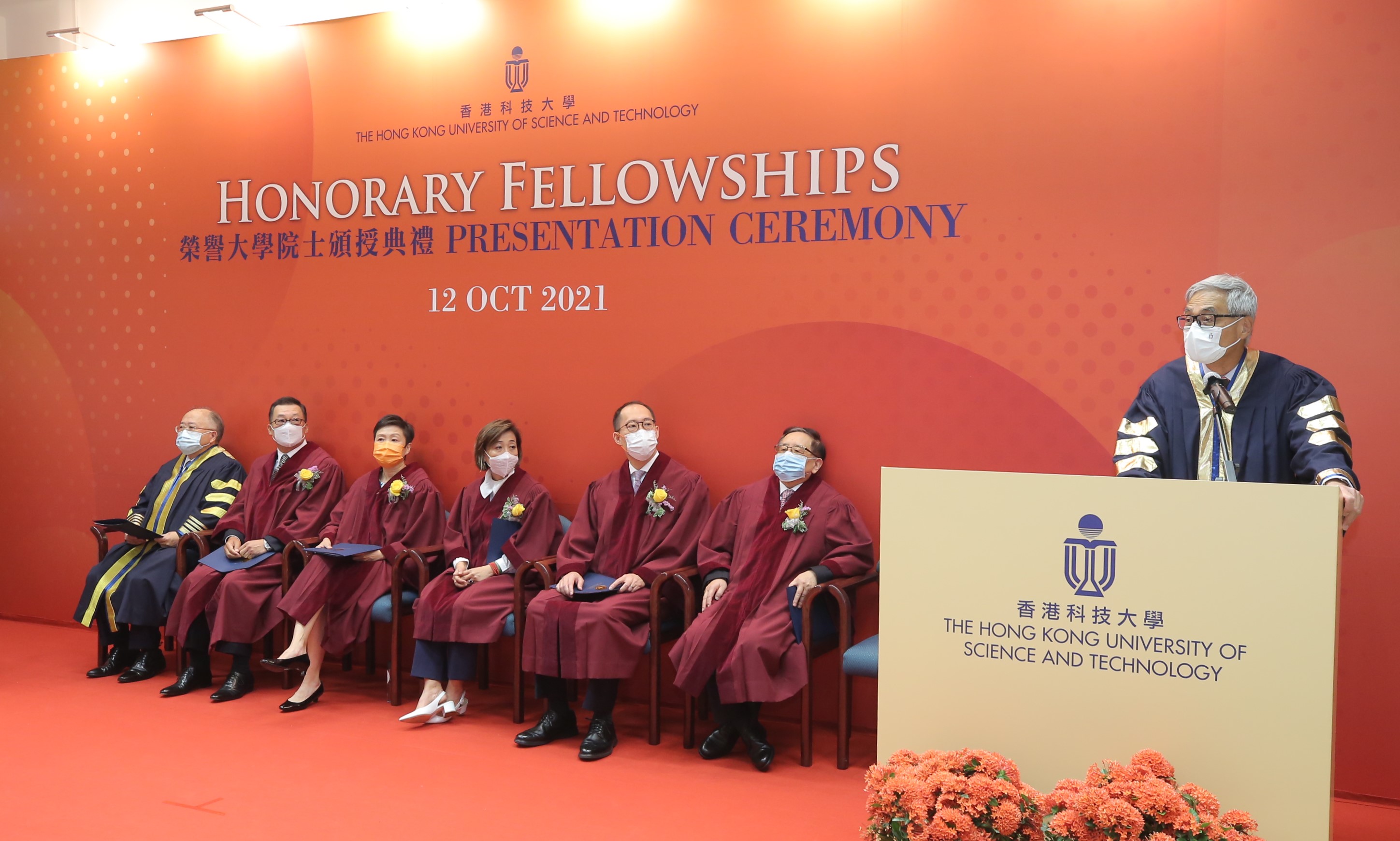 Mr. Raymond CHAN is the Chairman of the Shaw Foundation Hong Kong (SFHK).  After graduated from the UK, he returned to the city and worked as an architect before joining the Shaw Group in 1994.  He is now responsible for funding significant projects in healthcare, education and the arts.   Among all SFHK's philanthropic initiatives, the HK$150 million donation to HKUST for its construction of a new multi-purpose Shaw Auditorium is particularly meaningful to Mr. Chan, who believes exposure to arts and culture has enormous benefits for those who study technology and science.  As Chairman of the Shaw Prize Foundation, Mr. Chan also takes an active interest in honoring global researchers who made significant advances in areas such as astronomy, life science and medicine, and Mathematical Sciences.  The Shaw Prize has gained in prominence over the years and became a platform for international academic exchange. 
Mrs. Yvette FUNG YEH was born in a family of entrepreneurs who built Hsin Chong - one of Hong Kong's leading construction and property management firms until the late 2000s.  She is the Chair of the Yeh Family Philanthropy Limited (YFP) – a platform for future generations to share the family's belief of paying it forward.  In 2013, YFP started a Social Entrepreneurship and Venture Philanthropy course for MBA students at the HKUST Business School, and later launched a Nurturing Social Minds program for students at HKUST and other local universities.  Appointed as a Court member of HKUST in 2004, Mrs. Fung Yeh began leveraging her business insights to help promote the interest of the University and raise funds.  She subsequently assumed a number of other capacities at HKUST including being its Council member, as well as a member of the Institutional Advancement and Outreach Committee and the Council's Honorary Awards Committee.
Ms. Margaret LEE, Senior General Manager of Portfolio Leasing at Henderson Land Development, is the eldest daughter of Henderson Land's founder Dr. LEE Shau-Kee.  Evolving her father's philanthropic vision, Ms. Lee takes an active role in carrying out Lee Shau Kee Foundation (LSKF)'s activities through driving scholarships and education initiatives.  LSKF is a generous supporter of HKUST and has donated nearly HK$600 million to the University since 2005.  Our Library, Campus and Business Building are all named in Dr. Lee's honor.  In 2016, with Ms Lee's instrumental support to HKUST, LSKF made another generous donation to help fund the University's future Innovation Building.  She currently serves as an Honorary Court member and on the Institutional Advancement and Outreach Committee (IAOC) at HKUST.
Dr. Daryl NG is the Deputy Chairman of the Sino Group and Chairman of the food and beverage conglomerate Yeo Hiap Seng.  As an enthusiastic advocate of sustainability and innovation, he made many contributions to the society through the Ng Teng Fong Charitable Foundation (TFCF), which include $2 billion in donation to date in support of a wide range of heritage conservation causes, financial assistance to around 300 local NGOs and universities as well as student scholarships.  Dr. Ng set up the Hong Kong Innovation Foundation (HKIF) in 2018 to help promote innovation and technology, and launched the Spirit of Hong Kong Awards in 2013 to recognize the unsung heroes.  Dr. Ng was awarded the Silver Bauhinia Star by the HKSAR Government and the Chevalier de l'Ordre National du Mérite by the French President in recognition of his commitment and contribution.  As a staunch supporter of the HKUST, Sino Group supported several scholarship programs and events including HeadStart@HKUST as well as HKUST's signature One-Million-Dollar Entrepreneurship Competition - of which the group is a title sponsor.
Prof. YU Tongxi is an authoritative figure on impact dynamics and plasticity.  In 1995, he embarked on his long career with the then fledgling HKUST.  After serving as Chair Professor and Head of the Department of Mechanical Engineering, he went on to hold various key senior positions including the University's Associate Vice-President (Research & Development).  Prof. Yu received numerous academic accolades throughout his career - including Cambridge University's Doctorate of Science, and the prestigious China Higher Education Science and Technology Award (First Class).  The highlight of Prof. Yu's quarter-century service at HKUST is undoubtedly the establishment of the Fok Ying Tung Graduate School (FYTGS) in Nansha, Guangzhou, where he served as the Founding Dean.  Despite having retired in 2010, he continued to publish papers and served different roles at HKUST including Senior Adviser to the President.  He is now the University's Professor Emeritus in Mechanical and Aerospace Engineering. 
About The Hong Kong University of Science and Technology 
The Hong Kong University of Science and Technology (HKUST) (https://hkust.edu.hk/) is a world-class research intensive university that focuses on science, technology and business as well as humanities and social science.  HKUST offers an international campus, and a holistic and interdisciplinary pedagogy to nurture well-rounded graduates with global vision, a strong entrepreneurial spirit and innovative thinking.  Over 80% of our research work were rated "Internationally excellent" or "world leading" in the Research Assessment Exercise 2020 of Hong Kong's University Grants Committee. We were ranked 3rd in Times Higher Education's Young University Rankings 2021, and our graduates were ranked 26th worldwide and among the best from universities from Asia in Global University Employability Survey 2020.
 
For media enquiries, please contact:
Anita LAM
Tel: +852 2358 6313
Email: anitalam@ust.hk  
      
Jamie WONG
Tel: +852 3469 2512
Email: jamiewong@ust.hk