The Hong Kong University of Science and Technology (HKUST) welcomes students and guests to the campus today for its 29th Congregation – the first in-person congregation ceremony since the Covid-19 outbreak.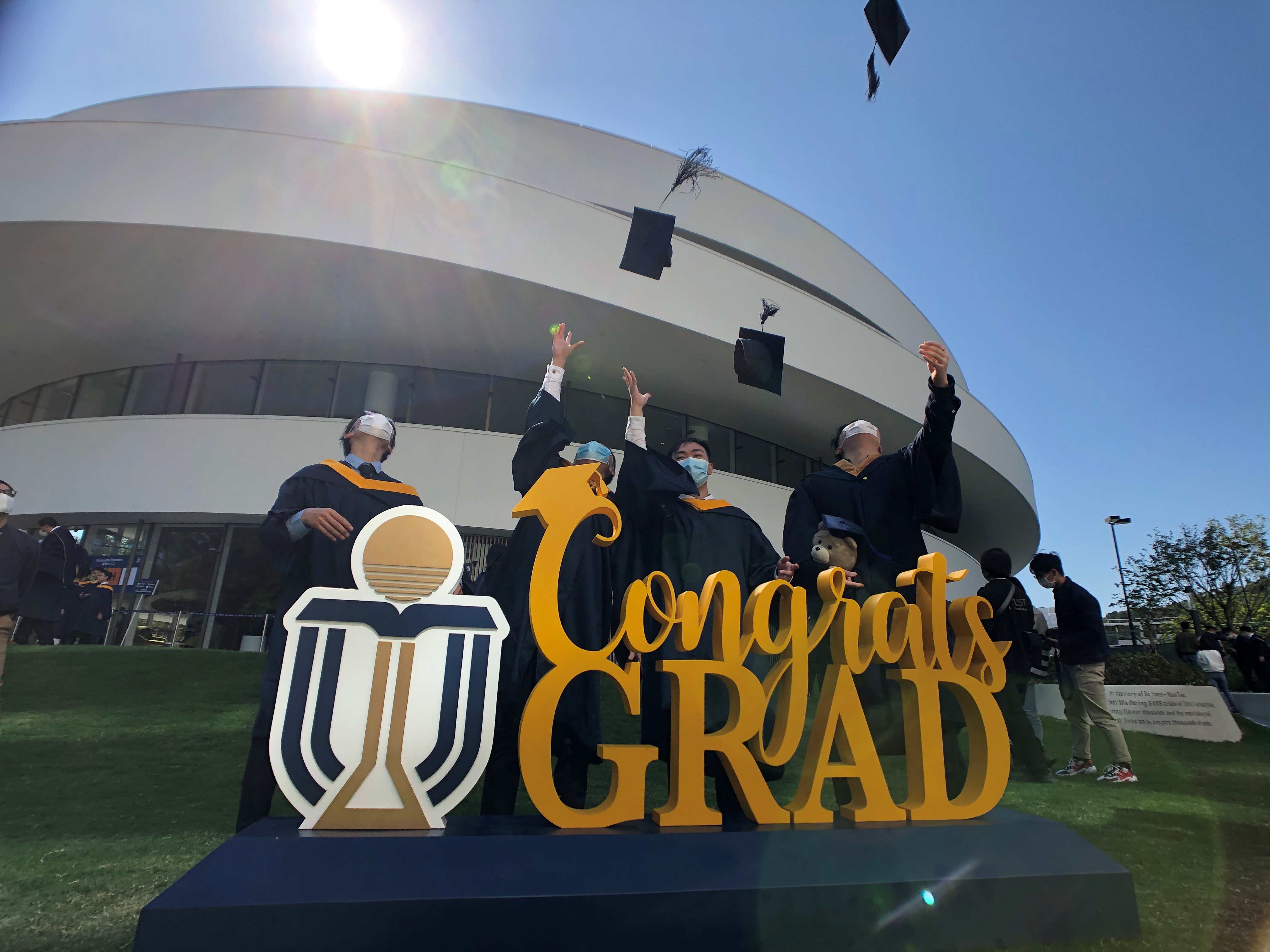 The University also conferred honorary doctorates on six eminent academics and community leaders in recognition of their distinguished achievements and contributions.  Mrs. Carrie LAM CHENG Yuet-Ngor, Chief Executive of the HKSAR government and Chancellor of the University, presided the conferment ceremony. Mr. Andrew LIAO Cheung-Sing, Chairman of HKUST Council and other senior management members also officiated at the ceremony.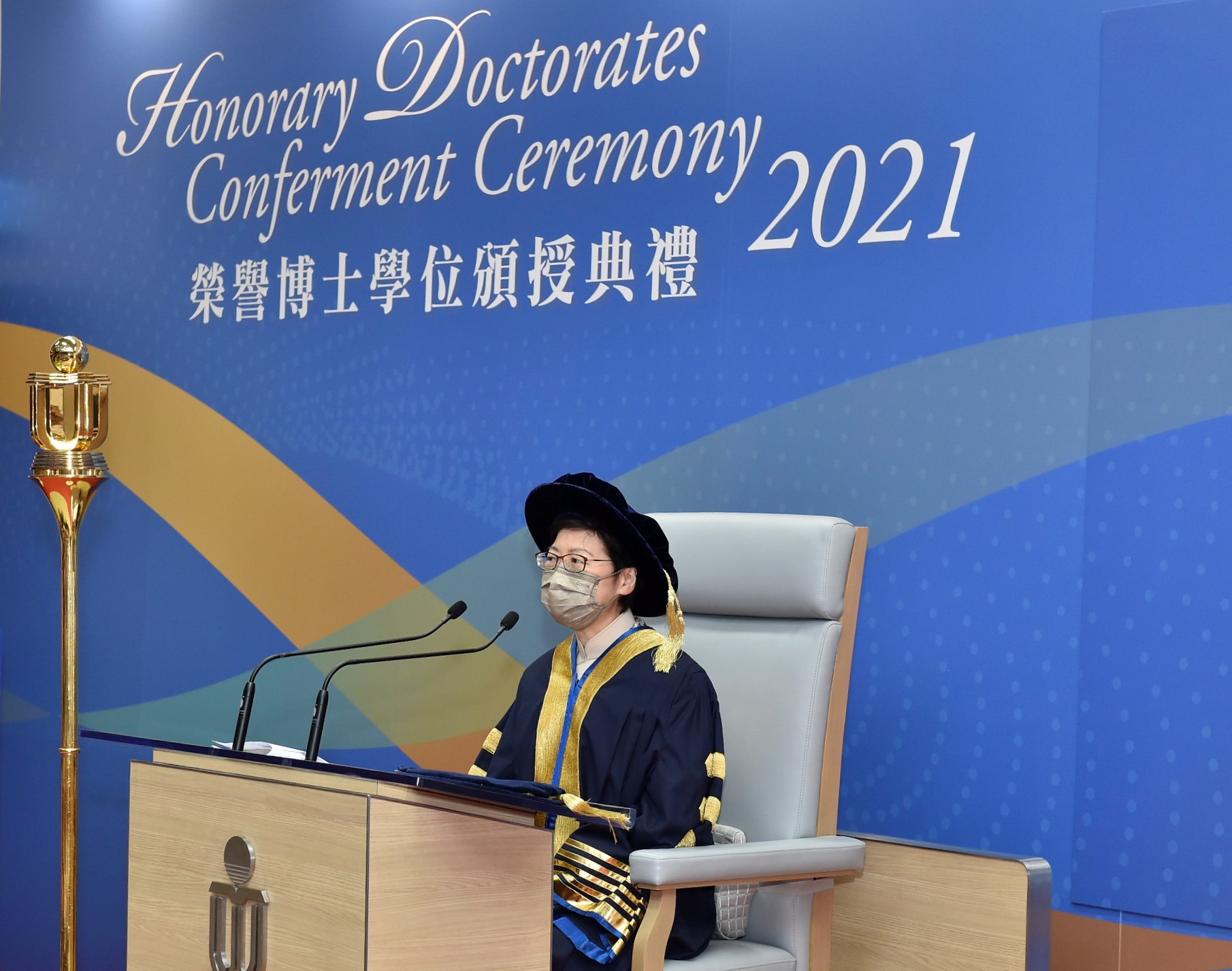 The Honorary Doctorate recipients this year were (arranged in alphabetical order of surnames):
Dr. Anthony CHOW Wing-Kin, Former Chairman of Hong Kong Jockey Club and Former President of The Law Society of Hong Kong - Doctor of Laws honoris causa
Dr. Colin LAM Ko-Yin, Vice Chairman of Henderson Land Development Co. Ltd. - Doctor of Business Administration honoris causa
Sir WU Ying-Sheung Gordon, Chairman of Hopewell Holdings Ltd. - Doctor of Engineering honoris causa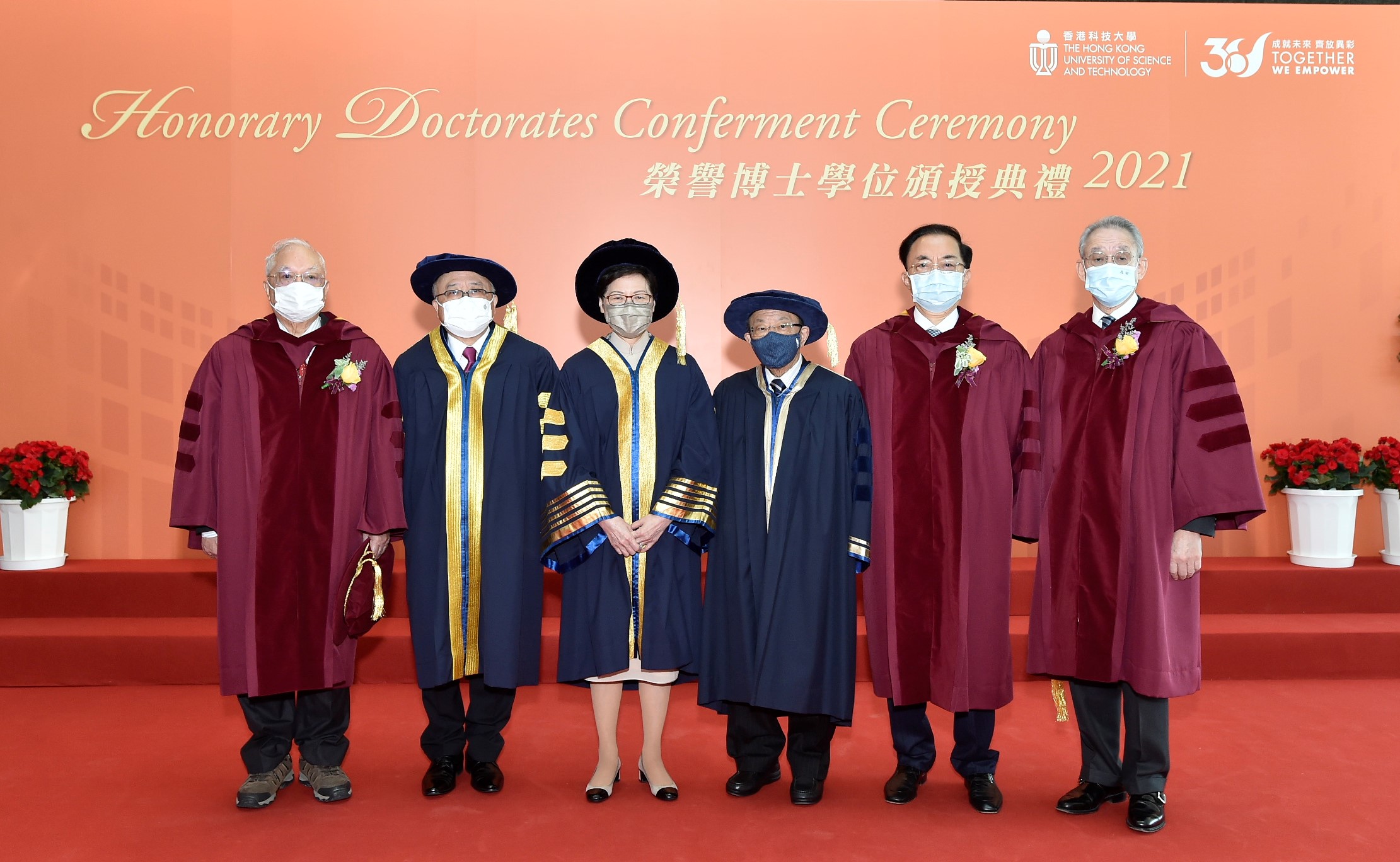 Prof. Nancy HOPKINS, Amgen, Inc. Professor of Biology Emerita at Massachusetts Institute of Technology - Doctor of Science honoris causa
Prof. Anil Kumar JAIN, University Distinguished Professor at Michigan State University - Doctor of Engineering honoris causa
Prof. Daniel WEIHS, Distinguished Professor Emeritus at Technion, Israel Institute of Technology - Doctor of Engineering honoris causa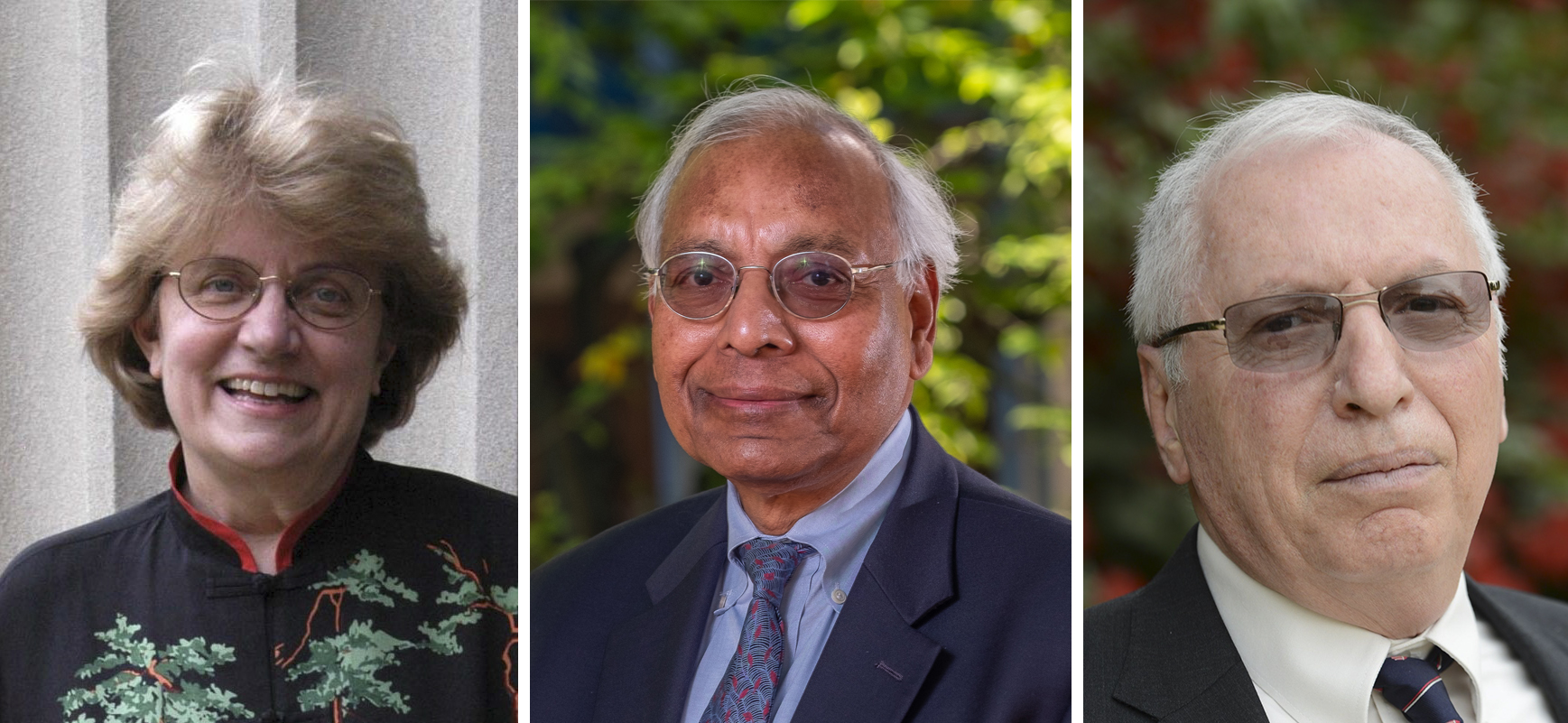 Meanwhile, Prof. Patrick YEUNG Kai-Cheung, Vice-Chairman of HKUST Council, presided the congregation ceremony for the first time in the brand-new Shaw Auditorium.  

President Prof. Wei SHYY congratulated the graduates in his Opening Remarks, exhorting them to believe in themselves.  "Graduates, I am so very proud of you. Your ability to thrive and grow in both good and tough times over the past few years has provided a tremendous example for future generations of HKUST students," he said.  "We are now immersed in a world filled with international and social divides, along with hard choices between growth and conservation, technological innovation versus individual rights and options, and the irony of open, abundant information challenging rational judgment. The education, training, and insights you received at HKUST have helped you lay a firm foundation from which you are now ready to inspire and engage with other people to truly contribute to the world.  Embrace challenges, exercise discretion and independent judgment when faced with unforeseeable events in life. And always, remain resilient."
The Congregation also saw two awards presented to faculty and student. Prof. Jeevan JAISINGH, Associate Professor of Business Education in the Department of Information Systems, Business Statistics and Operations Management, was awarded HKUST's highest accolade in teaching – the Michael G Gale Medal for Distinguished Teaching.  Meanwhile, Computer Engineering Year 4 student Rubaiyat QUADER was awarded the Stephen Cheong Kam-Chuen Medal for Distinguished Service to the Student Body.
The 29th Congregation conferred 2552 bachelor's degrees, 2506 master's degrees, and 308 doctoral degrees, expanding the HKUST alumni community to a total of 87,500 members.
Biography of the awardees:
Dr. Anthony CHOW was the President of the Law Society of Hong Kong, during which he has helped build ties between Hong Kong's legal profession with its mainland counterparts.  He joined the board of the Hong Kong Jockey Club (HKJC) in 2002 and became its Chairman in 2018. During his tenure, HKJC approved a generous grant for the construction of a new UG hostel at HKUST – the Jockey Club i-Village, which will become the campus' future living lab for innovative ideas in smart and sustainable living.  Dr. Chow is now a member of the National Committee of the Chinese People's Political Consultative Conference, and is the founding director of the Hong Kong Coalition of Professional Services.  (Read more)
Dr. Colin LAM joined Henderson Land Development Co. Ltd in the early 1980s and became its Vice Chairman in 1993.  His belief in education led him to establish the Chi Wah Foundation in 1992, which supports youth education and the construction of educational facilities in Hong Kong and across six provinces in the Mainland.  As a board member of the Lee Shau Kee Foundation (LSKF), Dr. Lam helped initiate a relationship between LSKF and HKUST, which began with a HK$33 million donation to the University Library in 2005, followed by a HK$400 million for the establishment of the Lee Shau Kee campus in 2007, and another HK$150 million for the Martin Ka Shing Lee Innovation Building in 2019.  In 2019, Dr. Lam donated HK$10 million to establish a Named Professorship, now held by Prof. LI Zexiang. In 2020, Dr. Lam was invited to sit as an HKUST court member for three years.  (Read more)
Sir Gordon WU founded Hopewell Holdings in 1972.  He is among the earliest entrepreneurs to support China's economic reform, building infrastructures such as superhighways connecting the cities of the Pearl Delta region, power stations in southern China, and the China Hotel - one of the first five-star hotels in Guangzhou.  Sir Gordon placed a high value on education.  In addition to establishing many scholarships to send mainland students abroad to study, he has also made major contributions to local universities, his high school Wah Yan College, and his alma mater Princeton University.  His dedication to service has earned him numerous honors and awards, particularly two knighthoods, one from Belgium and another from the UK.  He was also Hong Kong's longest-serving member of the National Committee of the Chinese People's Political Consultative Conference, serving six terms spanning 30 years. He was awarded the Golden Bauhinia Star in 2004.  He has amassed nine honorary doctorates from institutions in Hong Kong, the UK and Canada.  This latest, from HKUST, is his tenth such honor.  (Read more)
Prof. Nancy HOPKINS is a global authority on tumor virus research and vertebrate development.  Prof. Hopkins studied the then largely unexplored field of the genetics of early vertebrate development. She and her team developed a method for rapid gene cloning in zebrafish and went on to make major strides forward in identifying the genes essential for early zebrafish development, including some that predisposed the fish to cancer. In the 1990s, she and her researchers further demonstrated fish tumors' similarity to human cancers. Their findings continue to be a touchstone for those searching for cancer-causing genes and ways to inhibit tumor growth to this day.  In the mid-1990s, Prof. Hopkins began working to raise awareness of gender inequality in academic circles, paving the way for fairer hiring policies and the increased recruitment of women faculty to high-level administrative positions at leading academic institutions across the US.  (Read more)
Prof. Anil K. JAIN is a world-renowned biometric guru. His seminal research in pattern recognition, machine learning, and computer vision have helped bring biometric system into everyday use on phones, laptops, and other devices and at border control points.  He and his research team developed an approach combining a point-matching algorithm with a new texture-matching technology, which greatly improved the speed and accuracy of fingerprint recognition. He then further worked with major corporations, government, and NGOs to apply the technology onto various systems including a fingerprint-based infant ID systems and the world's largest biometric national identification system covering over 1.3 billion people.  He received the Guggenheim Fellowship (2001), and is a member of both the National Academy of Engineering (2016) and Chinese Academy of Sciences (2019).  Prof. Jain also spent a month at HKUST in the 1990s collaborating on computer vision and machine learning with the then relatively new Department of Computer Science.  (Read more)
Prof. Daniel WEIHS is one of the world's leading authorities on aeronautics.  His research in unmanned aircraft since 1974 has not only greatly contributed to Israeli military aviation, but has branched out into other areas of robotics. Many of the drones and autonomous systems we use today owe a great debt to his research.  Prof. Weihs was Israel's Chief Scientist from 2009 to 2011, during which he oversaw the integration of returning Israeli scientists into government projects.  He was not only a board member of Israel Aerospace Industries and Bet Shemesh Engines Ltd., but was also on the steering committee of the National Space Agency for more than three decades.  Prof. Weihs is a member of the Israel Academy of Sciences and Humanities, a foreign member of the US National Academy of Engineering, a Fellow of the American Physical Society, and also the recipient of an honorary doctorate from Israel's Ben Gurion University.  (Read more)
Prof. Jeevan JAISINGH, Associate Professor of Business Education in the Department of Information Systems, Business Statistics and Operations Management, joined HKUST in 2003.  His Clarity, Adaptability, Responsiveness and Empathy (CARE) teaching philosophy has guided him to empathize students' needs, design engaging courses and teaching materials that combine theory and practice.  He has earned numerous recognitions including the School of Business and Management's Franklin Prize for Teaching Excellence for twice, and the Common Core Excellence Course Award.  A member of the Steering Committee on Review of the Common Core and the Working Group on Review of the Common Core, Prof. Jaisingh has been instrumental in revamping the Common Core program to which "Critical Thinking and Data Literacy" was introduced as a new Foundation course.  He also served various teaching and learning committees in the Business School.
Rubaiyat QUADER, Year 4 student of Computer Engineering, has demonstrated her deep commitment to inspiring HKUST students from diverse backgrounds to become global citizens.  She is most recognized for introducing the Hult Prize Competition to HKUST, a worldwide competition that challenges university students to solve global issues with social entrepreneurship ideas.  She has also contributed to the well-being of students by serving as Peer Mentor of Student Innovation for Global Health Technology and Student Leader of Living Learning Community, among other initiatives.