Leading the way in artificial intelligence (AI) research, the Hong Kong University of Science and Technology (HKUST) recently hosted a group of young global leaders to explore the transformative power of AI and its critical role in tackling global challenges. 
Around 40 influential individuals from the World Economic Forum (Forum)'s Young Global Leaders (YGL) leadership development program gathered at HKUST - the first university in Greater China to host the event. Warmly welcomed by the University's Council Chairman Prof. Harry SHUM and President Prof. Nancy IP, the group consisted of senior executives and members of leading companies and organizations worldwide, spanning a broad spectrum of sectors such as technology, media, public administration, investment banking, and humanitarian aid across 22 countries and regions. 
The immersive five-day YGL Education Module, held from September 18 to 22, centered on the theme "Our AI-Driven Future: Prospects and Pitfalls". The discussions spanned a diverse range of topics, from art and web3 to health technologies, as well as the evolving economic landscape in the Greater Bay Area (GBA) and beyond. Over 10 HKUST faculty members actively shared their insights and thoughts, and engaged all participants in a deep dive into these cutting-edge fields. The program concluded with a fireside chat featuring Prof. Shum, where he shared his insights into the impact of AI across various domains. 
Intertwining with Art and Web3
As AI increasingly permeates our everyday lives, it is also opening new avenues of cultural enrichment and creative expression through art. In his captivating talk, "When Art Meets AI", Prof. GUO Yike, Provost and Chair Professor of the Department of Computer Science and Engineering, unveiled the fascinating intersection of these disciplines. He illustrated how generative AI algorithms could produce mesmerizing artworks, orchestrate professional performances, and design immersive installations, showing the transformative potential of AI in the realm of art.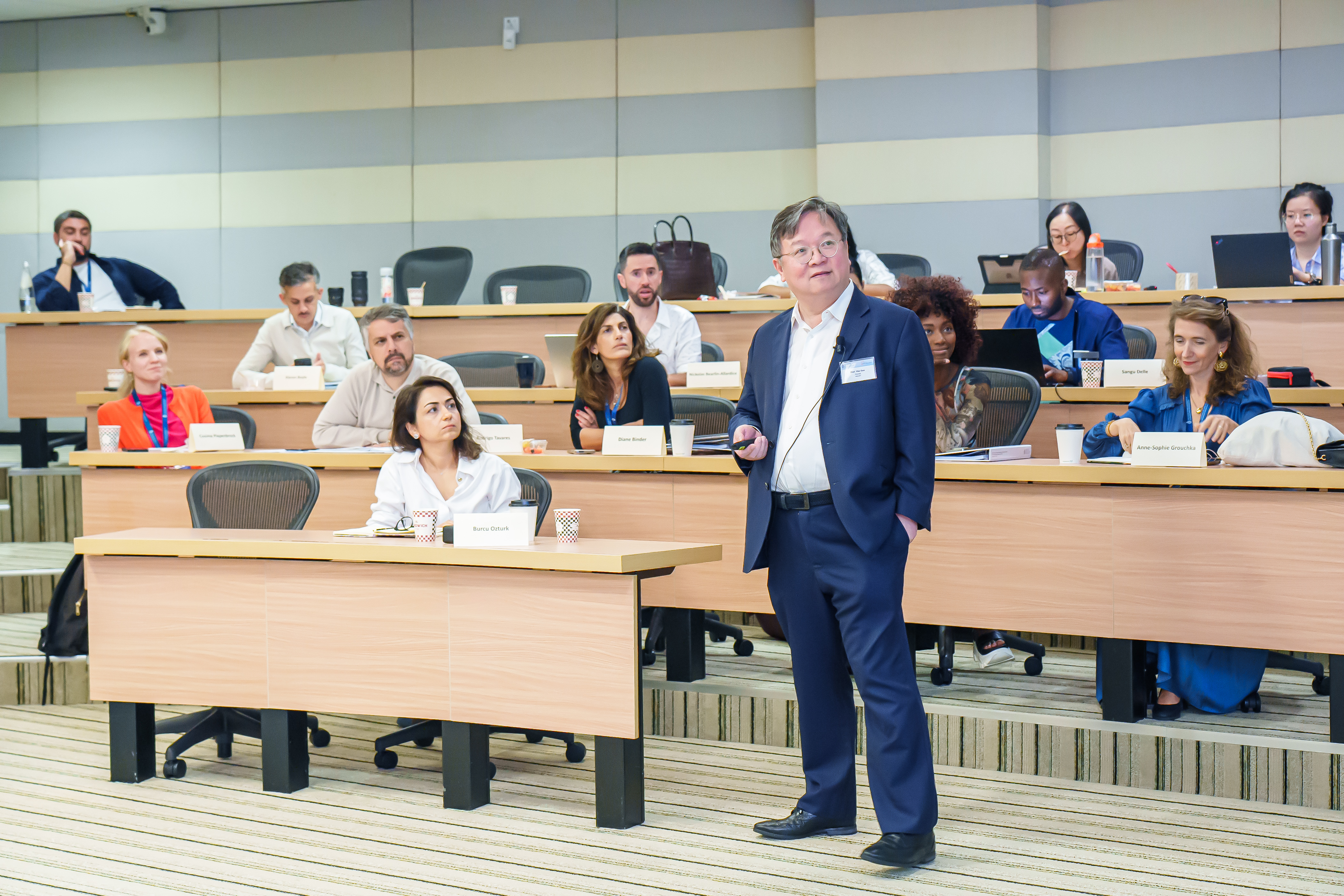 Art and creativity are intrinsic to human nature, presenting a challenge for machines to replicate. At HKUST, we leverage our newly acquired state-of-the-art AI supercomputing facility, aiming to curate unique art datasets and develop platform technologies that promote a harmonious synergy between human creativity and AI.

-    Prof. GUO Yike 
AI, while offering a vast landscape of opportunities, poses significant challenges in fostering an equitable and inclusive digital future – a mission echoing our shared humanity. In the session titled "Web3 and AI: Challenges and Opportunities", Prof. WANG Yang, Vice-President for Institutional Advancement and Chair Professor of the Departments of Industrial Engineering and Decision Analytics and Mathematics, underscored the exciting potential of these technologies. His presentation triggered fruitful discussions among the participants on the intellectual property rights associated with content created from generative AI platforms as well as on harnessing AI for the greater good such as addressing climate change. Prof. Wang also highlighted our collective responsibility to guide the development towards a digital future that would be fair and inclusive for all.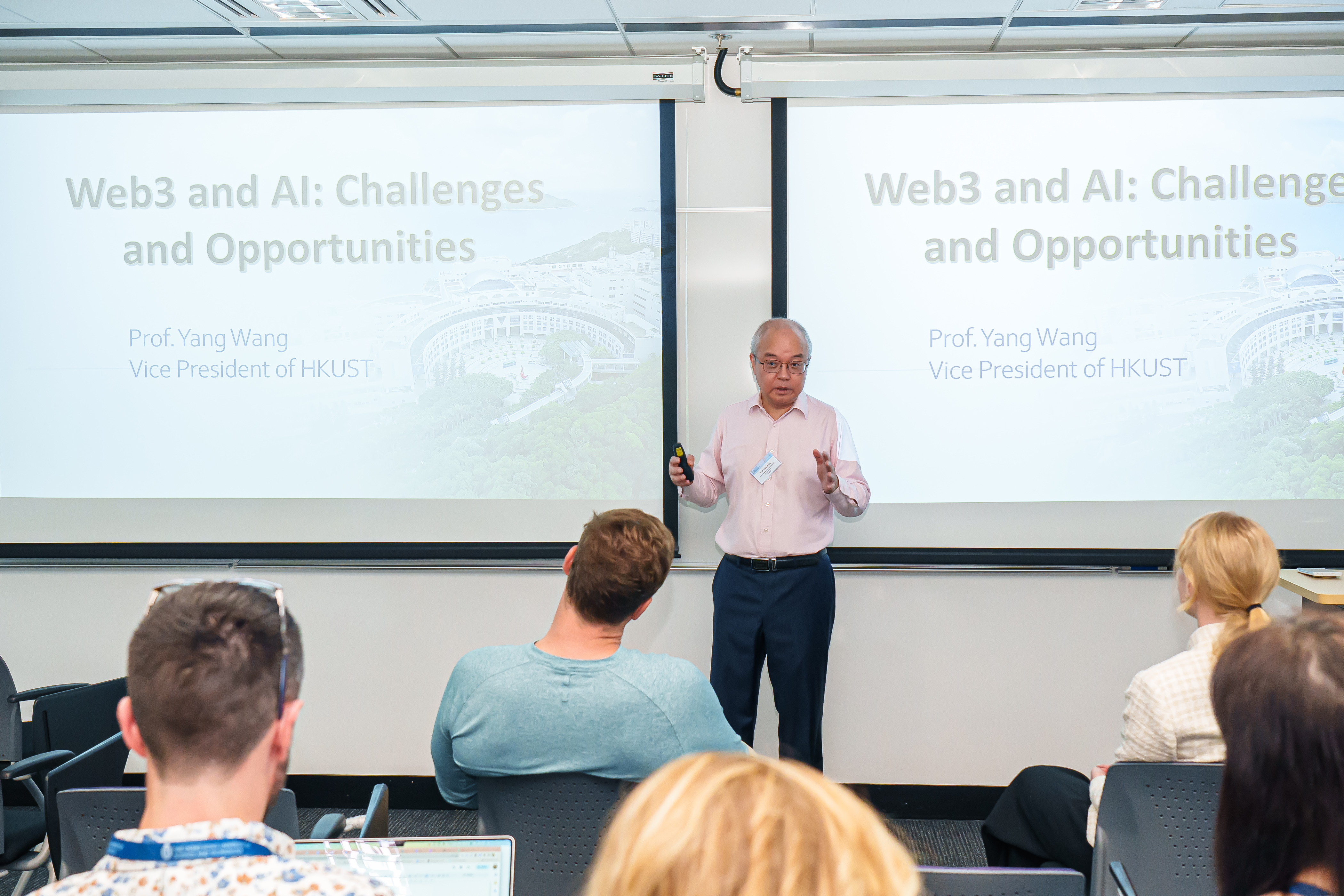 The intertwining of AI and Web3 has revolutionized the digital economy, transforming the entire ecosystem of digital commerce. At HKUST, we aspire to deepen our AI research capabilities to support Hong Kong's strategic role in this space, attracting businesses and talent in Web3.

-    Prof. WANG Yang
Exploring AI and Policy 
As AI rapidly evolves, issues concerning policy and regulatory frameworks arise. Since AI plays a pivotal role in shaping the future of Hong Kong and the GBA as a whole, Prof. Naubahar SHARIF, Co-lead faculty of the YGL program and Acting Head and Professor of the Division of Public Policy, steered young global leaders on a journey to uncover the region's vision for the next decade and discussed the national and local policies driving tech-centric growth. During the five-day program, participants also had the unique opportunity to witness the heartbeat of the GBA firsthand, visiting tech giants and burgeoning startups in Shenzhen, and engaging in thought-provoking discussions with industry leaders.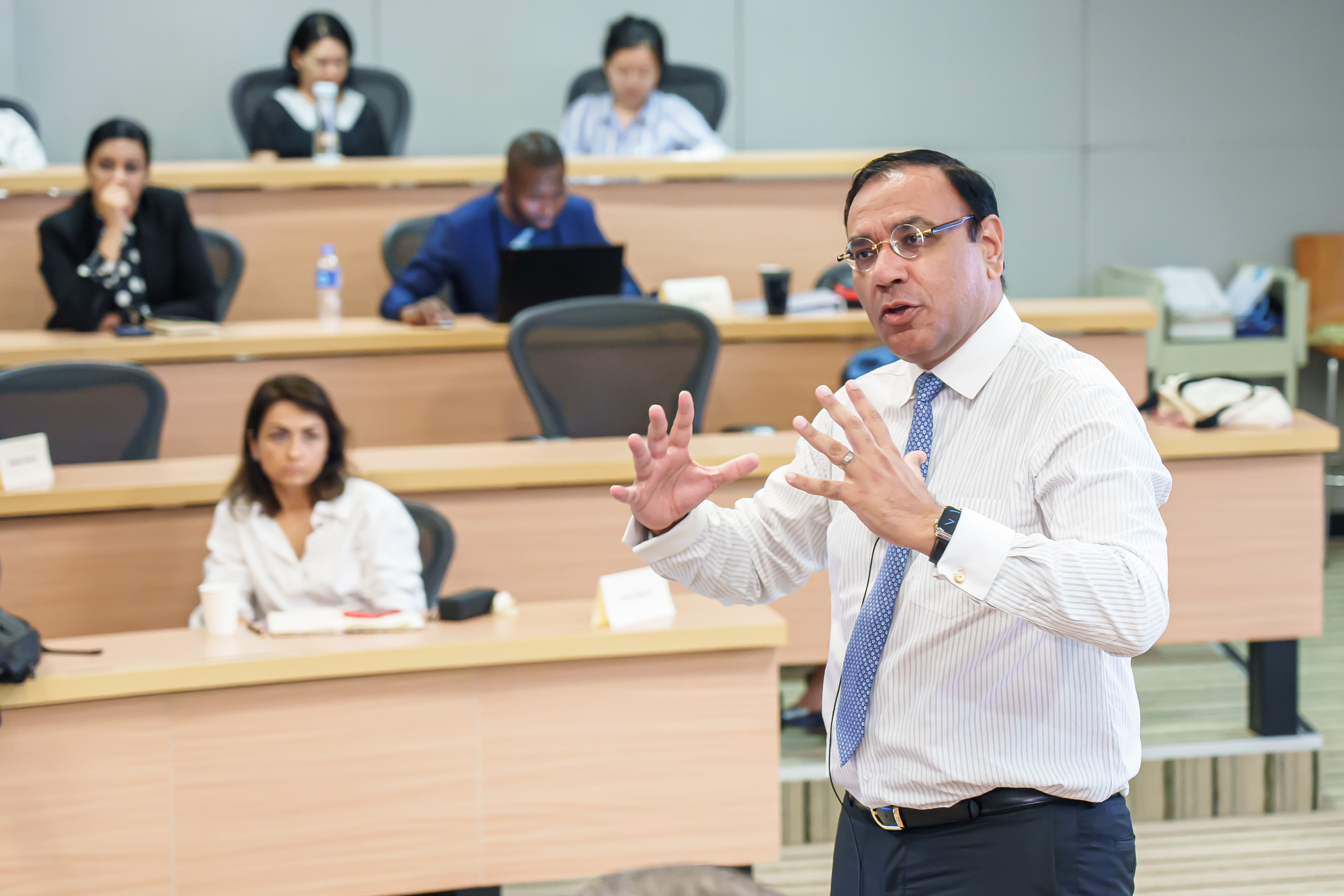 AI, with its transformative potential, is redefining public policy problem-solving and decision-making. However, it also presents challenges that require considered policymaking, from ethical considerations to societal impacts. As difficult as it may be, policymakers must stay ahead, understanding AI's nuances to craft responsive, effective policies for a balanced AI-driven future.

-    Prof. Naubahar SHARIF
In reflecting on the experience, Prof. Donald LOW, Co-lead faculty of the Young Global Leaders program and Director of Leadership and Public Policy Executive Education, also shared, "The program encourages YGLs to delve into the ethical nuances of AI's influence on human society. They are urged to think critically about policy-making strategies within an innovation-driven economy, drawing inspiration from real-world examples in Hong Kong and the Greater Bay Area.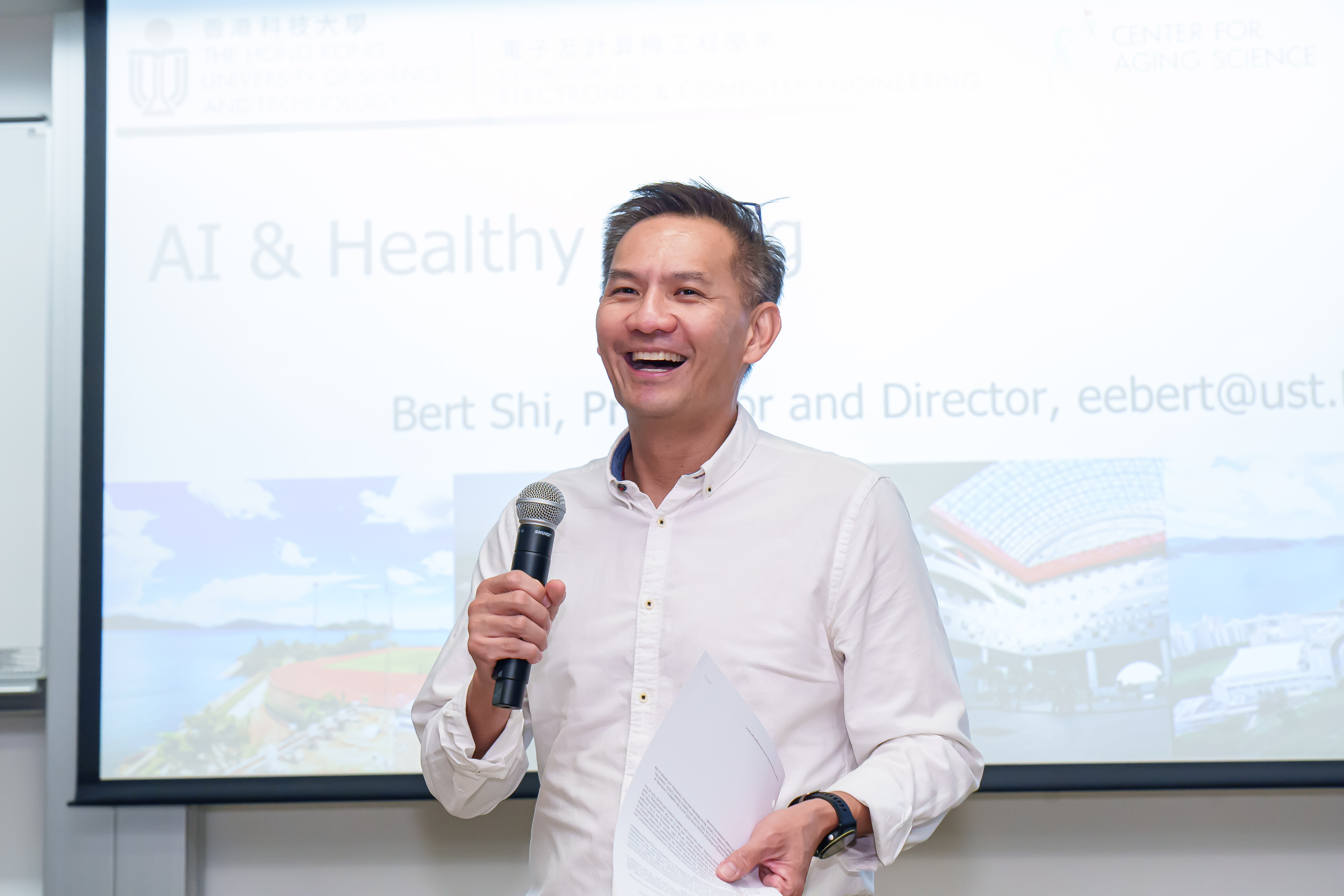 The program encourages YGLs to delve into the ethical nuances of AI's influence on human society. They are urged to think critically about policy-making strategies within an innovation-driven economy, drawing inspiration from real-world examples in Hong Kong and the Greater Bay Area.

-    Prof. Donald LOW
Continuing to Drive Impact-Oriented Dialogue
The program's exploration of the potential and challenges of an AI-driven future fosters a crucial and substantive conversation about achieving equitable and inclusive AI development. YGLs, hailing from a diverse array of backgrounds and industries, are excited to harness this technology to drive positive change within their respective fields.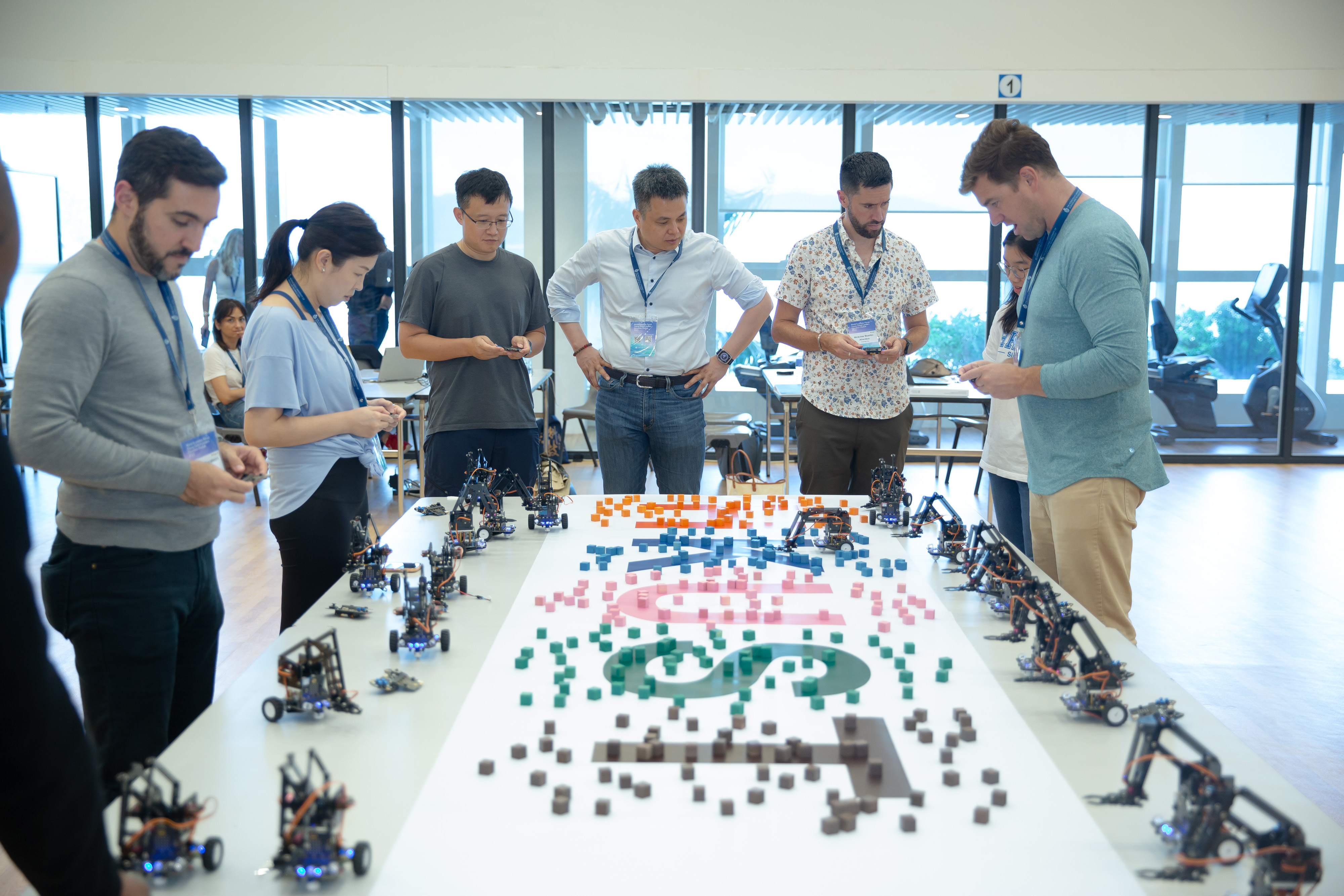 This remarkable program is set on a two-year trajectory. As the host and organizer, HKUST remains committed to advancing dialogue on AI's frontiers and other impact-oriented topics to catalyze solutions for pressing global issues.