The Hong Kong University of Science and Technology (HKUST) signed a Memorandum of Understanding (MoU) today with Tencent Finance Academy (Hong Kong) (TFAHK) to nurture FinTech talent.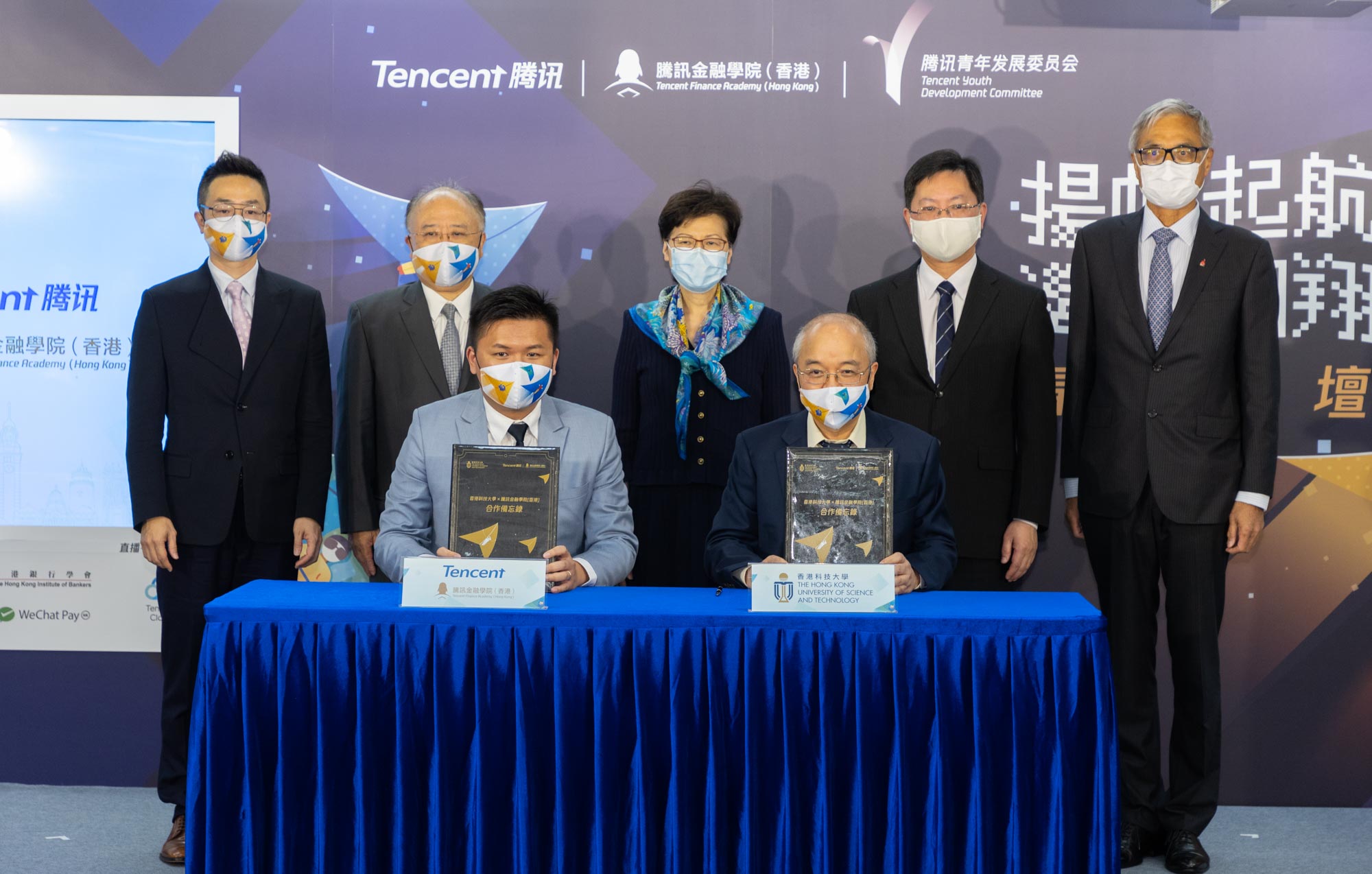 Leveraging HKUST's outstanding academic foundation in FinTech and Tencent's practical industry experience, the MoU – witnessed by representatives from the HKSAR Government, HKUST and TFAHK – aims to establish a strategic partnership in fostering the development of FinTech by nurturing talents and collaborating on education and research and development projects. It sets out the plan for both parties to collaborate on the FinTech case study series for tertiary education purpose, with the goal to provide real business cases for students to comprehensively improve their knowledge on FinTech. 
The parties will also work together on developing a curriculum on FinTech, with HKUST integrating Tencent's extensive business experience to promote the development of an innovative talent model. Other initiatives include internship opportunities for HKUST students, joint FinTech-related research and development projects, guidance on conducting research projects and potential education outreach programs to improve public awareness on FinTech. 
The MoU signing ceremony was part of a Youth Forum hosted by the TFAHK, which aimed to enable audiences to better understand the development of the Greater Bay Area (GBA) and help young talent explore the thriving career opportunities in the region.  The Chief Executive of the HKSAR Government Mrs. Carrie LAM Cheng Yuet-Ngor and Mr. Jim LAI Chi-Ming, Vice President of Tencent, Chairman of Fusion Bank, and Dean of TFAHK delivered the opening speech and welcome remarks respectively in the forum; followed by keynote speeches from the Secretary for Innovation and Technology Mr. Alfred SIT Wing-Hang and HKUST President Prof. Wei SHYY. A group of aspiring youth representatives also shared their first-hand experiences and learnings working in the GBA.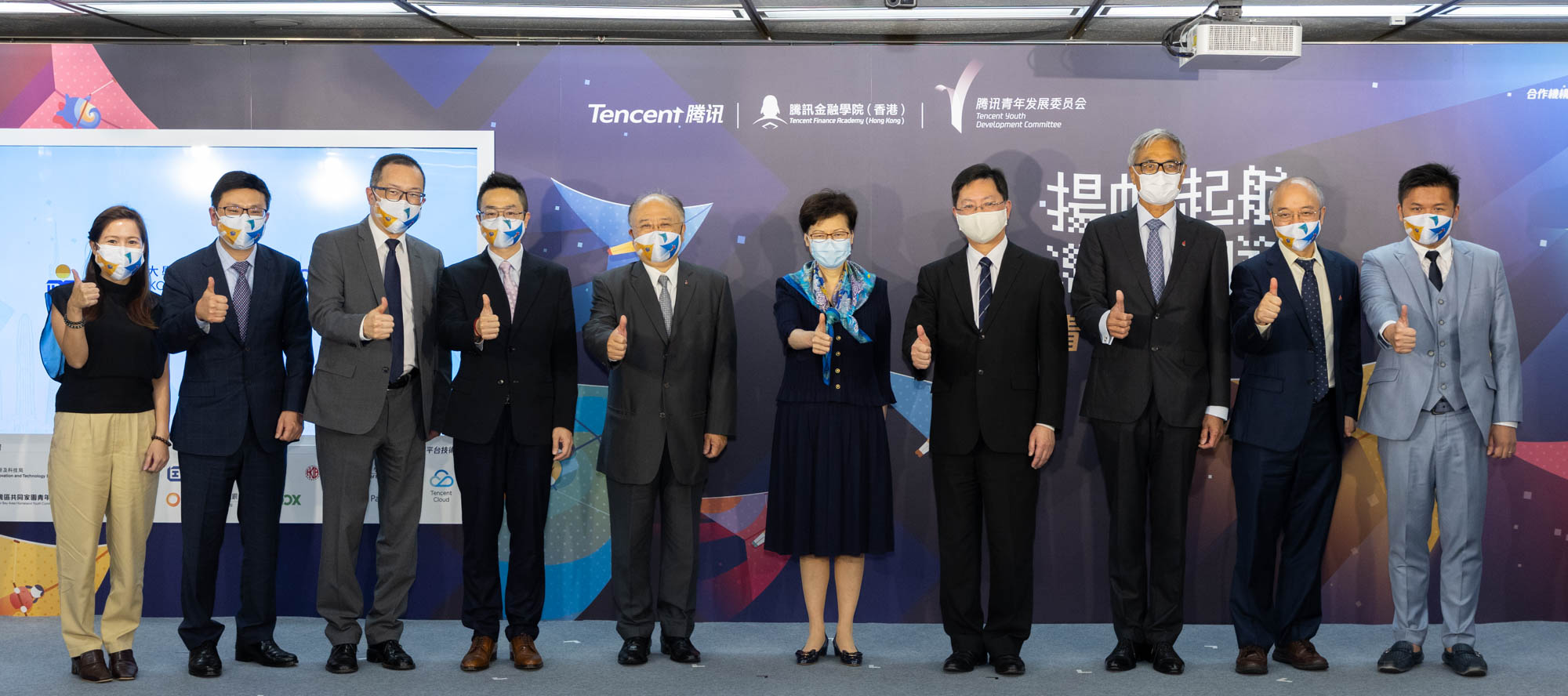 The Chief Executive Mrs. Carrie Lam said in her speech, "The Guangdong-Hong Kong-Macao Greater Bay Area Development has enormous development potential. To assist young people to seize the opportunities brought about by the GBA development, the Government has introduced the Greater Bay Area Youth Employment Scheme in January this year to encourage enterprises with operations in Hong Kong and GBA Mainland cities to recruit Hong Kong graduates and post them to be stationed and work in these cities. The Scheme will assist graduates to develop their careers in the Mainland and gain a better understanding of the lives and culture of the country. I thank TFAHK for its long-standing commitment to and support for nurturing young FinTech talents, and I hope all young people attending the forum today can equip themselves to take part in the integration of FinTech development in the GBA. This will provide better career development for themselves and contribute to the development of Hong Kong, the GBA and the nation."
HKUST President Prof. Wei Shyy said, "Hong Kong's public and private sectors have strived to support and encourage innovation and related science and technology appropriate to the city and beyond. Fintech is a clear example in this domain as it has already been transforming our lives in every aspect from banking, retail payment to e-commerce.  We have launched our first Fintech postgraduate program jointly by Schools of Business and Management, Engineering, and Science. We have also been actively collaborating with multiple banks and other enterprises.  Today we are delighted to join hands with Tencent to further our efforts on creating new knowledge and nurturing talent in a context which HKUST can make substantial contributions."
TFAHK Dean Mr. Jim Lai said, "Through the Academy, we have been organizing a range of activities that include internships, research opportunities and visits. These initiatives allow the youth in the GBA to learn about the leading internet and information technology, experience the growth momentum of the GBA and the Mainland, as well as enhance their innovative and entrepreneurial capabilities and competitiveness. We believe that the Greater Bay Area Youth Employment Scheme will help the youth to integrate their study, work and daily life into the GBA, and to experience how the technology enterprises focus on innovation, which helps to nurture FinTech talent. We are also pleased to collaborate with HKUST, a top university in Hong Kong, in enhancing the development of FinTech through a number of areas, including the FinTech case study series, FinTech curriculum development, internship opportunities, establishment of Student Chapter, joint research projects, and public awareness enhancement."
About The Hong Kong University of Science and Technology 
The Hong Kong University of Science and Technology (HKUST) (https://hkust.edu.hk/) is a world-class research intensive university that focuses on science, technology and business as well as humanities and social science.  HKUST offers an international campus, and a holistic and interdisciplinary pedagogy to nurture well-rounded graduates with global vision, a strong entrepreneurial spirit and innovative thinking.  HKUST attained the highest proportion of internationally excellent research work in the Research Assessment Exercise 2014 of Hong Kong's University Grants Committee, and is ranked as the world's best young university in Times Higher Education's Young University Rankings 2020. Its graduates were ranked 26th worldwide and among the best from universities from Asia in Global University Employability Survey 2020.
About Tencent Finance Academy (Hong Kong)
Tencent Finance Academy (Hong Kong) ("TFAHK") is committed to co-building a breeding ground for FinTech talents in the Greater Bay Area. Through developing a collaborative FinTech ecosystem, TFAHK helps our younger generations to develop cross-disciplinary knowledge and practical skills in the field of financial technology. TFAHK also works with governments, industry partners, universities, and domain knowledge experts to foster the popularization of financial technology in the Greater Bay Area. TFAHK held the first edition of its acclaimed Tencent FinTech Talent Nurturing Programme in 2018, attracting over 5000 applicants to the programme since then. TFAHK has continued expanding its service scope to serve the community through supporting international events (such as FinTech week), thought leaders sharing, field trips, mentorship programme, and more.
For media enquiries, please contact:
Anita Lam                    
Tel: 2358 6313                    
Email: anitalam@ust.hk
Johnny Tam
Tel: 2358 8556
Email: johnnytam@ust.hk