The Hong Kong University of Science and Technology (HKUST) received a donation of HK$20 million from Mr. Andy FEI Chi-En, for the enhancement of HKUST's development in innovation and technology (I&T), research and education.  
This donation will be used to set up a fund called the "Fei Chi En Education and Research Fund" in support of HKUST's I&T research projects and related facilities.  HK$2 million of it will be used to set up a scholarship called "Y-Lot foundation scholarship" under the name of Y-Lot Foundation founded by Mr. Fei, to reward students with outstanding academic achievements, and encourage them to strive for excellence.
In appreciation of Mr. Fei's benevolent support, HKUST has named the "Dream lab" - an iconic facility at the academic building where students and teams across schools and disciplines work together to turn their I&T ideas into projects or prototypes for competitions - after Mr. Fei, as the "Fei Chi En Dream Team Open Lab".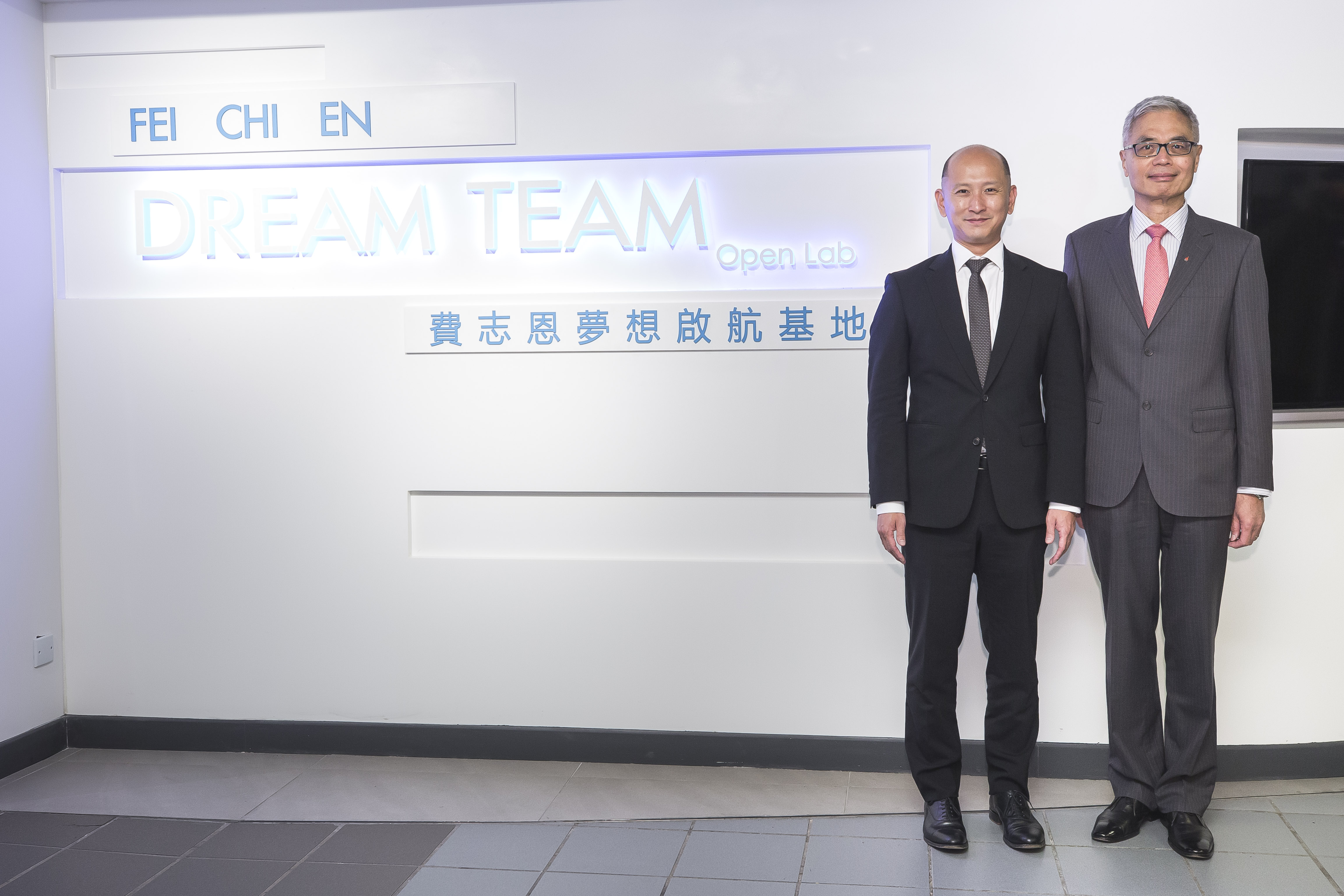 The naming ceremony was held at HKUST today (December 16).  Mr. Andy FEI Chi-En and Prof. Wei SHYY, HKUST President officiated at the ceremony and unveiled the commemorative plaque of the Lab.  Ms. Elaine WONG, Vice-Chairman & Secretary General of Y-Lot Foundation; Prof. Lionel NI, HKUST Provost; Prof. Yang WANG, HKUST Vice-President for Institutional Advancement, and other senior executives of both parties attended the ceremony. 
Mr. Fei praised HKUST's tireless efforts in encouraging innovation and nurturing I&T talents over the years.  "Hong Kong has broad space for innovation and technology development, and our young people have great potential to become one of the driving forces behind the trend.  Through our collaboration with HKUST, we hope we are able to create a platform which allows more space for I&T research for young people, so as to support them to chase their dreams, develop more innovative products, and drive the development of I&T industry in Hong Kong," he said. 
HKUST President Prof. Wei SHYY said he was grateful for Mr. Fei's generosity and trust in the University.  "We share the same mission with Mr. Fei on nurturing talents with global vision and commitment to serve the society.  Mr. Fei has been supporting youth development all along and we are very thankful for the flexibility that he has given us on the allocation of the donation.  The University will continue to promote cross-disciplinary learning and provide our students with an open and diverse study environment, to equip them with the skills required in resolving current and future societal challenges."
About the Y-Lot Foundation 

Founded in 2016, the Y-Lot Foundation is a charitable non-profit organisation focusing on youth development.   With the aim of "To Give, To Love, To Share", the Foundation seeks to help youngsters build positive attitude and values through collaborations with various sectors of the community, so as to encourage them to stay independent, positive and optimistic toward study and life, and to bear social responsibility in different roles with versatility and a clear mind, after they step into the society.
About The Hong Kong University of Science and Technology 

The Hong Kong University of Science and Technology (HKUST) (https://hkust.edu.hk/) is a world-class research intensive university that focuses on science, technology and business as well as humanities and social science.  HKUST offers an international campus, and a holistic and interdisciplinary pedagogy to nurture well-rounded graduates with global vision, a strong entrepreneurial spirit and innovative thinking.  HKUST attained the highest proportion of internationally excellent research work in the Research Assessment Exercise 2014 of Hong Kong's University Grants Committee, and is ranked as the world's best young university in Times Higher Education's Young University Rankings 2020.  Its graduates were ranked 26th worldwide and among the best from universities from Asia in Global University Employability Survey 2020.
For media enquiries, please contact:
Anita Lam

Tel : 2358 6313

Email: anitalam@ust.hk
Jamie Wong

Tel: 3469 2512

Email: jamiewong@ust.hk