The Hong Kong University of Science and Technology (HKUST) celebrated today the opening of Jockey Club Global Graduate Tower (the Tower) – a new hostel supported by The Hong Kong Jockey Club (HKJC), that offers a total of 504 bed spaces for the University's research postgraduate (RPg) students. The new tower not only comes with innovative green features which earned it a prestigious green building award, but is also a testing ground for a sustainability project that aims to cut energy consumption and change hall residents' behavior towards a more sustainable lifestyle.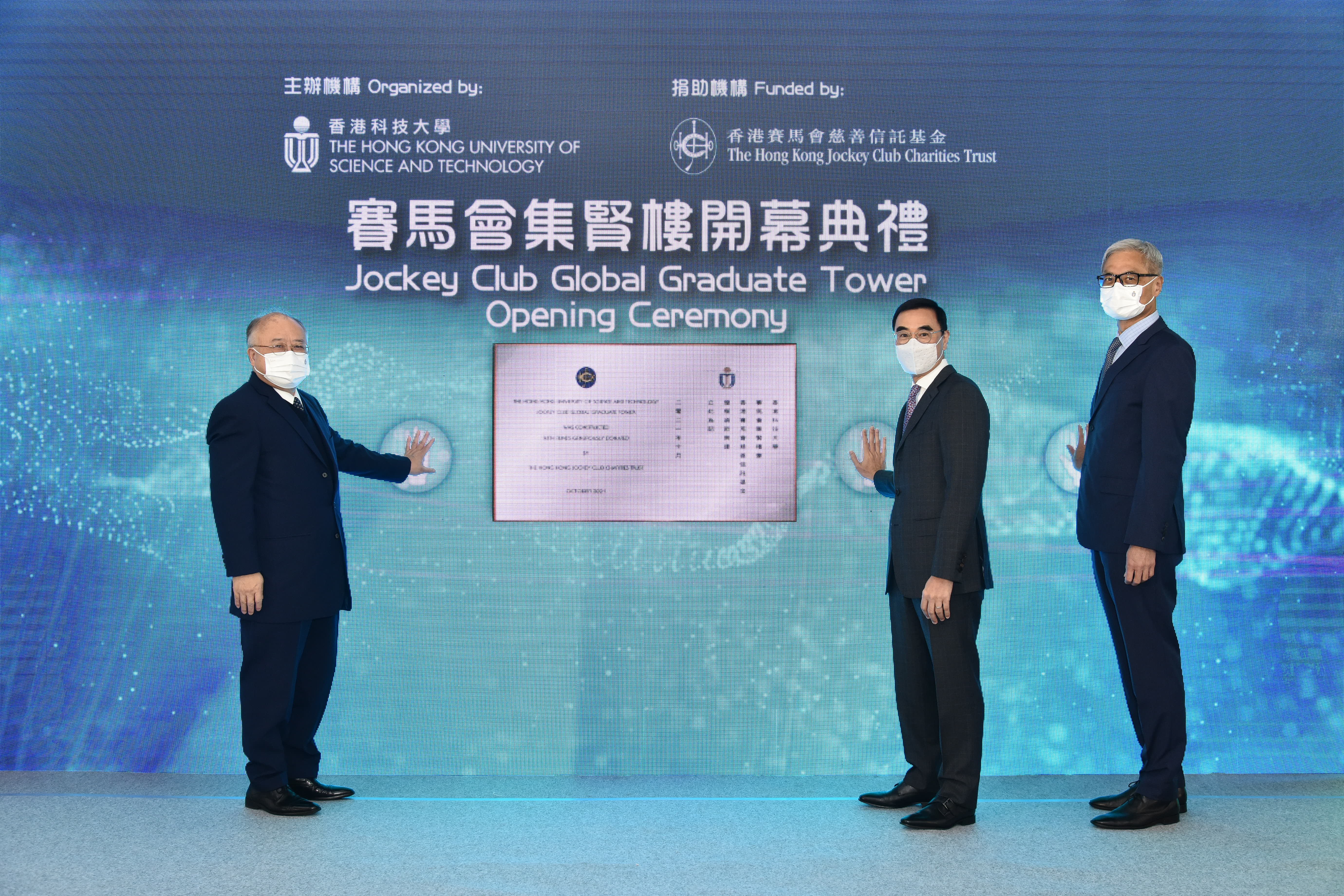 Thanks to a generous donation of HK$176.05 million from The Hong Kong Jockey Club Charities Trust, the establishment of this new hall allows all HKUST RPg students to enjoy hall life during their first two years of study. Mr. Michael LEE, Deputy Chairman of the HKJC, said in the opening ceremony that The Club's support for HKUST reflects two key areas of its charitable focus – 'children and youth development' and 'talent and capacity building'. "We strongly believe in the need to develop the skills, knowledge and capabilities of our young people. We also want to cultivate compassionate individuals committed, like the Club, to the betterment of our society," he said. 
Mr. Lee added that the new tower reflects the qualities of HKUST in every way, as the state-of-the art building features the latest green technology and embodies HKUST's innovative spirit.  He said the Club's total donations to HKUST - which has amounted to almost HK$3 billion, as with all the Club's donation, is made possible by its unique integrated business model through which racing and wagering generate tax and charity support for the community.
HKUST Council Chairman Mr. Andrew LIAO Cheung-Sing expressed his heartfelt gratitude to HKJC's long-standing support. "Since the founding days of HKUST, HKJC has been a staunch patron for our various developments – ranging from research to infrastructure to student life. I am deeply thankful to HKJC's latest support for our new RPg hall, which offers us the extra capacity to accommodate and attract research talent from around the world," Mr. Liao said. Other guests attending the ceremony include HKUST President Prof. Wei SHYY, HKUST Court and Council members and other HKUST senior management.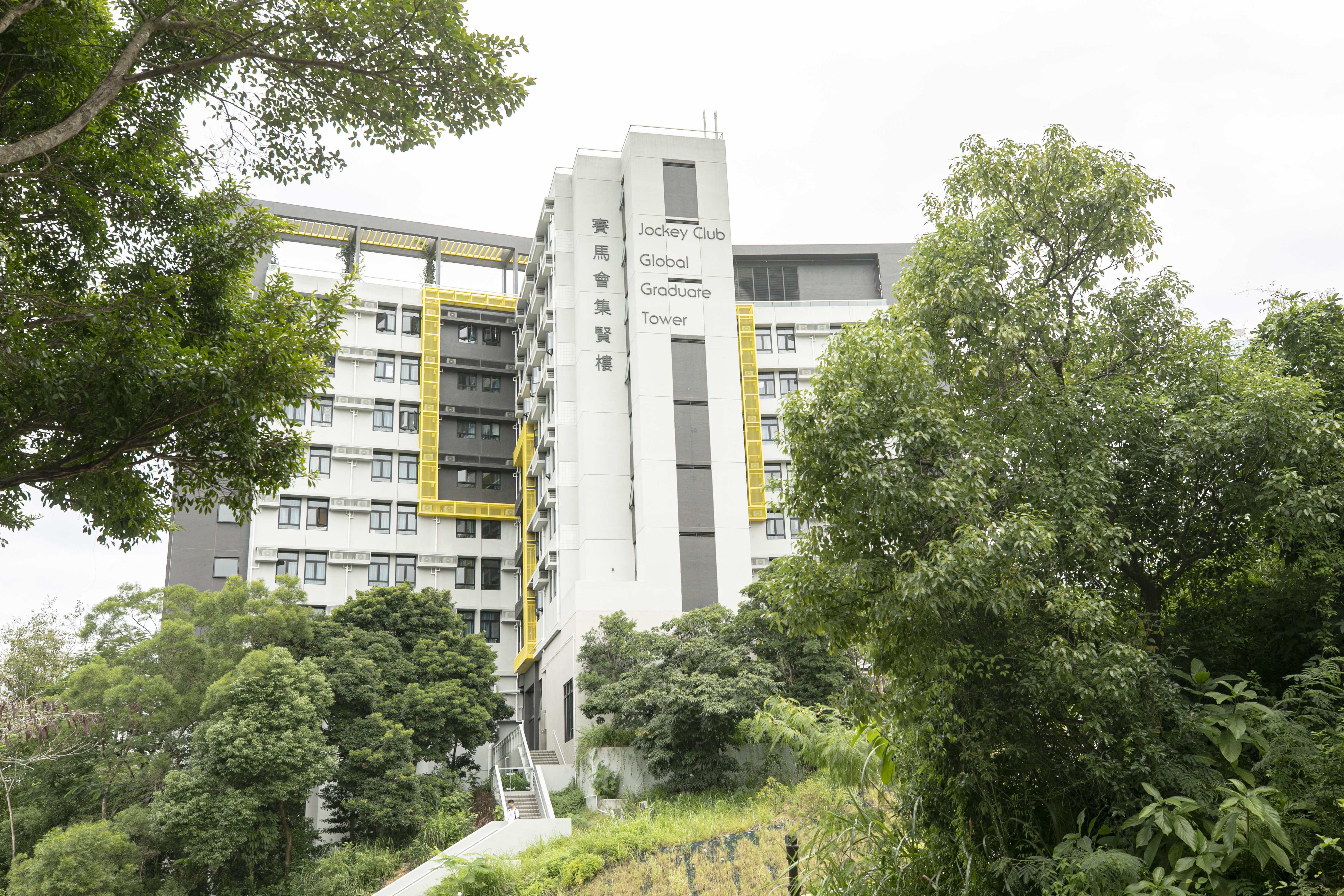 In recognition of the Tower's eco-friendly design which helps it save an estimated 45 per cent of annual water consumption and operate at an energy level 26 per cent lower than buildings of comparable floor area and occupancy rate, the Hong Kong Green Building Council awarded it a provisional BEAM PLUS platinum rating – the highest accolade for environmentally-friendly buildings in Hong Kong.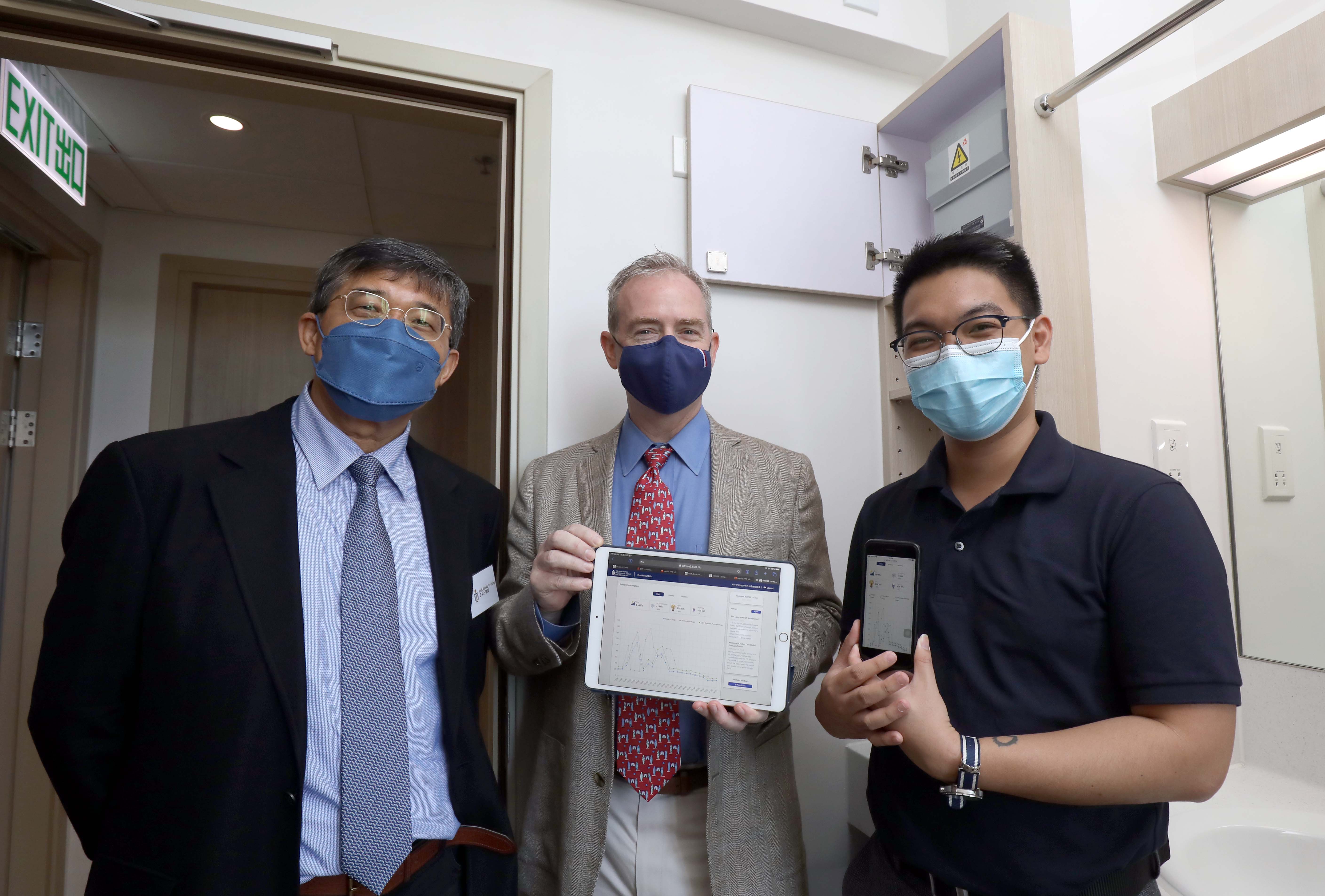 Unlike existing practices at local university hostels which only ask their residents to prepay for air conditioning, the Tower incorporates a special feature – a new interactive smart metering system to promote better awareness of overall energy use and improvement in energy consumption behavior. The system will present real-time energy consumption data on lighting, air-conditioning, power sockets and others for the development of a more efficient electricity payment system.  As part of the University's "Sustainable Smart Campus as a Living Lab" (SSC) initiative, the system is set to be installed in all new hostels in the future.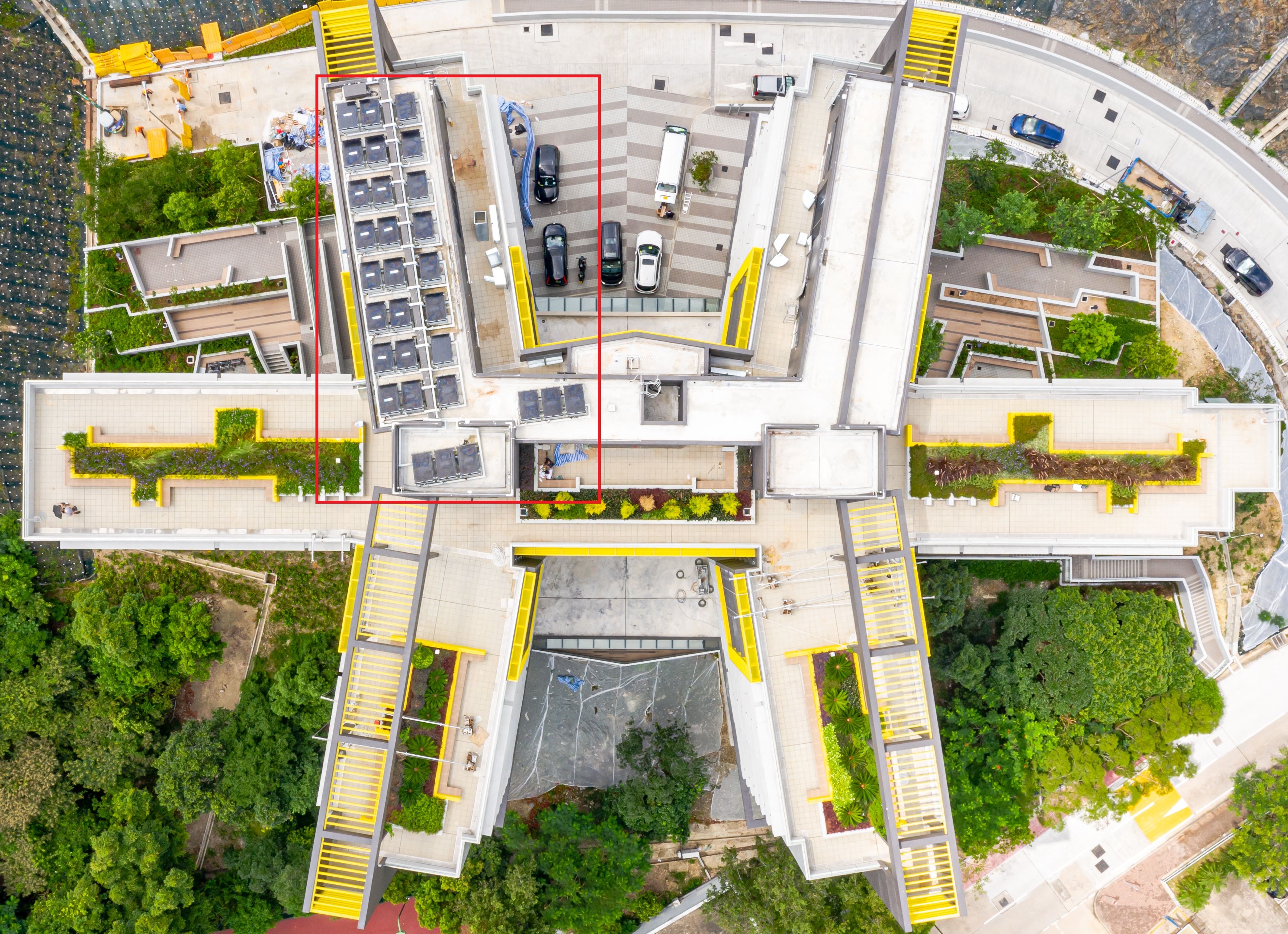 The eight-story tower not only adopts the most energy-efficient label 1 electrical appliances, but also water-saving faucets and washing machines. The Tower has its own rainwater harvesting system for irrigation, and can generate energy and hot water with the solar thermal panels on its rooftop. It is also a barrier-free facility with a purpose-designed bedroom for students with physical challenges. The room is equipped with height-adjustable furniture, automatic door and motion sensing switches for light and air-conditioning.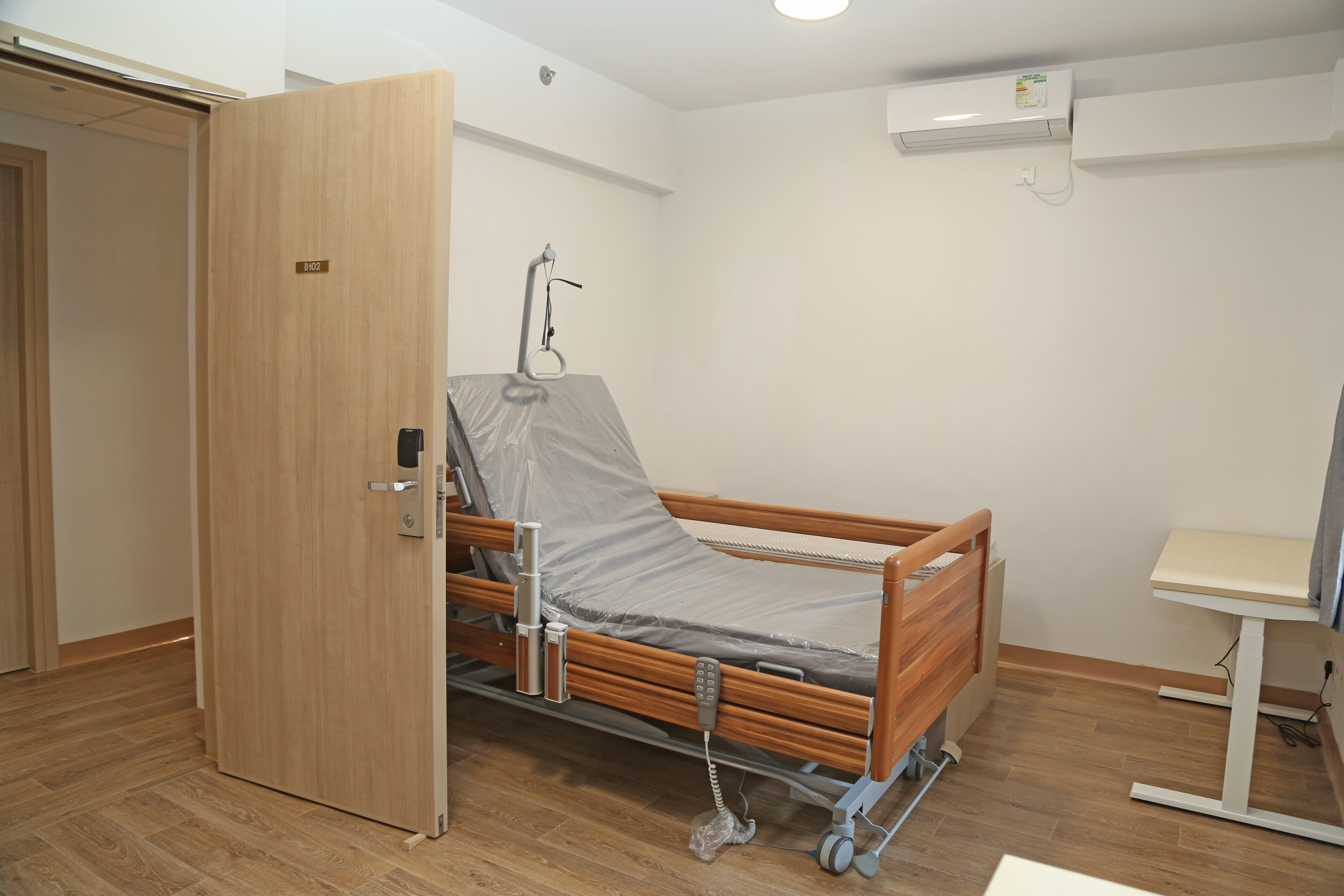 With more room to accommodate our RPg community coming from over 60 countries and regions, the Tower is set to further enhance a diverse and vibrant learning environment and promote communication and collaboration between students of different backgrounds. Its 2,000 square feet multi-purpose room, for example, offers a platform for a wide range of activities among the hall mates and other RPg students.
About The Hong Kong University of Science and Technology 
The Hong Kong University of Science and Technology (HKUST) (https://hkust.edu.hk/) is a world-class research intensive university that focuses on science, technology and business as well as humanities and social science.  HKUST offers an international campus, and a holistic and interdisciplinary pedagogy to nurture well-rounded graduates with global vision, a strong entrepreneurial spirit and innovative thinking.  Over 80% of our research work were rated "Internationally excellent" or "world leading" in the Research Assessment Exercise 2020 of Hong Kong's University Grants Committee. We were ranked 3rd in Times Higher Education's Young University Rankings 2021, and our graduates were ranked 26th worldwide and among the best from universities from Asia in Global University Employability Survey 2020.
For media enquiries, please contact:
Anita Lam                    
Tel: 2358 6313                    
Email: anitalam@ust.hk
Johnny Tam
Tel: 2358 8556
Email: johnnytam@ust.hk