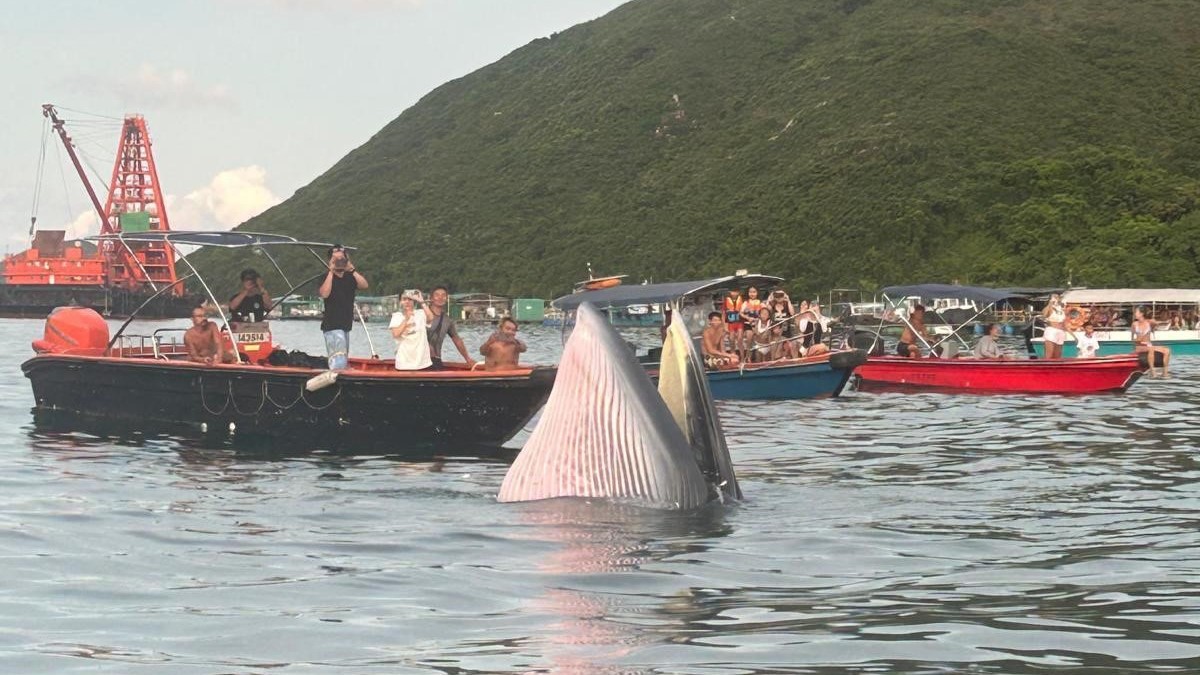 The past few weeks have seen Hong Kong's coastal waters play host to an unexpected and most unusual visitor which experts believe to be a Bryde's Whale. The spectacular creature has captivated both curious locals and seasoned conservationists who have dedicated their lives to protecting marine life. Captured on film, awesome footage of the whale opening its vast jaws and filtering prey with its baleen has highlighted the vital work of one particular expert:  HKUST alumnus and 2010 Biology graduate, Taison CHANG.
"We respectfully urge people not to disturb the creature," says Taison whenever local media seeks his expert opinion as an experienced marine biologist and Chair of the Hong Kong Dolphin Conservation Society (HKDCS). Taison also credits the new arrival for generating a sizeable upswing in awareness of the frequently harmful impacts Hong Kong's coastal waters have on these magnificent aquatic giants. "It's encouraging to see so many social media users are posting 'leave the whale alone' requests," says Taison. Having protected dolphins in local waters for many years, he views the sea change in public sentiment as proof that Hongkongers are growing more conscious of the unthinking damage humans have long inflicted on marine life.
From Biology Student to Marine Life Advocate
Taison's fascination with marine life began when he started studying Biology at HKUST. "Perhaps it was our campus' beautiful oceanfront views that sparked my love for all things aquatic," he muses. As an undergraduate, he enjoyed going on field trips, hiking, and all kinds of water activities. By his final year, he was determined to build a career that involved working with animals.
Offering him up-close and personal encounters with a multitude of remarkably intelligent species, Taison's first job at a local theme park initially seemed like a dream come true. "However, seeing these majestic creatures living in confinement just made me feel uneasy," he reflects. Determined to help bring about a more sustainable future for marine life, Taison left the theme park in 2013 and started a new career as a researcher for the Hong Kong Cetacean Research Project. 
A Dedicated Guardian of Dolphins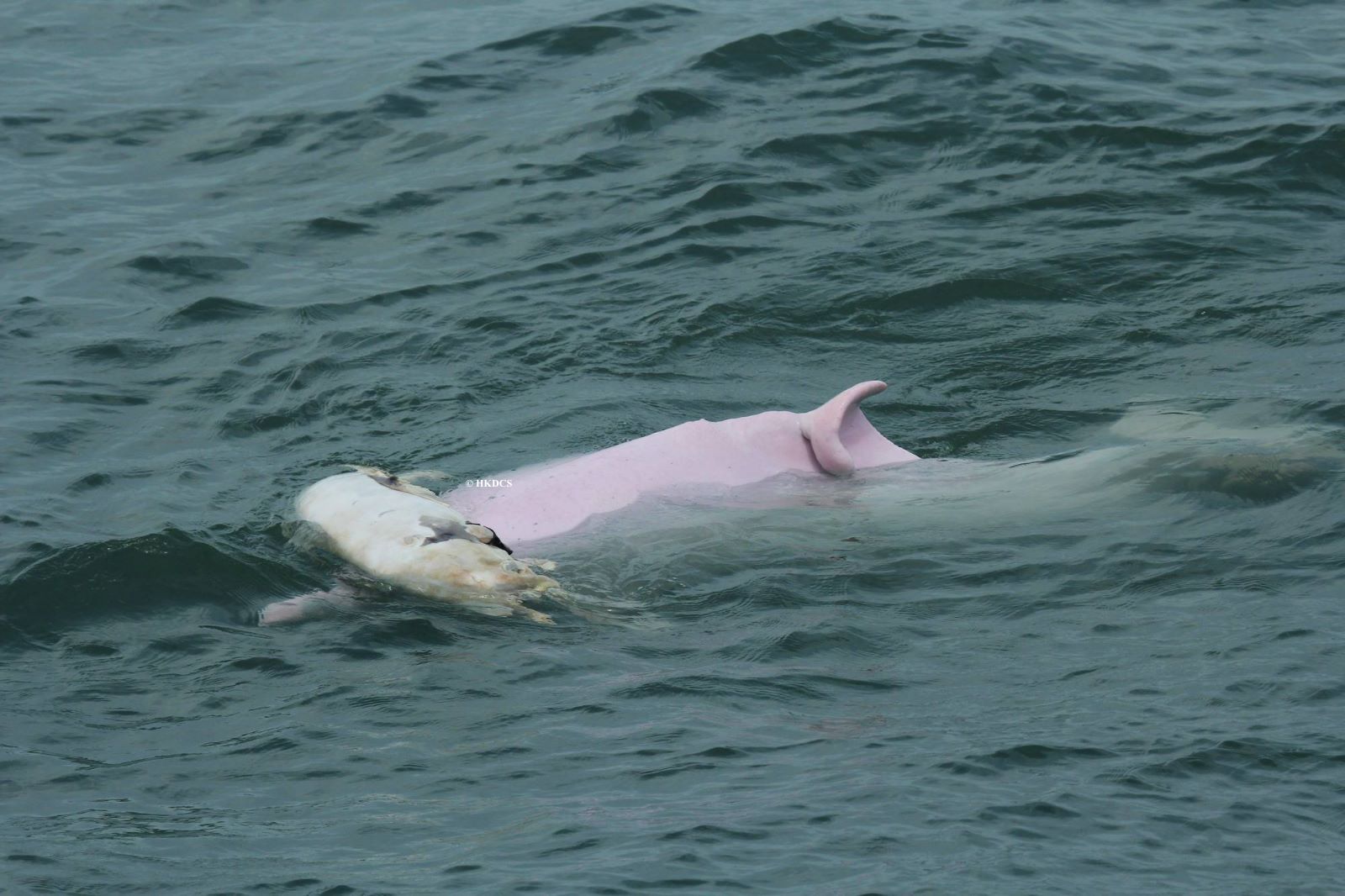 Taison's long-term investigations examine the distribution, habitat use, social organization, life histories and behavior of Chinese White Dolphins and Indo-Pacific Finless Porpoises off the coast of Hong Kong. 
His job sometimes means spending up to five days a week on a boat, studying dolphins and identifying individual animals based on unique features such as fin shape, colors, marks, or permanent injuries. "One of the saddest things I've ever seen was a dolphin mother desperately trying to keep the carcass of her dead calf afloat. She didn't let go of her child for a week," he recalls. 
Taison now devotes much of his spare time to volunteering for the HKDCS. Currently the NGO's Chair, he is actively engaged in organizing monthly guided boat tours that enable regular Hongkongers to witness the beauty of Chinese white dolphins in the waters around Lantau. In spreading knowledge about life below water even wider, he also visits and conducts outreach seminars and talks at schools. His advocacy has inspired some students to join HKDCS in protecting marine animals.
Education: The Key to Achieving Sustainability 
Taison's unwavering dedication to dolphin conservation ultimately led him to Australia where he began studying for his Master's degree in Conservation Science in 2019. He is now undertaking full-time coral reef research as part of his PhD in Biology here in Hong Kong. A passionate believer in his cause, Taison is eager to start researching topics aimed at stimulating positive societal change in core areas such as marine protected areas.
Echoing the United Nations' commitment to ocean protection via its Sustainable Development Goal 14, Taison and the HKDCS are jointly shouldering the burden of public education on several different fronts. The many younger participants who expect to feed or see dolphins performing tricks on Lantau boat trips underlines Taison's belief that more and better education is essential for boosting future generations' ecological awareness.
Find and adopt better ways to minimize the footprints we leave during our daily lives. Buying takeaways with reusable containers is an excellent example.
When not conducting research or advocacy work, Taison further extends his influence as a part-time lecturer at HKUST, where he teaches Conservation and Sustainable Development to postgraduates from the Division of Environment and Sustainability. 
When asked what more Hongkongers should do to help achieve sustainability goals, Taison says "Find and adopt better ways to minimize the footprints we leave during our daily lives. Buying takeaways with reusable containers is an excellent example."  Taison ultimately believes such small changes will not only reduce marine plastic pollution, but also help bring about a better and more sustainable future, both on land and under water.