The rapid growth in food delivery and takeout thanks to the pandemic has led to more plastic waste being dumped in the city's landfills. To help reduce single-use plastics, have you ever imagined eating your spoons, forks, and chopsticks after finishing your meal? This is what Aditi DEODHAR, Swapnil MISHRA, and Srijan SAXENA, co-founders of Planeteers, do to fight against plastic pollution.
"With social-distancing measures in place, it's safe to assume a lot more people are taking their food home, and that much more plastic is used in the process," says Aditi. "All that waste will contribute to the city's landfills."
Government statistics shows that about 166 tons of plastic tableware were disposed every day in 2018, and the figure is probably on an uptrend under the prolonged uncertainty posed by COVID-19.
Aditi, now in her first year studying a Master's degree in Environmental Science and Management, Swapnil, a year-3 undergraduate student of economics, and Srijan, a year-3 undergraduate student of technology and management, started Planeteers in 2020. The trio created a vegan and biodegradable edible alternative to single-use cutlery to fight the city's mounting waste and pollution crisis.
Testing business ideas
Aditi hit upon the idea for Planeteers in 2019 but did not take action to bring it to life until the team decided to enter the annual HKUST-Sino One Million Dollar Entrepreneurship Competition the same year. "I'm a big-picture thinker and I want to protect the environment, so I'm glad we formed our own ideas and were exposed to other contestants' ideas. That was really inspiring," she says.
Their invention earned them the Focus Area Award under the category of Environment and Sustainability. "The competition was an excellent thinking exercise for me. It set the boundary and led us to come up with a clear strategy succinctly. It was at times overwhelming because we had to do 10 different things at the same time, and we had to prioritize and be clear-eyed about our goals," Swapnil comments.
 
100% vegan-friendly cutlery

Their cutlery is made from whole-grain flours and therefore 100% vegan-friendly. The manufacturing process involves cutting the dough in the shapes of spoon, knife, or chopsticks, and baking it for an hour.
They have run tests with different people trying out their cutlery on different food, including ramen and rice, to make sure the cracker-like utensils would not break. "A big part of the challenge was to offer not only an alternative to plastic cutlery, but also something that complements and actually enhances the eating experience. We're glad to see they withstood the bowl of ramen for at least 30 minutes," Aditi says.
The team had started experimenting with their products in the student dorm kitchen before receiving help from the Entrepreneurship Center, which connected them with the Campus Services Office, which then offered to let them use a large and well-equipped kitchen.
"We have benefited considerably from the University's great support. Besides the help with finding us a place to experiment with, professors who we consulted were all eager to share advice on how to turn ideas into action. A lot of what we're able to do now is a result of the grooming they've given us," Swapnil says.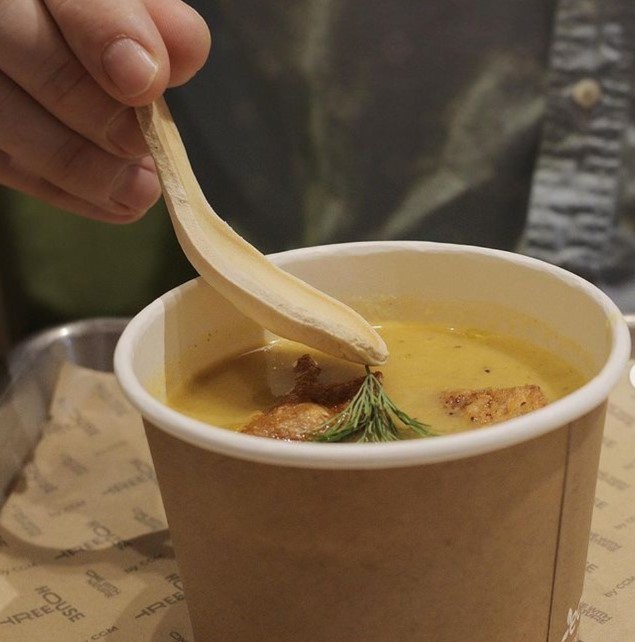 Cooperating with restaurants
The team has since refined their products and has rebranded their cutlery as part of a new marketing strategy. They have also conducted a pilot test with a restaurant in Central recently.
"We got positive feedback from the diners, and most of them even finished off our soup spoons, which were flavored with olive oil and sea salt," Aditi says. Going beyond Hong Kong, the company is seeking to partner with a major airline in 2022 to introduce their edible cutlery to air travelers. Meanwhile, the team will continue to explore new flavors as their research finds that the flavors that appeal to people in Hong Kong would be different from those overseas, including their home country India. "In India, people would generally enjoy flavors like spices or cumin, but we think flavors like garlic, shrimp, or cinnamon would be more widely accepted here," Aditi says.
To cope with their growing business prospect, the team has built fully customized moulds to mass-produce their cutlery products and is now in the final stages of modeling the prototype, expecting mass production to start in 2022. They believe their edible cutlery is gradually appealing to more people, who are increasingly health-conscious and care about the environment.
"Restaurants and catering businesses need to be aware that every time they give out a piece of single-use plastic, they're contributing to the city's already-overflowing landfills," Aditi says. "But this can only be done when their customers stop showing demand for it, so we need everyone to be on board."