Two years ago, Chemistry graduates William WONG Ka-Man, Markus CHEUNG Po-Kwan and Joanna HUI Yuk-Lai reunited after their graduation from HKUST in 2000 to found biotechnology start-up AUISET with three other members, including another HKUST alumnus Dr. Leo XIE Ni and Prof. TANG Benzhong – Stephen Kam-chuen Cheong Professor of Science and Chair Professor of Chemistry. They have one goal in mind – commercializing the aggregation-induced emission (AIE) technology, which enables researchers to look into the light-emitting processes from luminogen aggregates to gain useful insights.
"What has got us back together is the strong ambition to put great ideas to benefit the society because a lot has been invested in developing our skills in AIE," says William, the firm's Managing Director.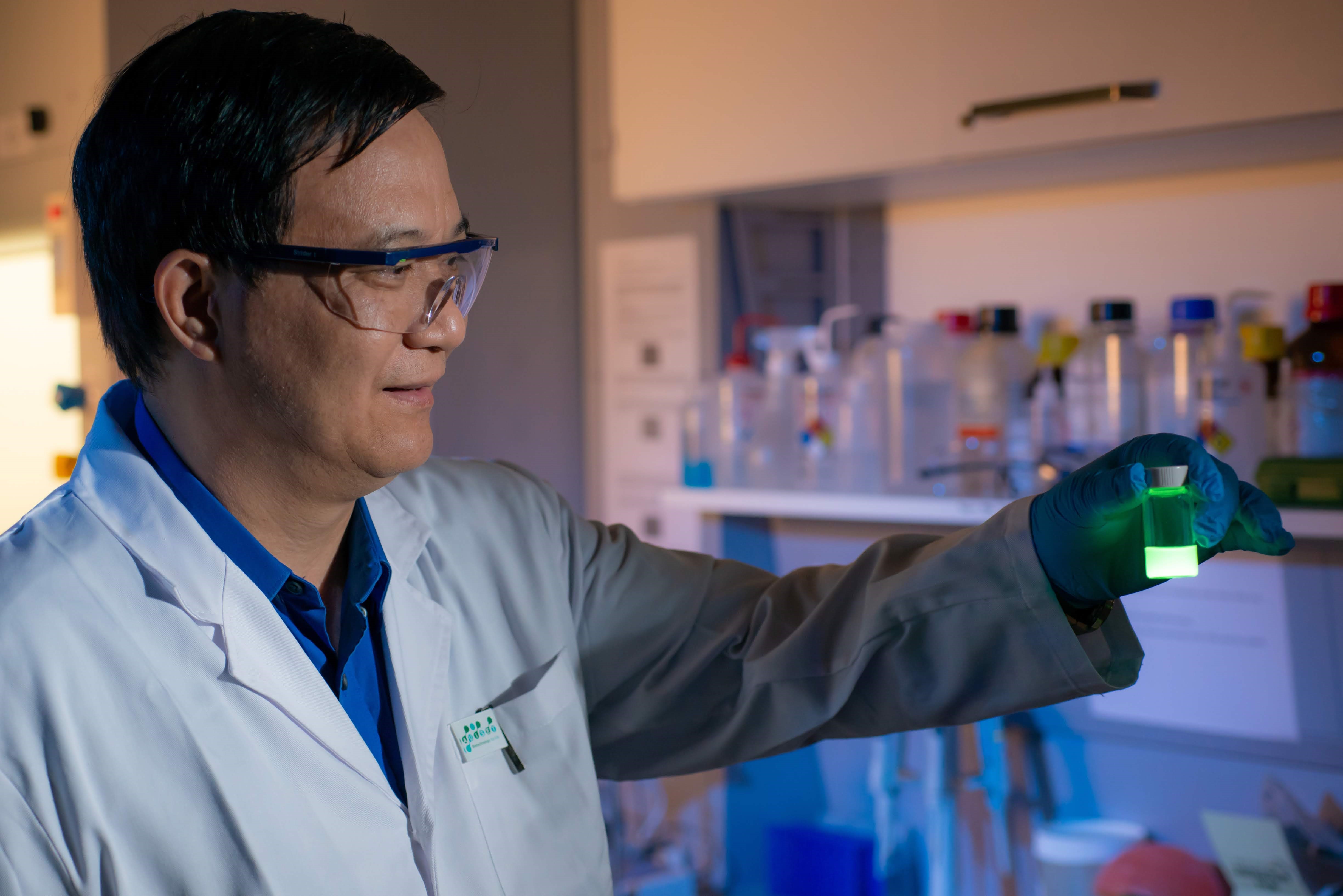 Since 2001, Prof. Tang has been researching the unique photophysical phenomenon of AIE, leading to the development of more than 200 high-performance fluorescent materials with wide-ranging applications, including tracking and visualizing of tumor tissues or cancer cells, as well as high-sensitivity detection, forecast, and control of even the tiniest amount of chemicals, among others. 
AIE technology can also be applied to forensic science and bacterial detection. Now, they plan to use this technology to help tackle the most threatening crisis facing humankind today. In partnership with a local university, AUISET has recently received funding of about HK$1.7 million from the Hong Kong government to develop a fast COVID-19 detection kit that is highly-sensitive and easy-to-use for medical personnel in eight months' time.
Through binding to highly-emissive fluorescent nanoparticles conjugated with specific antibodies on a test strip, the diagnostic kit is able to distinguish patients who have been infected with COVID-19 virus.
"Our preliminary test results have been encouraging, showing promising results on speed, sensitivity, and portability," says William.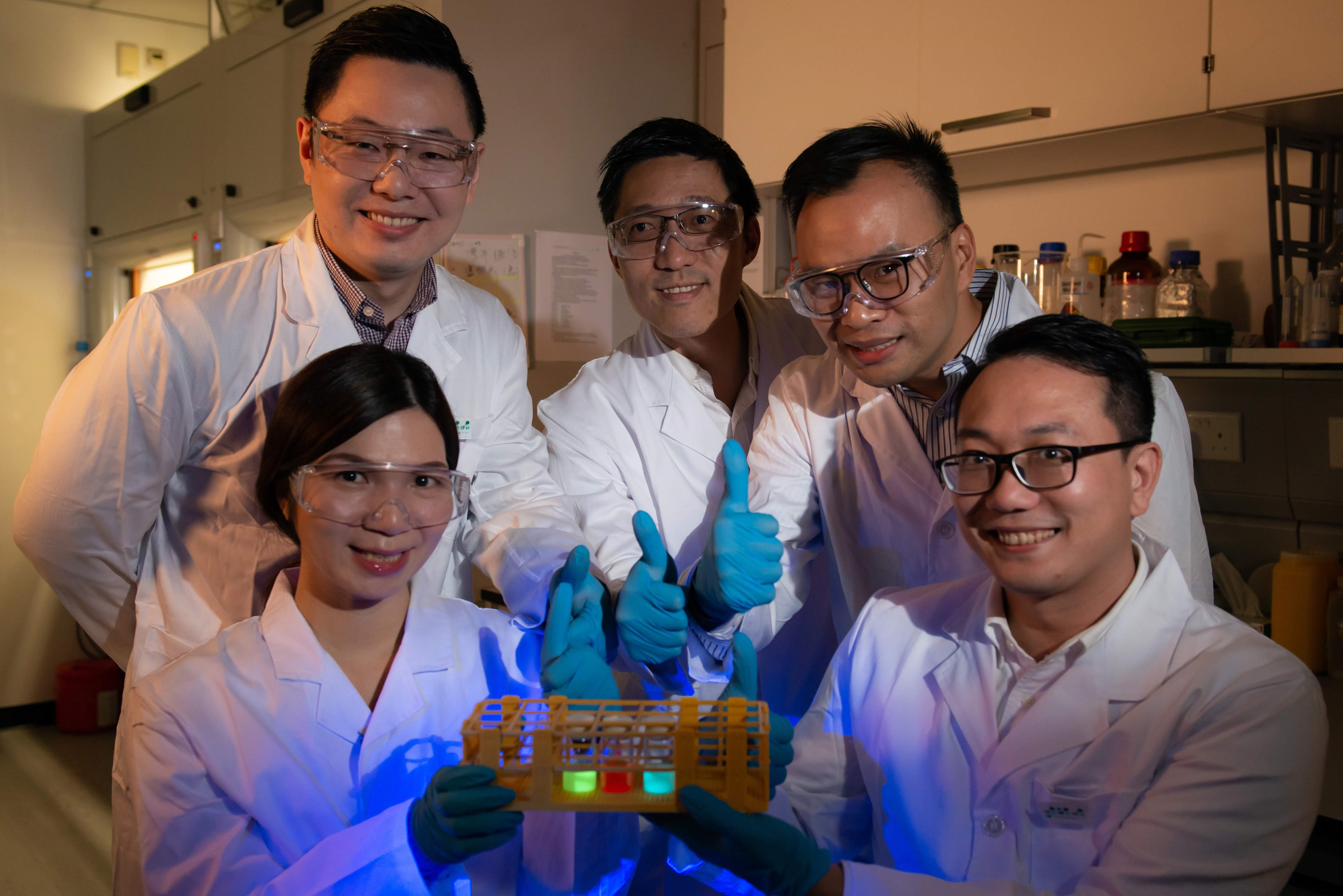 Since its inception, AUISET has been finding ways to tackle an increasingly serious social problem — infertility. Their patented and advanced non-invasive hormone monitoring system is designed to help women to self-monitor their hormone levels with high reliability and accuracy.
"The fact is that a woman's ability to get pregnant begins to fall in her late 20s, and when she gets 35 the rate of conceiving falls to about 40%," explains Markus, the company's Operations Director.
Official statistics show that Hong Kong people are getting married later in life, with the median age at first marriage for women reaching 29.4 in 2016, four years older than the figures from 30 years earlier. Meanwhile, the city's fertility rate is consistently below the replacement level of 2,100.
"Many married couples have difficulty having their first baby and they often use popular methods, like ovulation tests or temperature checks, to identify their most fertile days. But these may not necessarily be accurate, and the failed attempts and lost time can be frustrating," Markus says. "With high reliability and accuracy, our technology is here to help."
The team plans to roll out their offerings in Hong Kong and Thailand by year end, with other markets including Mainland China to follow in the next year or two, says Marketing Director Joanna.
She says AUISET has received tremendous support from the University over the years. The Technology Transfer Center (TTC), for instance, has been a one-stop shop for them, giving them informational, advisory, funding, and licensing support, among others.
"The University's dedicated support for start-ups means we can focus on doing what we do best: research and development. To this day, the TTC remains an essential partner for us," she says. "We graduated 20 years ago, but the University has been guiding us on the journey of entrepreneurship every step of the way." 
Only by breaking down the company's name, people will know how closely AUISET is linked with the University. "We really wanted to pay tribute to HKUST, so we decided to merge UST with AIE," Markus says. "We're so proud to bear the University's name."